Germany's plan for the broadband future is to get into bed with China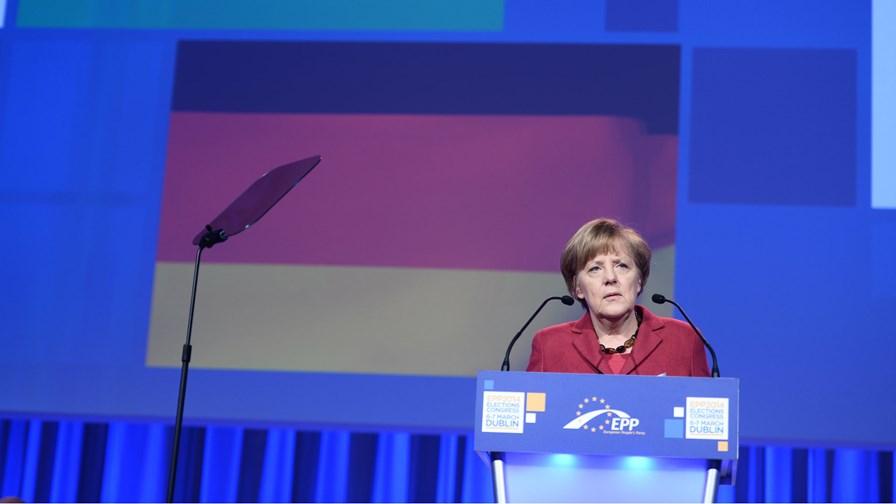 There was a time when Telecom TV regularly and routinely attended that most German of international enterprise IT shows, CeBit, held annually at the wrong time of the year on the freezing, wind-blasted plains of Hannover. We haven't been for a few years now but, given the convergence of telecoms with IT, perhaps 2016 will be the time to don the thermal underwear, get the sledge out the shed and the huskies out of the kennels and prepare to hear East. Mush! Mush!
It was CeBit again last week, the 2015 event ran from March 16 through March 20 at the massive Deutsche Messe with all the usual razz-matazz of hype, launches, demonstrations and exhortations to buy, buy, buy, anything from security solutions to systems for the connected car and on all the way through to commemorative mugs and beer steins.
To say that CeBit is massive is a major understatement, as those attendees wearing FitBit devices will be able to attest at the end of a day spent walking in the halls and between the halls at an exhibition ground seemingly the size of Andorra, but without quite as many hills.
CeBit has long been an enterprise IT event with telecoms bolted on here and there but this year one of the the main themes was "Industrie 4.0". This, it turns out, is CeBit shorthand for the convergence of 5G and IoT! But what about 4G? That's what most people wanted to know. They didn't get much by way of an answer. "4G?. So 2014."
Interestingly, Cebit 2015 strongly an ubiquitously featured the People's Republic of China as its "partner" for which read "well-heeled sponsor". Thus there was a lot of emphasis on China as the best place on the planet for outsourcing, IoT research and devices, driverless cars and so on.
There was also a much talk about the emergence of the Internet of Services (IoS), even though the Internet of Things is still mere infant mewling and puking in its crib demanding to be fed and cleaned-up. IoS, it seems, is about how IoT is to be used and monetised.
CeBIt says the bright new world of tomorrow will be powered by the relentless and endless quest for more and more and more data. Data that is to be collected, analysed, manipulated, partitioned, tarted-up, and, at some considerable cost to the recipient, inserted back into the fundamental orifice of the organisation that it came from in the first place.
CeBit 2015 accurately reflected the current state of the enterprise IT industry with many data-creating, data-capturing companies (Cheinese included) strutting their stuff whilst other exhibitors (Chinese included) demonstrated products and services to solve the myriad of problems the that the data-grabbers (Chinese included) are creating. Thus the snake eats its own tail and the world turns.
"Mutti Merkel's Bromide": a tried and tested recipe
The importance of CeBit was underlined by the fact that German Chancellor, Angela Merkel, took time out from dealing with Greeks demanding (rather than bearing) gifts to give the opening address at Hannover.
She used the occasion to outline her "Ten Point Plan" which, whilst touted as new and exciting was , in fact, largely a re-iteration and re-hash of old ideas and initiatives that, unsurprisingly, refer directly to, and are contingent upon, EU partnership, co-operation, legislation and regulation.
At the top of the Merkel agenda is broadband. The Chancellor wants to roll-out more, faster (i.e. a minimum of 50 mbps everywhere across the country by 2018), with the emphasis on broadband provision to underserved rural areas where fast broadband will be via mobile as well as fixed line networks.
Ms. Merkel is also eager to promote more public Wi-Fi but (ironic this given the circumstances) the country's proposed new "Telemedia" Act - a modernising and bringing together of various pieces of earlier telecoms, media, and IT legislation - is behind schedule and could well be re-drafted because of opposition claims that in its current state it flies in the face of EU laws.
Among the other main planks of Merkel's 10 point platform are the promotion of research and innovation, increased and improved eGovernment, the easier and quicker provision of start-up finance and greatly improved security, of and for, big data.
In reference to improved data security, Ms. Merkel said, "new safety concepts are required including transparency, anonymity and the right of appeal" and that "a balance must be struck." The basis of this balance, she added, would be EU Data Protection Regulation rather than national laws.
The Chancellor is also wants to promote a "digital market strategy for the EU" and Europe-wide accord on the thorny problems of roaming and network neutrality. Both these subjects are already covered in the delayed national "Telemedia" legislation.
Angela Merkel pointed out that networked mobility can keep Germany at the cutting edge of the automotive industry. She said, "Germany is known as Autoland and has an excellent reputation and we must keep it that way. That's why new applications such as like automated driving are the next big thing".
Germany also has a huge agricultural sector, (including an important forestry sector) but some rural areas are still comparatively poorly served in terms of broadband and fast Internet access. Speeds of 50mbps in conjunction with the IoT, big data and analytics would revolutionise these industries and make life a little less like a Grimm fairy story in the depths of the Black Forest.
The section of Ms Merkel's CeBit speech that caused raised eyebrows was the bit where she pointed out (yet again and yes, we know) that, " Competition is large, competition is global", before moving on to claim that partnering with China is the way to the future for German ICT.
She said, "The German economy estimates China not only as the major trading partner outside Europe, but also as a partner in the development of sophisticated technologies. This was one of the reasons why, at the recent Sino-German summit we agreed that 2015 will be the year of innovation partnership."
After all, transparency, anonymity and the right of appeal are all routinely protected and provided in the People's Republic.
Email Newsletters
Stay up to date with the latest industry developments: sign up to receive TelecomTV's top news and videos plus exclusive subscriber-only content direct to your inbox – including our daily news briefing and weekly wrap.