BT offers government a £600m deal to provide 10Mbit/s broadband to all UK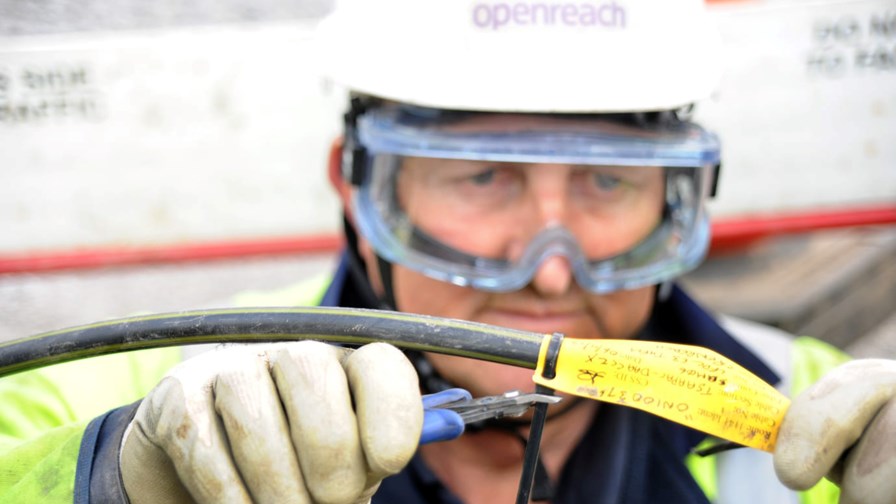 Part of government plan for broadband to reach every part of the UK
BT proposal a voluntary alternative to an Ofcom-imposed one
The telco would self-finance the scheme, at between £450m and £600m
British Infrastructure Group of MPs releases new 'Broadbad 2.0' report
The UK government announced on Sunday that it had received a proposal from BT to voluntarily provide a 10Mbit/s broadband service across the country, which would largely be delivered by Openreach. The offer was received after the government committed to introduce a Universal Service Obligation (USO) through regulation to give every home and business in the UK the right to request a connection of at least 10Mbit/s. Whether that's a true measure of broadband is a moot point (Ofcom thinks it's fair for households today, though many actual households would disagree), but it would be an improvement on the paltry alternative that too many people have to contend with today.
"The government is taking action to ensure that people everywhere in the UK can get a decent broadband connection as soon as possible," said Karen Bradley MP, Culture Secretary. "We warmly welcome BT's offer and now will look at whether this or a regulatory approach works better for homes and businesses."
As Bradley said, the alternative for BT would be an imposed solution from regulator Ofcom. However, it has indicated that a voluntary solution from BT would mean that premises could receive connections more quickly than could be delivered under a regulatory approach. Also, the 10Mbit/s limit would be a worst-case scenario, with many premises receiving substantially more.
The consultation over a regulatory USO has being launched that outlines detailed proposals for how this new right to request a connection would work in practice. The proposal from BT is to proactively build the necessary network infrastructure to connect the majority of households and businesses rather than wait for this to be done on request. Perhaps more importantly to the government and its depleted coffers, the BT proposal would see the telco fund this investment and recover its costs through the charges for products providing access to its local access networks.
"We are pleased to make a voluntary offer to deliver the Government's goal for universal broadband access at minimum speeds of 10Mbps," said Gavin Patterson, BT Chief Executive. "This would involve an estimated investment of £450m to £600m depending on the final technology solution.
"This investment will reinforce the UK's status as the leading digital economy in the G20," he added. "We already expect 95 per cent of homes and businesses to have access to superfast broadband speeds of 24Mbit/s or faster by the end of 2017. Our latest initiative aims to ensure that all UK premises can get faster broadband, even in the hardest to reach parts of the UK."
BT proposes to use a range of technologies to deliver this, including FTTC, FTTH and fixed wireless. No doubt (but not explicitly stated) long reach VDSL and G.fast would also play a part, as would FTTdP. It would use these technologies to take the 10Mbit/s downlink coverage (and 1Mbit/s uplink) to around 99 per cent by 2020. BT expects to complete the build of this fixed network by either December 2021 or December 2022 depending on the mix of technologies used. The number of premises that will only have satellite as an option is expected to be 0.3 per cent by the end of 2022.
The government will now work with BT over the coming months to develop the proposal – which, if it is accepted, will be legally-binding. The government will make a decision following its consultation on the regulatory USO.
"Whichever of the two approaches we go with in the end," added Bradley, "the driving force behind our decision making will be making sure we get the best deal for consumers."
Broadband or broadbad?
The proposal comes two days after the publication of the "Broadbad 2.0" (yes, that is the correct spelling) report from the British Infrastructure Group (BIG) of 57 UK MPs. The cross-party report presents a series of recommendations to the government, industry regulator Ofcom and broadband providers in a bid to improve customer services in the sector.
This report looks at the current state of broadband speeds and customer services, and finds that as many as 6.7 million connections in the UK are failing to reach speeds above the proposed minimum standard. BIG also criticises the current available data on broadband speeds, as it says it does not distinguish between the take-up and actual availability of superfast broadband in the UK.
"Our report calls on the government to build on their progress of introducing minimum standards for broadband providers, by progressing secondary legislation that will set the terms for a Universal Service Obligation," said Grant Shapps MP, Chair of the British Infrastructure Group. "BIG also calls on Ofcom, the industry regulator, to consider fixed broadband speeds in a new system of automatic compensation. The voluntary agreements currently in place between broadband providers and Ofcom to ensure that customers are compensated for poor service do not hold providers to account. This means that broadband customers often end up enduring unnecessarily lengthy complaints procedures if something goes wrong with their service.
"It is unacceptable that businesses and homeowners alike still can't receive fast Internet, and the lack of minimum standards in the sector represents a worrying picture for post-Brexit Britain's competitiveness."
Email Newsletters
Sign up to receive TelecomTV's top news and videos, plus exclusive subscriber-only content direct to your inbox.