Adtran and Deutsche Telekom conduct 212MHz G.fast lab trials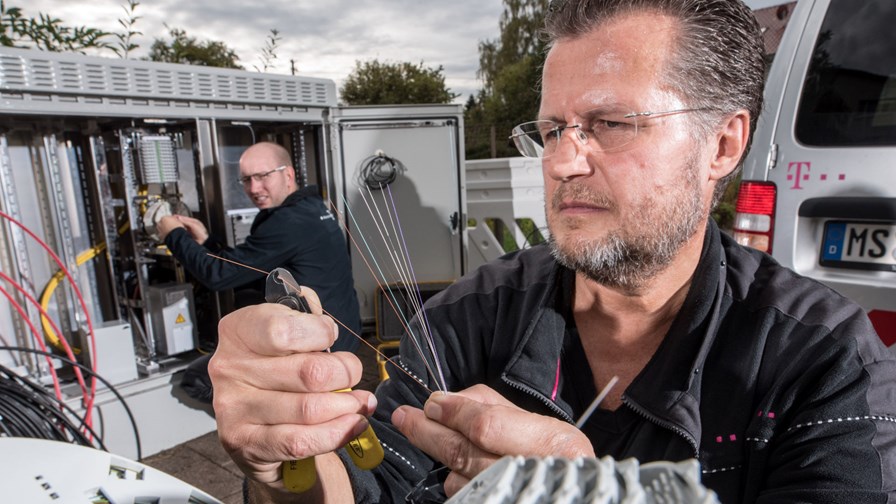 Lab trials will test the latest G.fast innovations: 212Mhz and cDTA
Goal is to accelerate deployment of gigabit broadband services
Coordinated dynamic time allocation (cDTA) builds on Adtran's earlier iDTA
Offers the perception of a full capacity symmetric broadband service
US-based networking company Adtran has announced the start of lab testing of the latest evolution of the G.fast standard, in partnership with Deutsche Telekom. The telco is evaluating the use of 212MHz transmission and coordinated dynamic time allocation (cDTA) using Fibre-to-the-Building (FTTB) deployment models that permit the use of existing cable infrastructure within the home. The objective is to create rapid deployment of ultra-fast and gigabit broadband services with minimal disruption, where the right physical conditions exist.
Adtran has already demonstrated the new 212MHz G.fast standard, which doubles the usable spectrum and therefore allows service providers to deliver gigabit rates over a single copper pair, enabling "fibre-like" service delivery all the way to the customer premise. It says that in contrast to cable systems, the bandwidth of G.fast is dedicated and available for each customer.
The current lab tests, which leveraging the first commercially available 212MHz DPU, also demonstrate the second phase of DTA – cDTA. This new "coordinated" version, like the earlier "independent" iDTA feature, reportedly improves G.fast upstream performance by four to five times by dynamically balancing upstream and downstream capacity to match residential traffic patterns in real-time. cDTA also expands the applicability of this feature to existing phone wiring.
"Operators in highly competitive, dense urban or urban environments are challenged to extend gigabit services due to the time and cost that can be associated with pure play FTTH techniques," said Jay Wilson, SVP at Adtran. "With G.fast innovation, operators, such as Deutsche Telekom can significantly accelerate Gigabit Society goals by launching gigabit services over their existing infrastructure dramatically reducing subscriber disruption."
Adtran says these two new G.fast advancements, 212MHz and cDTA, extract even greater overall performance from an operator's existing assets, and in many scenarios can eliminate the need for full FTTH for years. They can enable service providers to more rapidly and cost-effectively extend symmetric gigabit services and expand ultra-fast broadband to the wider market. Of course it's not an "either / or" option, as full fibre and G.fast are complementary technologies, along with vectoring, all seeking to contribute to improved broadband transmission.
Evolution of G.fast
Adtran first announced DTA capabilities at the end of last year, during the Broadband World Forum in London. According to the company, "DTA disrupts the concept of Time Division Duplex (TDD) used by G.fast and other broadband access technologies which, until now, have been based on the "set-and-forget" configuration of uplink and downlink ratios (either symmetric or some degree of asymmetric) at the G.fast distribution point unit (DPU).
"DTA responds to user activity in the order of milliseconds and offers 'full stream broadband performance' while giving the perception of a full capacity symmetric broadband experience. This approach achieves up to double the speed of an equivalent symmetric G.fast broadband service delivered without DTA."
Adtran had been demonstrating this innovation to operators globally for low crosstalk G.fast environments, on the basis that it offers an alternative to installing Cat 6, Cat5e or fibre optic cable to provide symmetric Gigabit data rates.
Earlier this year, NetCologne, the regional ISP and telco in the German city of Cologne, announced the start of its G.fast pilot phase, using technology jointly developed by ZTE. It deployed a new type of digital subscriber line access multiplexer (DSLAM) from ZTE, which utilises a significantly larger frequency spectrum than the existing FTTP DSLAM in order to reach the 1Gbit/s transmission target.
The live tests used ZTE's first generation G.fast chip operating in frequencies up to 106MHz. However, the vendor's second generation chip promises to support 212MHz operation, although no news yet on whether or not NetCologne will be trialling the new version.
Email Newsletters
Sign up to receive TelecomTV's top news and videos, plus exclusive subscriber-only content direct to your inbox.