A decade on, and the ITU is still fighting the broadband battle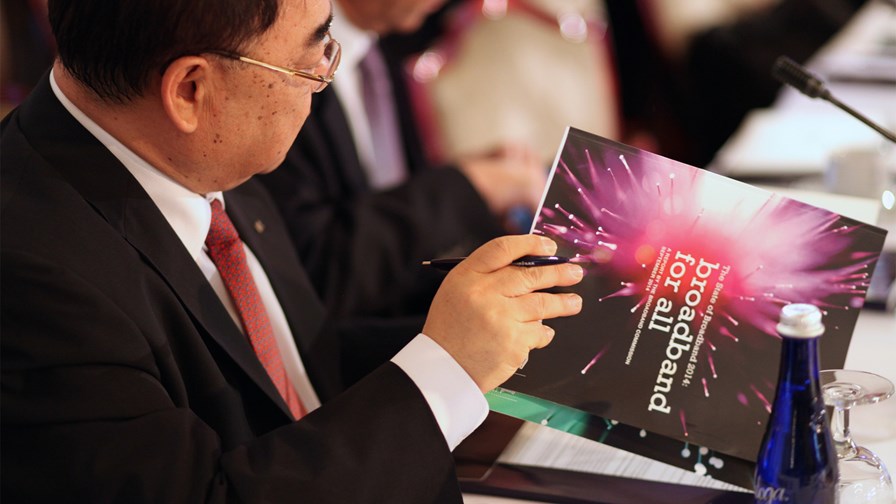 Broadband deployment is a given, right? It's obvious that governments and policy makers invest time and resources in creating a favourable climate for investment, roll-out and operation of networks and services, surely? The economic and social arguments to support broadband have all been made, so the fight for basic broadband must be over?
Apparently not. According to the latest annual report from the UN-backed Broadband Commission for Digital Development (whose main supporter is the ITU, with additional backing from UNESCO), 60 per cent of the world's population still has no access to the Internet. That's a shocking statistic. It is improving though. The Commission says there will be a 25 per cent increase in Internet users this year, bringing the total to 2.9bn. However, it will be 2017 at the earliest before we reach the tipping point of 50 per cent global access.
The recent growth is largely attributed to mobile broadband over smartphones and tablets, which it says is now "the fastest growing technology in human history". It adds that over 2.3 billion people will access mobile broadband by the end of this year, climbing to a predicted 7.6 billion within the next five years. There are now over three times as many mobile broadband connections as there are fixed broadband subscriptions.
Speaking at the 10th meeting of the Broadband Commission in New York, said ITU Secretary-General Dr Hamadoun Touré said that: "Broadband uptake is accelerating, but it is unacceptable that 90 per cent of people in the world's 48 Least Developed Countries remain totally unconnected. With broadband Internet now universally recognized as a vital tool for social and economic development, we need to make connectively a key development priority."
We have commented in the past on the Commission's apparent problems in moving from a debating forum to an organisation that can enable actual real-world change (incidentally, we have a number of video interviews with Commissioners archived here). Excellent work has been done in putting forward the case for broadband, but there is no simple way of persuading governments and policy makers to take heed.
Just what is Broadband?
But we do take issue with the ITU's definition of broadband: at least 256kbit/s in either uplink or downlink. In what sense is 256kbit/s an acceptable rate for broadband? Only last week the FCC chairman Tom Wheeler was advocating for a redefinition of US broadband from the current 4Mbit/s to 10Mbit/s to reflect the changing nature of internet services, especially streaming video.
Yet the ITU is also busy preparing the ground for IMT-2020 (or 5G as it will no doubt be called). It's still trying to realise IMT-Advanced's requirement for 1Gbit/s for low mobility users. How does this reconcile with 256kbit/s broadband? The Commission is little better, defining broadband as "a cluster of concepts, as high-speed Internet access which is always-on and capable of multiple service provision simultaneously", refusing to be drawn on speed. So when the report states that there are likely to be 711 million fixed broadband subscriptions by the end of this year, it means 711 million with 256kbit/s service or more.
The problem is, if they increase the target speed for broadband qualification, then the numbers will decrease. Would that then derail the Commission's efforts to support the growth of networks and services in LDCs? If broadband is redefined at a more acceptable level of, say, 2Mbit/s, then it will no longer be affordable to many – and affordability of services is one of the Commission's goals. It's a tricky one.
Planning for Broadband
The Commission's advocacy around the importance of broadband has seen the number of countries with a National Broadband Plan in place grow from 102 in 2010, when the Commission began its work, to 140 today. A further 13 countries have plans in hand to introduce policy measures. That leaves 43 still without a strategy.
Its latest report summarises the various policy options open to governments and regulators to boost the roll-out of broadband networks and services. The Commission continues to urge developing countries to jump in, warning them that delays are unacceptable if they are not to miss out on the economic benefits of the "information revolution".
"It is this era of mass connectivity – delivering small, but incremental changes to the ways in which each individual does things – that promises to transform development and global welfare," said the report authors.
The Commission has also taken an early look at Gigabit Cities and Communities. Whilst it says there are still not many consumer apps and services that need Gigabit speeds, it agrees that such services are on their way. With technology advances being always faster than most people anticipate – so countries and operators need to start planning now for a Gigabit future.
The Commission concludes that governments must initiate and prioritize their National Broadband Planning process and invest in ICTs and digital e-skills as an engine of economic growth and development. However, it warns that regulation is not keeping pace with the changes in the market. For example, OTT firms offering voice and messaging services are, by and large, subject to relatively limited requirements. Such asymmetric regulation has resulted in an uneven competitive landscape for services, says the Commission. Therefore governments and policy-makers need to update their regulatory frameworks.
The report is available as a free download here and is an essential read.
Email Newsletters
Sign up to receive TelecomTV's top news and videos, plus exclusive subscriber-only content direct to your inbox.