Second look: Orange bags prize for its 'ambient lighting as a service'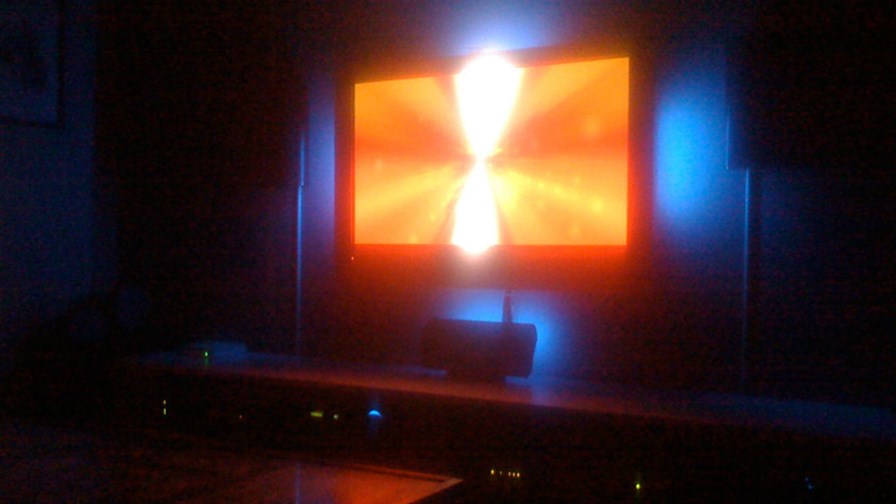 Orange wins award for TV Lights 'Box' service
Part of its connected home push
Will be available next year
When it comes to the connected home, the push is on for telcos to invent or develop new services to hang off the 'box' in the home. Services that will add value, please the broadband customer and keep the Amazon/Google/Apple wolves from getting their trendy little feet in the door.
Orange has been mounting a major push this year. It annouced a 'New Livebox' - WiFi one side, DSL or fibre on the other - to house what it hopes will be a growing range of services in the middle, including a 1 Terabyte hard disk, lots of content including live events, sports and more than 300 titles on demand in Ultra HD, it claims. It's been supporting "high-potential" start-ups such as Reminiz, which has developed an 'actor facial recognition' and 'voice recognition' feature which the viewer can activate to access detailed actor information while watching a movie. It's also added social sharing, so viewers can share excerpts of live content on social networks, and has a slew of connected services such as telemonitoring, multizone thermostat control and an immersive 'virtual reality' headset.
To embed our video on your website copy and paste the code below:
<iframe src="https://www.youtube.com/embed/HbAoLNBgLC0?modestbranding=1&rel=0" width="970" height="546" frameborder="0" scrolling="auto" allowfullscreen></iframe>
But one service we haven't seen before from a telco is ambient lighting for the TV screen… it might be a winner.
Martyn Warwick caught up with Patrick Chataignier, Head of Cloud & Box Innovation at Orange to talk ambient lighting at Broadband World Forum in London recently where the telco had just won an award for best connected home service of the year for its projected ambient lighting offer - called TV Lights - due to go live next year.
According to Patrick TV Lights is an immersive lighting experience which allows users to synchronise lights around the TV with the colours appearing on the screen to create ambient effect to enhance the viewing experience - the colours on-screen being complemented by a wash of LED-generated light behind and beside the TV set or video screen (see top).
The Cloud & Box Innovation team has developed an algorithym so that the lighting colour matches what's hjappening accurately on the screen, Patrick claims. "For a sunset the lights at the top can go orange while the lights washing the front and bottom will take on a different colour depending on what's happening on the screen."
Orange's (no prizes for guessing what ambient colour will complement its own ads and promotions) TV Lights set-up can include up to nine lights which the user can deploy around the TV - or indeed around the room - to create an immersive experience.
FILMED AT: Broadband World Forum 2016, ExCeL Convention Centre, London
Email Newsletters
Sign up to receive TelecomTV's top news and videos, plus exclusive subscriber-only content direct to your inbox.