Deutsche Telekom trials LTE-V on the Ingolstadt autobahn test bed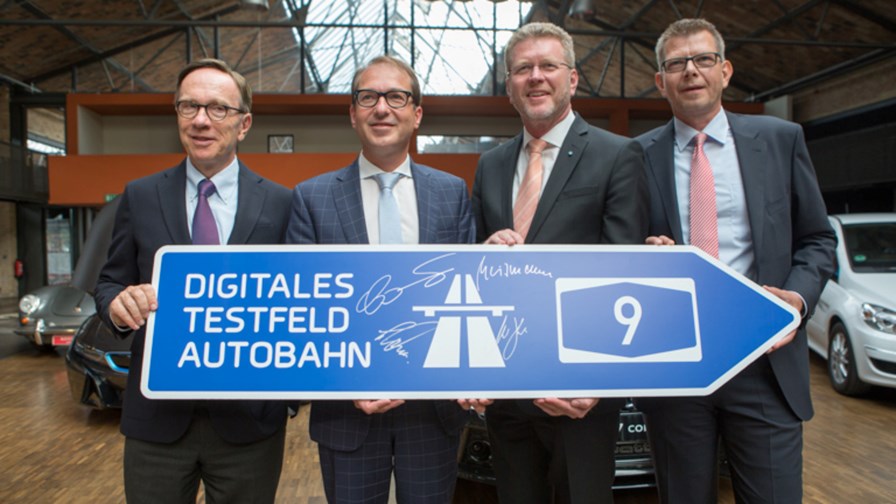 Partnering with Huawei, Audi and Toyota on V2X viability
Utilising the "digital A9 motorway test bed" in Ingolstadt, Bavaria
Trial results will be presented to 3GPP for Release 14 work
Facing competition from IEEE 802.11p technology
The automotive sector is the biggest single vertical market being targeted in the development of 5G. The ultra-low latency and high reliability of future 5G radio access technology, coupled with enhanced broadband and massive IoT support, means autonomous driving and safety-related transport applications are ideal candidates for furthering the 5G cause. But the industry isn't waiting for 5G before it starts trials and tests; LTE can already provide a subset of the necessary functions – or at least it soon will.
Deutsche Telekom has announced that it is working with Huawei and several car companies (Toyota and Audi are explicitly mentioned, although it alludes to others as well) on trials of LTE-V technology. LTE-V, also known as LTE Vehicular or LTE-V2X, is a variant of LTE that is currently being standardised by 3GPP in readiness for the next major standards update, Release 14. The term "V2X" covers both Vehicle-To-Vehicle and Vehicle-To-Infrastructure communication.
Technical field trials are being conducted on the A9 motorway in Germany, near the city of Ingolstadt. Deutsche Telekom's LTE infrastructure has been equipped with LTE-V hardware from Huawei to support the trial scenarios. Audi, Toyota and other car manufacturers have equipped research cars with the LTE-V hardware, also developed by Huawei. It's no surprise that Huawei is providing the equipment, as the vendor has been leading the LTE-V charge for the past couple of years, along with early work on IEEE 802.11p.
It's cellular vs WiFi… again
The problem with 802.11p, say LTE supporters, is that it's an ad hoc network architecture whose performance cannot be guaranteed (not good when dealing with road safety issues), there's no clear evolution strategy and dedicated V2X spectrum is somewhat limited. LTE-V, on the other hand, comes with a massive established ecosystem and support from the 3GPP (LTE-V is based somewhat on the D2D specifications already agreed in Release 13), whose SA1 group has already identified 18 different V2X use cases for LTE. Add to that all the economies of scale and performance assurance levels of LTE, plus the obvious evolution to 5G, and you would think the case for LTE-V is all but made.
However, there are still many supporters of Direct Short Range Communication (DSRC), which is based on the 802.11p standard, who believe their approach is more suitable. Only last week it was announced that NXP Semiconductors and Tongji University were supporting the launch and implementation of China's first ever large-scale road test initiative as part of the Shanghai Intelligent and Connected Vehicle Demonstration Program, using 802.11p technology.
Based on the trial results and experience gained, Deutsche Telekom and its partners say they will provide input into the standards specifications for LTE-V. The partners are contributing also to requirements definition for later releases of the 3GPP project, which will aim to enable a wide range of emerging use cases from connected and automated driving to new mobility services using 5G from 2020 onwards.
The "digital A9 motorway test bed" in Bavaria was opened by Federal Minister Alexander Dobrindt in September last year, as part of a government Innovation Charter. As Minister Dobrindt said at the time: "The route is open to all innovative enterprises: automotive manufacturers, suppliers, digital enterprises and research institutions. They can all test their developments on the most modern express road of the world in actual traffic."
So far, we've seen Nokia working on mobile edge computing scenarios on the test bed, as well as many other trials that have yet to be publically announced.
Email Newsletters
Sign up to receive TelecomTV's top news and videos, plus exclusive subscriber-only content direct to your inbox.