Back seat drivers rejoice: autonomous vehicles will create a $7 trillion "passenger economy"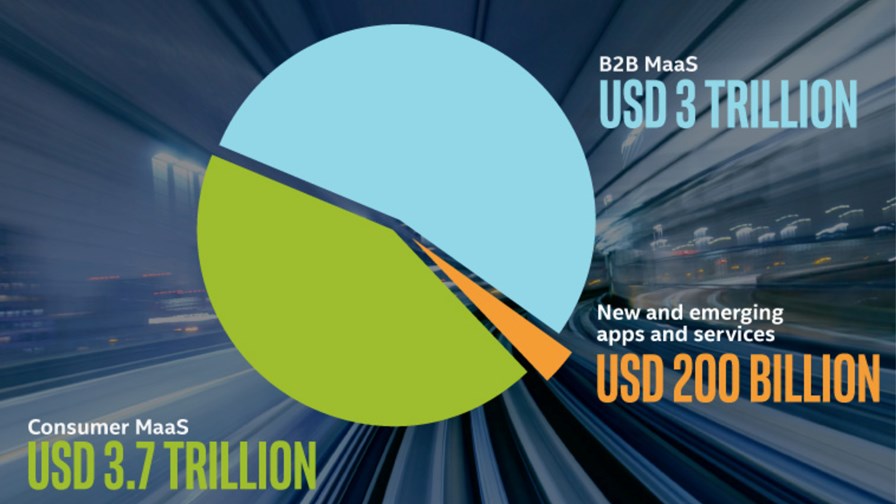 Goods and services of the Passenger Economy twice the size of the Sharing Economy
Intel predicts this new economy will emerge to support idle time of former drivers
The economic opportunity will grow from $800 billion to $7 trillion
Mobility-as-a-Service will disrupt long-held patterns of car ownership and usage
What happens when we all gain access to autonomous vehicles? Out goes the act of physically driving the vehicle, and is replaced by, what? Drivers become passengers, and as such have the opportunity to fill their commute times with other activities, such as web browsing, emailing, streaming video, and who knows what else (maybe even activities that don't involve cellular connectivity…)
All of this adds up to what Intel is calling the new "passenger economy", and it could be worth a staggering $7 trillion by 2050. Working with analyst firm Strategy Analytics, Intel has published the results of its new study that explores the yet-to-be-realised economic potential when today's drivers become idle passengers, which could see significant economic growth from an estimated $800 billion in 2035 to the projected $7 trillion in 2050.
"Companies should start thinking about their autonomous strategy now," said Brian Krzanich, CEO of Intel. "Less than a decade ago, no one was talking about the potential of a soon-to-emerge app or sharing economy because no one saw it coming. This is why we started the conversation around the Passenger Economy early, to wake people up to the opportunity streams that will emerge when cars become the most powerful mobile data generating devices we use and people swap driving for riding."
Inventing new industries
Autonomous driving will be joined by smart city technologies to enable the new Passenger Economy, gradually reconfiguring entire industries and inventing new ones. The report frames the value of the economic opportunity from both a consumer and business perspective and suggests use cases designed to enable decision-makers to develop actionable change strategies.
"Autonomous technology will drive change across a range of industries and define a new landscape, the first green shoots of which will appear in the business-to-business sector," said study co-author Harvey Cohen, president of Strategy Analytics. "The emergence of pilotless vehicle options will first appear in developed markets and will reinvent the package delivery and long-haul transportation sectors. This will relieve driver shortages around the world and account for two-thirds of initial projected revenues."
The research firm further points out that autonomously operated vehicle commercialisation will gain steam by 2040 – generating an increasingly large share of the projected value and heralding the emergence of instantaneously personalized services. Key report highlights include:
Business use of Mobility-as-a-Service (MaaS) is expected to generate $3 trillion in revenues, or 43 per cent of the total passenger economy
Consumer use of MaaS offerings is expected to account for slightly more – $3.7 trillion in revenue
$200 billion of revenue is expected to be generated from rising consumer use of new applications and services that will emerge as autonomous vehicle services evolve
Self-driving vehicles are expected to free more than 250 million hours of consumers' commuting time per year in the most congested cities in the world
An estimated 585,000 lives could be saved due to self-driving vehicles between 2035 and 2045
Reductions in public safety costs related to traffic accidents could amount to more than $234 billion over the same time frame
"Not unlike the space race of the 1960s, today's announcement is a rallying cry to the world to put its best minds on this challenge," said Greg Lindsay, urbanist and mobility futurist. "The future of mobility, economic advancement and the emergence of new growth opportunities like the Passenger Economy demand ongoing dialogue. I am excited to partner with Intel, take this discussion on the road and look at solutions through the lens of the diverse industries that will shape our future – from automakers to investors and policy makers to start-ups."
The report highlights several possible future scenarios for passengers (with TelecomTV's own incredulous observations in parenthesis):
Vehicles will become "transportation experience pods", featuring everything from on-board beauty salons (really?) to touch-screen tables for remote collaboration, fast-casual dining, remote vending, mobile health care clinics and treatment pods, and even platooning pod hotels (takes the concept of "asleep at the wheel" to a new level…)
Media and content producers will develop custom content formats to match short and long travel times (surely "variable duration video content" exists today… everywhere?)
Location-based advertising will become more keenly relevant (yes, that's unfortunately very likely) and advertisers and agencies will be presented with a new realm of possibilities for presenting content brands and location (oh dear)
Employers, office buildings, apartment complexes, university campuses and housing estates will offer MaaS to add value to and distinguish their offer from competitors or as part of their compensation package – in other words, "mobility as a perk" (a direct replacement for the company car or subsidised public transport costs)
Despite some questionable future scenarios (but hey, why not throw them out there, it's not like anyone predicted the rise of Facebook or Uber), the report sheds light on a fascinating development, and one that telcos ought to be seriously investigating, given their rebranding of network infrastructure and services as "Platforms" for other businesses. Tie this into 5G and you have some very interesting potential plays. The full report can be downloaded here.
Email Newsletters
Sign up to receive TelecomTV's top news and videos, plus exclusive subscriber-only content direct to your inbox.