What's up with… Orange, Open RAN, the FCC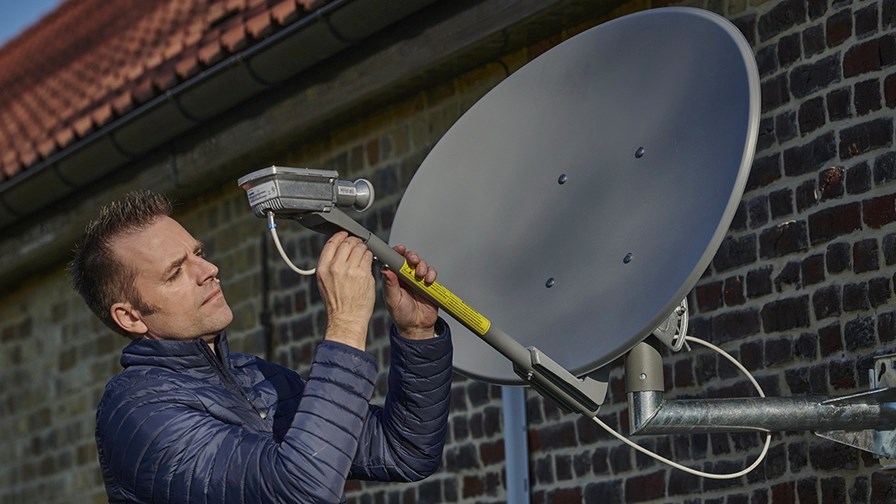 Orange launches satellite broadband service in France
Ericsson and Nokia need to walk the Open RAN walk
The FCC tackles "digital discrimination" and AI-enabled robocalling
In today's industry news roundup: Orange adds satellite connectivity to its offerings to enable access to superfast broadband to all; with pressure mounting on Ericsson and Nokia to back up their Open RAN promises with action, the Finnish vendor steps up (at least a little bit); the US regulator wants a truly level broadband playing field and has concerns about how AI might fuel unwanted communications; and much more!
Orange has launched a satellite broadband service in its domestic market of France, promising to deliver downlink speeds of up to 200 Mbit/s and uplink speeds of up to 15 Mbit/s via its Nordnet subsidiary, which uses the Eutelsat Konnect VHTS satellite for its service delivery. The addition of satellite connectivity to its existing portfolio of broadband options (fixed fibre or copper, mobile, fixed wireless access) is "part of the French government's Cohésion Numérique des Territoires (Digital Cohesion of Regions) programme, and meets the government's objective of guaranteeing access to superfast broadband (greater than 30 Mbit/s) for all by 2025," the telco noted. The service costs €49.99 per month plus the cost of the satellite customer premises equipment (CPE). The monthly tariff is slightly more than Orange's 500 Mbit/s fibre broadband service, which (after an introductory offer) costs €42.99 per month. Elon Musk's Starlink satellite broadband service has been available in France for more than a year, prices for which have reduced from more than €100 per month to the current €40 per month (plus CPE costs), so there's a direct rival already on offer to French citizens. "The launch of Orange Satellite with Nordnet is another step towards the deployment of superfast broadband for everyone, everywhere in mainland France," the operator stated in its press release. Jean-François Fallacher, CEO of Orange France, noted: "The launch of Orange Satellite with Nordnet is another step towards the deployment of superfast broadband for everyone, everywhere in mainland France. At Orange, we're proud to be able to offer all our customers a superfast broadband access solution thanks to our technology mix… This new offer responds to the needs of the French population, whatever their connectivity requirements, even in the most remote areas," added Fallacher. Let's see how the French population, which is quite distributed across the country (almost 20% of the French population lives in rural areas), responds to this offer.
It's been a big week for satellite communications news! In addition to updates from Telefónica Germany, Chunghwa Telecom, OneWeb and AST SpaceMobile earlier this week (and Orange, of course), rumours have been circulating, courtesy of a report from Bloomberg, that Elon Musk might be preparing an initial public offering (IPO) of Starlink – currently part of his SpaceX business – as soon as 2024. But Musk quickly shot down that suggestion on X (FKA Twitter) by posting that the Bloomberg article was "false", reported Reuters, which found an analyst who predicted that 2025 or 2026 would be a more likely timeframe. All of this points to positive uptake and prospects for Starlink though which, according to Musk, is already breaking even. There's plenty more competition to come from the likes of Amazon's Project Kuiper, which should result in even lower prices for consumers and a tougher time for the companies, such as Starlink, trying to make a fat profit from their satellite-enabled services.
And that's not the end of the satellite sector news… Telenor is selling its satellite subsidiary, Telenor Satellite, to state-owned Space Norway for 2.36bn Norwegian kroner ($217m). "For more than 20 years, we have served our customers with premium, high-quality broadcasting and data services via satellite. Now the time has come for a new era for Telenor Satellite," stated Dan Ouchterlony, head of Telenor Amp, which manages the operator's portfolio of companies that are closely related to its core business. "With Space Norway, Telenor Satellite will have an industrial owner who has the right competence and who will prioritise the required financial resources to realise the company's potential. We are proud of what we have achieved together and look forward to following the company's future development," added Ouchterlony. Read more.
Europe's main mobile network technology vendors, Ericsson and Nokia, are desperate to be seen as 'Open RAN friendly': Nokia pinned the Open RAN badge on its lapel some years ago to cover its options, while Ericsson only recently lit a fire under its "we love Open RAN" pyre – see Ericsson lights the Open RAN Fyuz.
Now, though, network operators with Open RAN plans want to see actual proof that the vendor duo can deliver the goods in multivendor scenarios and conform to O-RAN Alliance open interface specifications, as there is still a great deal of scepticism as to whether they can, or want to, do so (at least for now). To that end, Nokia has "successfully completed interoperability testing with a Mavenir radio using the O-RAN Alliance 7-2x interface" at its Open RAN Innovation Center in Dallas, Texas. And it has even attracted public praise from John Baker, senior VP of business development at Mavenir, who is not slow in sharing his thoughts about companies that talk the Open RAN talk but are then unable to walk the walk. "This solution demonstrates a full circle of O-RAN interoperability whereby our industry-leading RAN portfolio integrates and interoperates in both directions with products from other RAN suppliers," noted Baker in the press release announcing the interoperability tests. "This is real Open RAN – not the version where one supplier only connects their own products to each other. It is a great credit to both teams that they could integrate our radio with Nokia's baseband in record time," he added.
The US Federal Communications Commission (FCC) has adopted a set of rules designed to prevent what it calls "digital discrimination" in broadband services, a move enabled by the passing of the 2021 Bipartisan Infrastructure Law. The anti-digital discrimination rules will attempt to ensure equal access to "reliable high-speed broadband services" without any discrimination based on income level, race, ethnicity, colour, religion or national origin. The FCC hopes to help unravel decades of entrenched community discrimination and overcome the US's fragmented broadband coverage with the new measures. "Many of the communities that lack adequate access to broadband today are the same areas that suffer from long-standing patterns of residential segregation and economic disadvantage," said FCC chairwoman Jessica Rosenworcel. Under the rules, the FCC can "protect consumers by directly addressing companies' policies and practices if they differentially impact consumers' access… or are intended to do so." It can investigate possible instances of discrimination of broadband access, work with companies to solve problems, facilitate mediation and, when necessary, penalise companies for violating the rules. This approach naturally risks cries of "overreach", which the regulator clearly anticipates by pledging to "recognise and fully take into account technical and economic challenges that may prevent full achievement of equal access." It said it will "work with companies to solve problems, facilitate mediation and, when necessary, penalise them for violating the rules," but will only target business practices and policies that impede equal access to broadband "without adequate justification".
Still with the FCC… the regulator has just voted to begin a formal inquiry into AI and how it might facilitate illegal and unwanted robocalling and robotexting or, conversely, how it might actually benefit consumers. AI presents opportunities to protect consumers but it can also pose privacy and safety challenges, according to the FCC. In the case of robocalls and robotexts, AI could improve the analytics tools used to block unwanted calls and texts, but it could also permit bad actors to more easily defraud consumers through calls and text messages, such as by using technology to mimic voices of public officials or other trusted sources.
Cisco Systems has just reported its "strongest first-quarter results in [its] history in terms of revenue and profitability" with $14.7bn in revenues, up 8% year on year, and earnings per share of $0.89 for the three months to 28 October, its fiscal first quarter. "We had a solid start to fiscal 2024 with the strongest Q1 results in our history on both revenue and profitability," noted CEO Chuck Robbins in this earnings announcement. "We are confident in the foundational strength of our business and future growth opportunities fuelled by AI, security, cloud, and observability," he added. But so often, the only way to go once you achieve your best ever numbers is to slip back down the financial slope and Cisco noted that revenues in its current quarter would likely come in at between $12.6bn and $12.8bn, some way below the $14.2bn that had been expected. Customer investment behaviour is to blame, suggested seasoned investment analyst Richard Windsor in his latest Radio Free Mobile blog, pointing out that customers have been spending a lot on Cisco products due to concerns about available supply and now they have enough tucked away in their tech inventories, leading to a quite dramatic slowdown in spending. And what happens to Cisco usually happens to others, he noted: "Cisco serves as a warning to everyone else." Cisco's shareholders freaked out at the lower-than-expected forecast and the vendor's stock plummeted by 12% in Thursday trading to $46.88.
One of the broadband applications that many think will set the early scene for what Vodafone is calling the economy of things and what others have called the 'internet of everything' is the electric vehicle public charging network (EV charging network). However, in the UK, its shortcomings are being partly blamed for the slow takeup of electric vehicle adoption. So much so that last month the UK government announced it was pushing out the date by which all new cars sold in the country will have to be zero emission from 2030 to 2035, as EVs currently comprise just 15.6% of new car sales whereas the government had been expecting that figure to hit 22% next year to help it meet its net zero targets. The reason for the hesitant uptake, say many existing and prospective EV buyers, is patchy public charging provision, unreliable chargers and complex charging processes that have made long EV journeys "a nightmare". Now a UK government knocking of heads seems to have caused a renewed sense of urgency among the various EV stakeholders, thus presenting a burgeoning opportunity for the likes of Vodafone to show off the power and save-the-day utility of next-generation networks and the emerging automated economy of things: Vodafone, via its Pairpoint joint venture with Sumitomo, aims to use its digital asset broker (DAB) technology, combined with 5G connectivity, to enable automated data connections and transactions between 'things' and believes EV charging networks are the low-hanging fruit in the economy of things sector, which could be good news for all those frustrated Brits. The network architecture to support an automated EV charging process and back-office transactions will likely involve 4G/5G and smartphone technology every step of the way, starting with a smartphone app so the driver/user can locate the nearest chargers and ensure that at least one charging station is free. Having plugged in at the charging station the app oversees a handshake between the charger and the car's engine and battery management system, which ensures everything is lined up to charge at the right voltage and top up to the right level while the user engages in some retail therapy (in the supermarket next to the charging station). All the user needs to do, in theory, is unplug the charger upon his/her return and the system calculates how much the session has cost, debits the user's account, and marks the charger free so the next user can swoop in to use it. The emerging charging sector seems to be, erm… 'charging forward' again with news of multiple build plans for new chargers, and expanded installations, including an increase in multi-tenant charging installations where several charging brands will compete on the same supermarket property. (It is so supermarket-like to have the brands fight it out to produce the best pricing and thus draw the most customers). Now we're seeing a renewed effort in the UK by Tesla, arguably the charging leader: It has announced a deal with the Asda supermarket chain to expand its network from around 600 charging points to more than 20,000 over time.
- The staff, TelecomTV
Email Newsletters
Sign up to receive TelecomTV's top news and videos, plus exclusive subscriber-only content direct to your inbox.