What's up with… More MWC23, Deutsche Telekom, Orange, green networks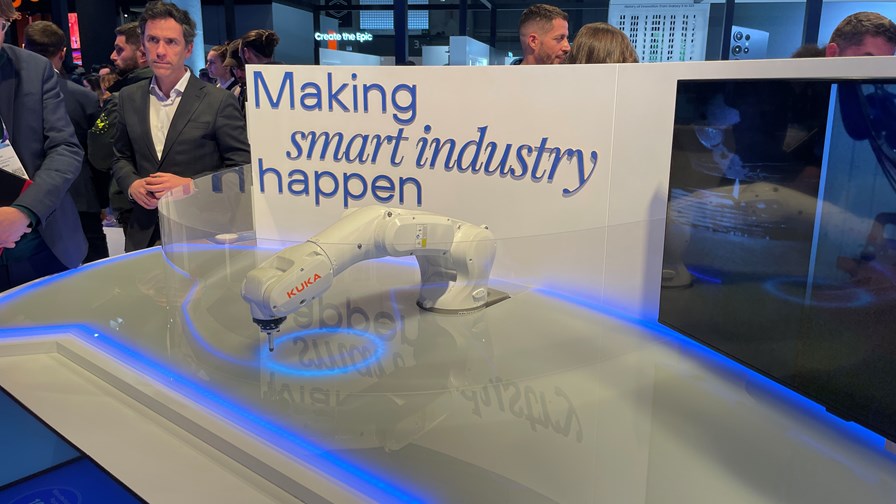 At MWC23, Europe's telco chiefs issue wake-up calls
Deutsche Telekom ramps up its network API activity
Renewable energy is playing a bigger role in telecom
In today's industry news roundup: European regulators get it in the ear from some major network operators; Deutsche Telekom is committing to open network APIs; the levels of renewable energy being used by operators is increasing; and much more!
If day one at MWC23 told us anything, it's that there's a lot of business being done in the halls of the Fira at a pace and volume not seen since 2019: Budgets might be a little tighter but we're not in the kind of spending-freeze scenario we saw 20 years ago. In the space of just a few days, companies here are engaging in hundreds of meetings with customers and partners, as well as meeting new names and faces, and there are long lines to check out industrial automation demonstrations, such as the 'Making Smart Industry happen' digital twin on show at the Telefónica stand (see pic above and more details below), which can only be good for the industry. But that doesn't mean everyone's happy…
There's a long tradition of major telecom operator CEOs rocking up to the annual Mobile World Congress (MWC) show and slamming regulators for holding back the industry and making it hard for them to get a better return on their investments: That hasn't changed, but the griping has taken a twist and is reflecting the more regionalised view of the networking and tech sector that increasingly dominates strategic thinking in the post-Covid, increasingly digitised and still supply chain-challenged world. Deutsche Telekom's CEO Tim Hoettges, for example, took to the keynote stage in Barcelona at #MWC23 on Monday and lambasted European regulators for putting telcos in an M&A straitjacket and not doing enough to enable a fair infrastructure investment landscape, all of which references the current European Commission consultation that is investigating whether big tech companies should contribute towards telecom infrastructure investments across the bloc (the "fair share" debate) and examining cross-border consolidation issues. A lack of appropriate regional regulation has, to date, left Europe in a weaker industrial position than North America and Asia, he argued. Hoettges followed in the keynote wake of Orange CEO Christel Heydemann, who hammered home the message that telecom network business models are so limited that (once again) the European telco community is having an existential crisis, with some operators not expecting to still be in business in 10 years' time. Will Europe's influential commissioners, such as Thierry Breton, the former CEO of France Telecom (which became Orange) who wants to see "true single market for telecoms" in Europe, and antitrust chief Margrethe Vestager, be swayed by such public outcries? They haven't in the past, and Breton has stated he is remaining completely objective and investigating all angles, but these are different times and there's little doubt the streaming giants and hyperscalers that generate much of the traffic that runs over European telco networks are concerned they might get embroiled in a protracted battle over "fair share" capex contributions.
Organising cross-telco application programmable interfaces (APIs) to lure software developers into incorporating telco functions into their applications has become a bit of a theme at MWC this year. Yesterday's announcement by the GSMA that it had signed up 21 telcos to its Open Gateway API initiative has been followed by Deutsche Telekom and its subsidiary T-Mobile US announcing that they will introduce network APIs and a joint developer platform in both Germany and the US. The DT platform, dubbed T-DevEdge, will make it easier for the global developer community to create new, connected solutions and provide a simplified entryway to connectivity and other core network services on both sides of the Atlantic. The platform's lead customer is Siemens Energy, which is using the APIs – integrated with Microsoft Azure Programmable Connectivity – to perform virtually assisted remote maintenance. At last year's MWC, DT co-founded the Camara Alliance, involving network operators, cloud providers, application developers and technology and operating system vendors on a mission to help ensure that global API standards are defined and used. The alliance claims to have, in the interim, incorporated 11 API families and more than 50 partners.
Almost a quarter of electricity used by global mobile operators is now being purchased from renewable sources – and while this might not seem like a significant figure, it is still a notable improvement on the level of renewable power used in 2021 when it was 18%, according to findings from a report by the GSMA. The association has also highlighted that operators are increasingly working towards being net zero by improving the energy efficiency across their footprint, investing in 5G – which is said to consume less power per bit delivered, and sunsetting power-hungry legacy networks. In total, 62 operators, which represent nearly half of all mobile connections, have committed to science-based targets aimed at the "rapid" reduction of carbon emissions by 2030.
At MWC this year, Telefónica is all about making things smarter. At its stand, it is demonstrating a digital twin that aims to optimise quality in the production of industrial parts. Its showcase features a robotic arm that can make real-time decisions thanks to technologies such as 5G, edge computing, data analytics and machine learning. The demo, called 'Making Smart Industry Happen', virtually recreates an industrial process, with its goal being to make the manufacturing model more efficient and detecting potential faults in the production process. Telefónica is also showing how it can make agriculture smarter, including through the deployment of smart irrigation management, traceability of the production process and certification of the origin of the product through blockchain, and field precision agriculture solutions.
Infosys says it's rolling out a private 5G-as-a-service solution by incorporating multi-access edge computing (MEC) and pre-integrating a 5G stack from multiple product vendors along with its private network management solution. The result, it claims, is a low-lag, low-complexity, pay-as-you-go offering that is up to the job of supporting the full gamut of future-oriented applications, such as remote-guided vehicles, drone-based real-time analytics, high-definition media & video analytics, metaverse solutions and a variety of IoT/industrial IoT applications.
This is what a classic telco-big tech partnership looks like: Deutsche Telekom has lined up with Microsoft to offer a low-cost private 5G network solution. It's to be based on Microsoft Azure Private MEC and is targeting small and medium business customers with what it describes as a pay-as-you-grow offering, which includes Azure Private 5G core software and multiple site operations. The setup can integrate existing customer applications and the partners say they will provide a complete campus network buildout, from planning to building the network as a managed service, using Azure services and radio access network components. The duo tested the solution in a lab in Bonn, Germany last year and have now launched a field trial with a leading pharmaceutical company in the country to test the 5G campus with various use cases, including the use of artificial reality (AR) glasses for remote maintenance and enabling object recognition in forklifts in a 'high-bay' warehouse to monitor inventory and automatically scan barcodes.
Fujitsu has announced that it is in trials with Microsoft to verify the connectivity between its 5G network technology and Microsoft Azure Private MEC. The trials began in Japan last July and, following success there, will now come to Europe with further testing to take place at a site in Birmingham in the UK, and activity to support those trials starting in March.
Still with future-oriented technology… Counterpoint Research has picked artificial intelligence (AI), digital twins and real-time compute as its top technology trends for 2023. Just to cover all the options, it's also thrown in blockchain, IoT, cybersecurity, eSIMs and XR (virtual reality, augmented reality etc), all of which have been on the radar for some time. But it certainly seems likely that we'll be hearing much more about AI since it always comes up as the crucial ingredient required if the industry is to overcome its complexity problem. That's presumably because there are so many high-performance functions, all demanding seamless integration on the network.
In the wake of US President Joe Biden's visit to the Ukrainian capital Kyiv, the Federal Communications Commission (FCC) has quickly stepped up to support the Ukrainian telecoms authority (the National Commission for the State Regulation of Electronic Communications, or NCEC) with a memorandum of understanding signed at MWC23. FCC chairwoman Jessica Rosenworcel and her Ukrainian counterpart, NCEC commissioner Liliia Malon, met and signed an agreement to cooperate on a range of issues, including a pledge to help ensure the resilience of Ukraine's telecommunications infrastructure, quality of service and coverage, 5G and other new technologies and related security issues, consumer protection, regulatory best practices and capacity development. Despite the ferocious attacks on its telecom infrastructure, it is generally agreed that Ukraine has done a great job in maintaining network services. However, there's a huge infrastructure rebuilding job ahead once hostilities have ended.
- The staff, TelecomTV

Email Newsletters
Stay up to date with the latest industry developments: sign up to receive TelecomTV's top news and videos plus exclusive subscriber-only content direct to your inbox – including our daily news briefing and weekly wrap.