What's up with… EU M&A, capex contributions, Baidu and Google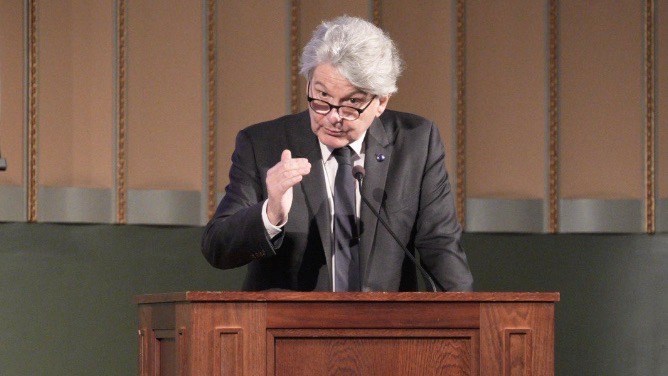 European commissioner Thierry Breton tackles cross-border telco M&A
Breton is also initiating a consultation into capex contributions by the streaming giants
Baidu and Google join the AI chatbot gang
In today's industry news roundup: European commissioner Thierry Breton gives the region's telcos hope for easier M&A and capex help from the streaming giants; Baidu and Google have thrown their digital hats into the AI-enabled chatbot ring; and much more!
The European Commission's industry chief, Thierry Breton, is sending some interesting messages to Europe's telecom sector. In a speech given in Helsinki on Monday, he noted that the commission is aiming to "build a true single market for telecoms. The current fragmentation in Europe with suboptimised business models based on national markets and high costs for national spectrum licences is holding back our collective potential compared to other continents." He added, "I believe that creating a true single market for telecommunications services also requires a reflection on encouraging cross-border consolidation, all while preserving fair and necessary competition for the benefit of our consumers." This seems to be a message to his colleagues at the commission, particularly antitrust chief Margrethe Vestager, to look more favourably on the cross-border consolidation efforts of the region's telcos and certainly will give the major operators, such as Deutsche Telekom and Orange, hope that any such efforts might be worthwhile pursuing in the future. Breton noted that discussions about such matters would be part of an industry consultation that would begin this month and would include an examination of whether the hyperscalers and streaming giants, such as Amazon Web Services (AWS), Google, Microsoft and Netflix, should be contributing towards the capex bills of Europe's telcos: The region's major telcos have been pushing for some kind of contribution for the past year and in Breton, a former CEO of France Telecom (which became Orange), they appear to have found an ally. "The investments which will be required to achieve our ambitions will be enormous and we need to ensure that they are matched by the availability of sufficient funding. The burden of this financing should not be only on the shoulders of the member states or the EU budget. At a time when technology companies are using most bandwidth and telco operators are seeing their return on investment drop, this also raises the question of who pays for the next generation of connectivity infrastructure," stated Breton.
Can Ernie be the fastest chatbot in the west? Baidu of Beijing, China, the huge multinational AI and internet services company, has announced that next month it will complete the internal testing of a new generative bilingual AI-powered language model chatbot. In China it will be called Wenxin Yiyan and in the English-speaking world it will rejoice in the quaintly old-fashioned name of Ernie. In the UK, that name is now as rare as hens' teeth. In Baidu's model, Ernie stands for "Enhanced Representation through Knowledge Integration" and is an iteration of an experimental AI-powered language model the company began testing in 2019. It is a large-scale, machine-learning model that, according to the China Daily, has been "trained" on massive quantities of data, and refined and enhanced until it now has "in-depth semantic comprehension and generation capabilities" and can perform tasks such as language understanding, language generation, and text-to-image generation. Baidu says that if all goes well, it will launch Wenxin Yiyan/Ernie as a commercial service in late March this year, first as a standalone app and then later as a service merged into the powerful Baidu search engine. The new service is being presented as a bigger and better alternative to the Microsoft-backed company OpenAI's ChatGPT (chat generative pre-trained transformer) that has been much in the news since it became available for beta testing in November last year but, as you might expect, is not available in China. ChatGPT got a lot of media attention for its ability to churn out highly detailed and convincingly articulate answers to a myriad of questions that were soon revealed to be "factually inaccurate", which is a bit of a drawback really. Nonetheless, shortly after ChatGPT's debut, OpenAI had a market value of US$29bn. As the news of the pending introduction of Baidu's chatbot hit the wires, the company's share price rose by 13.5% on the Hong Kong stock exchange. Ernie isn't the first technology to be given that moniker. In the UK in the 1950s, the original ERNIE (electronic random number indicator equipment) was the brainchild of a scientific civil servant who had been a member of the Bletchley Park team that broke German Enigma code and shortened World War II in Europe by at least two years. ERNIE, a massive and mysterious-looking cabinet with lots of redundant flashing lights (so it looked good for TV viewers and the press), generated weekly numbers for British Premium Bonds, a national savings scheme that was also a sort of state-run lottery with limited prizes. ERNIE has produced 596 million tax-free prizes worth approximately £24.5bn since June 1957 and, now in its fifth iteration and using quantum technology and laser light, continues to distribute prizes every week.
Et tu, Google? Staying with AI and chatbottery, Sundar Pichai, the CEO of Google and Alphabet, has published a blog announcing the company is to introduce its very own "conversational" AI service called Bard. As in The Bard, The Swan of Avon, the Upstart Crow William Shakespeare (or, if you are an Asterix aficionado, Cacofonix, the under-appreciated and usually violently suppressed musician and songster of the 'village gaulois' in the comic books). Pichai told his troops that work has been underway with Google's Language Model for Dialogue Applications (LaMDA) for more than two years and it is now sufficiently advanced to be made available to "trusted testers ahead of making it more widely available to the public in the coming weeks." He added, "We're releasing initially with our lightweight model version of LaMDA. This much smaller model requires significantly less computing power, enabling us to scale to more users, allowing for more feedback. We'll combine external feedback with our own internal testing to make sure Bard's responses meet a high bar for quality, safety and groundedness in real-world information." Thus, Google will soon "start onboarding individual developers, creators and enterprises so they can try our Generative Language API, initially powered by LaMDA with a range of models to follow. Over time, we intend to create a suite of tools and APIs that will make it easy for others to build more innovative applications with AI." Pichai's announcement comes three months after the release of the aforementioned ChatGPT by OpenAI, in which Microsoft is an investor and which seems to have stolen Google's thunder, as it appeared from nowhere and ratcheted up more than 100 million users in less than eight weeks. One wonders if the rushed-out CEO blog was more a case of "Cry Google, and let slip the chatbots of war", than anything else. And, given that ChatGPT is now facing accusations that, despite its flashy abilities to provide highly detailed and disarmingly fluent responses to whatever questions it is asked, they are packed with "factual inaccuracies", it would be well to remember that "words without thoughts never to heaven go." Thank you, Hamlet…
Telekom Austria Group has taken a step closer to following in the footsteps of peers, such as Vodafone and Deutsche Telekom, by cashing in on its telecom tower assets. In a note to investors (in German), the European telco stated that its two main shareholders, Latin American telco giant América Móvil (AMX) and Austrian state-owned wealth fund Österreichische Beteiligungs (OBAG), have given the green light for a spin-off of Telekom Austria's mobile towers assets into a separate company that would be listed on the Vienna Stock Exchange and have its shares "distributed proportionally" to the telco stakeholders.
Dell Technologies is the latest industry giant to give thousands of staff the axe. In a filing with the SEC, it announced it is making 5% of its staff redundant, a move that will affect about 6,650 employees. It said it had informed its workforce of actions needed to "align its investments more closely with its previously discussed strategic and customer priorities… in light of a challenging global economic environment." In a letter to the company's staff, Dell's chief operating officer, Jeff Clarke, said: "We've navigated economic downturns before and we've emerged stronger. We'll prevail as we always do, for our customers, partners and each other. We'll be more competitive, more focused and find a new level of operational performance. We will be ready when the market rebounds." For its fiscal third quarter, which ended on 28 October 2022, Dell Technologies reported revenues of $24.7bn, down by 6% year on year, and record operating profits of $1.8bn. It will announce its full fiscal year results on 2 March.
T-Mobile US was quick to react to the strongest earthquake to hit Turkey and Syria in more than 100 years, which has claimed thousands of lives. Following reports of the earthquake with a 7.8 magnitude that occurred on 6 February with its epicentre being the Turkish province of Gaziantep, the US operator announced that until 12 February, it is waiving charges for international long-distance calls and SMS texts to and from Turkey and the US, and to Syria, for all customers of T-Mobile and Sprint plans. Nor will any fees be incurred for international roaming, data and calls between Turkey and the US for those customers in the period. "As we recognise that those who were impacted will have significant challenges to come, T-Mobile is offering assistance to customers who need to stay connected to friends and family during this critical time", the telco company noted in its statement.
Vision Fund has announced significant losses for its fourth consecutive quarter of 2022, negatively affecting parent company SoftBank Group's revenues. The investment unit of the Japanese giant reported an investment loss of ¥653bn ($4.9bn) for its fiscal third quarter ending 31 December 2022. Between October and December, the division brought the company's total net loss to ¥783bn ($5.9bn), which stands in sharp contrast with the ¥29bn (US$220m at current exchange rates) profit in its fiscal Q3 2021. Vision Fund's investments for the quarter totalled $2.8bn, "a significant reduction" from the $39bn spent in the same period of 2021, the company noted in its earnings announcement. Alongside the results, Bloomberg reported (available here via Yahoo) that the company's Vision Fund 2 still has $6.5bn available to spend on new investments and once the fund's total capital is utilised, SoftBank might consider increasing its commitments into the fund or starting a new investment arm, Fund 3.
The International Air Transport Association (IATA) has reportedly warned that many airlines will fail to meet US deadlines requiring them to retrofit devices to ensure there is no interference with 5G networks. Reuters reported that IATA has sent a letter to the US Federal Aviation Administration (FAA) in which the trade body cautioned that many airlines will not be able to retrofit aeroplane altimeters (devices that measure the altitude of an object above a fixed level) by the proposed deadline of July 2023 or, in some cases, March 2023. The reasons cited by the association are the ongoing supply chain issues, delays over certification and "unavoidable" logistical hurdles, according to the report. Concerns over 5G interfering with aeroplane systems emerged last year, causing rollout delays in the US.
Cuba, the largest island in the Caribbean and a country of great potential, has, for deep and long-lasting geo-political and economic reasons, suffered with an antediluvian telecoms network. For the past 24 years, Cuba's telecoms services have been run by Empresa de Telecomunicaciones de Cuba SA (ETECSA for short), the state-owned and state-controlled monopoly organisation with no national competition. It is the only provider of telecoms services on the island and is in a state of perpetual crisis. The fixed line network is beyond a joke. Mobile came to Cuba very late, as did a truncated, constantly surveilled and censored sub-set of the internet. The latest available official statistics on Cuba's telecom sector date from 2020 and, at that time, the island had a population of 11.33 million and 8.16 million communications connections, of which 6.66 million were mobile. How many of those actually worked and the number of ordinary Cuban people who could afford a mobile contract were not disclosed. However, despite current official inflation figures of 29% and unofficial estimates provided by a few brave economists who dare not to toe the party line showing that the real inflation rate is over 180%, demand for modern telecommunications services in general and internet connectivity in particular is growing. This is reflected in an official government announcement that a new 2,410km subsea cable connection from Martinique (a French département d'outre-mer and thus a peripheral but integral part of the EU) to Cuba will – ahem – come on-stream (if you'll forgive the pun) in April. Translating Cuba, a website that provides the translation from Cuban Spanish to English of articles written in Cuba, by Cubans for Cubans, shows that the island authorities admit the current subsea link, ALBA-1, to Venezuela, a neighbouring oil-rich state with a basket-case economy as bad or even worse than Cuba's, is massively congested and basically impossible to access for anyone except government functionaries. Now, though, a new link, the Arimao cable from Martinique, courtesy of the island's Orange France subsidiary, will be available and, hopefully, will provide an improvement on Cuba's truly dismal internet performance figures as supplied by Ookla in October 2022. Three months ago the average broadband download speed was 1.82Mbit/s, upload speed was 0.81Mbit/s and latency stood at 132 milliseconds (ms). Unsurprisingly, Cuba languished at position 181 in the international internet broadband access league. With the announcement, ETECSA also provided a limited update on telecom growth statistics. With the introduction of limited 4G services, traffic has apparently increased by 63%, whilst infrastructure to satisfy demand has not improved at all, resulting in network saturation and endless services outages. So far, the new cable's capacity has not yet been divulged, so it's unclear what kind of impact it will have on the quality of services in Cuba. In an example of the peculiar mindset of Cuban officialdom, an ETECSA spokesperson said, "It is satisfactory for our company to show growth in traffic and in the number of subscribers, although we recognise that there is dissatisfaction with quality."
- The staff, TelecomTV
Email Newsletters
Sign up to receive TelecomTV's top news and videos, plus exclusive subscriber-only content direct to your inbox.