What's up with… Europe's fair share debate, net neutrality, Telecom Italia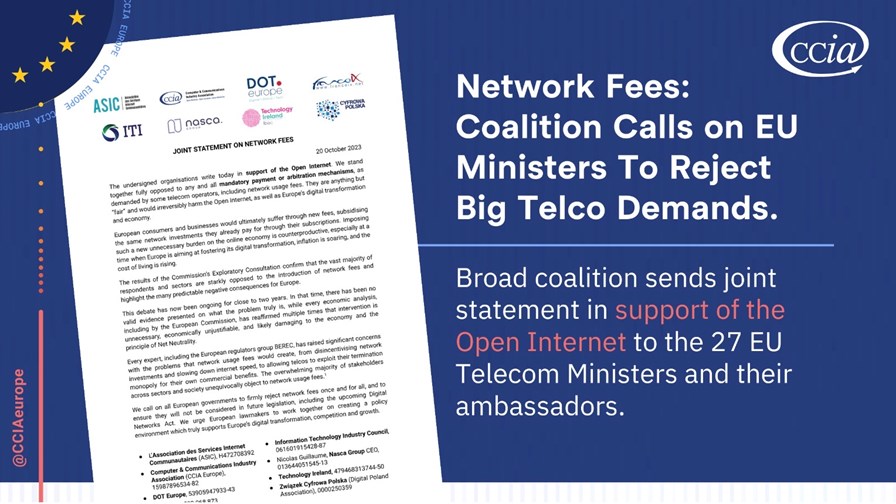 Industry bodies lobby EU telecom ministers over fair share proposals
US regulator the FCC has started the process of reintroducing net neutrality
Telecom Italia's largest shareholder wants a vote on KKR bid for NetCo
EC telecom ministers' meeting; US regulator the FCC has begun the process of reinstating net neutrality rules; Vivendi wants Telecom Italia shareholders to vote on whether to accept KKR's bid for the Italian telco's fixed network assets; and much more!
Ahead of a European Commission Telecom Council meeting planned for 23 and 24 October, a broad coalition of industry organisations has sent a letter to the 27 European Union telecom ministers and their ambassadors to reject calls from the region's telcos for so-called 'fair share' contributions to their capital expenditure budgets by the big tech giants. The joint statement comes from the Computer & Communications Industry Association (CCIA Europe), the Information Technology Industry Council, DOT Europe (which represents many of the big tech firms, including Amazon, Apple, Google and Meta), France-IX (the largest internet exchange point facility in France) and four others. Jointly, they state they are "in support of the Open Internet" and are opposed to "any and all mandatory payment or arbitration mechanisms, as demanded by some telecom operators, including network usage fees. They are anything but 'fair' and would irreversibly harm the Open Internet, as well as Europe's digital transformation and economy," noted the industry bodies in the statement. "We call on all European governments to firmly reject network fees once and for all, and to ensure they will not be considered in future legislation, including the upcoming Digital Networks Act," they added. Europe's major telcos are fully behind the push for fair share contributions, and had their names on the most recent call, via the European Telecommunications Network Operators' Association (ETNO), for the large traffic generators (LTGs) to share the capex burden. But when the European Commission provided an update on its communications network sector consultation earlier this month, it omitted any mention of such contributions from its key takeaways – see EC's fair share ruling is MIA.
As expected, US regulator the Federal Communications Commission (FCC) is moving quickly to restore net neutrality rules, a move it signalled late last month when it finally filled its fifth commissioner seat. The commissioners voted down political lines – the three Democrats in favour, the two Republicans against – to initiate "a new proceeding on restoring open internet protections for consumers and businesses," it noted in this announcement. FCC chairwoman, Jessica Rosenworcel, noted: "As long as I have served on the FCC, I have supported net neutrality. But in 2017, despite overwhelming opposition, the FCC repealed net neutrality and stepped away from its Title II authority over broadband. This decision put the agency on the wrong side of history, the wrong side of the law, and the wrong side of the American public. Remember 80% of people in this country support net neutrality. Today, we begin a process to make this right. We propose to reinstate enforceable, bright-line rules to prevent blocking, throttling, and paid prioritisation. These rules are legally sustainable because they track those that were upheld in court in 2016 – from front to back. They would ensure that the internet remains open and a haven for creating without permission, building community beyond geography, and organising without physical constraints," noted Rosenworcel. The FCC will now seek comment on its 'notice of proposed rulemaking'. The previous net neutrality rules were repealed by Ajit Pai, Rosenworcel's predecessor – see The not-so-humble Pai congratulates himself for repealing net neutrality in the US.
Vivendi, the single largest investor in Telecom Italia (TIM), wants shareholders to vote on whether private equity firm KKR should be allowed to acquire the Italian national operator's NetCo (fixed access network) unit, Bloomberg has reported. As previously reported, KKR recently submitted a binding bid for the NetCo division, with the value of the offer believed to be in the region of €23bn. But Vivendi, which holds a 24% stake in Telecom Italia, has long argued that the NetCo assets are worth more than €30bn and wants the chance to persuade other shareholders to support its opposition to the current offer, rather than leaving the decision to the TIM board of directors. Telecom Italia has been trying to sell its fixed access network assets for almost two years in a bid to raise capital that will help it to reduce its enormous debt pile, which currently stands at about €26bn.
Casa Systems is making great claims for its Axyom virtual Converged Cable Access Platform (vCCAP), which is based on Intel's 4th Generation Xeon Scalable Processors, boasting that the system has achieved a 65% increase in capacity and a seven-fold increase in density while consuming much less power than previous generation vCCAP solutions. "This unprecedented combination of performance characteristics further extends the advantage that cable operators moving to virtualized solutions hold over competitors remaining committed to legacy systems," claims the vendor. Read more.
Indian telco Bharti Airtel has hit a new milestone with its video streaming service, called Airtel Xstream Play, which is now being used by more than five million paid subscribers. What's more – the operator claims that its offering is "the fastest-growing OTT [over-the-top] aggregator in the country", sporting a large selection of content that has attracted "heavy user interest on the platform lately". "Although India has 40+ OTT apps and a wide selection of premium video content, discovering and paying for this content is challenging. Airtel Xstream Play helps to bring together the largest selection of premium OTT apps under one app and one price," stated Adarsh Nair, CEO of Airtel Digital. Find out more.
Deutsche Telekom Multimedia Solutions, an IT service and consulting subsidiary of the German operator, has joined MultiversX, a decentralised blockchain network that supports enterprise, decentralised finance (DeFi), Web3 and metaverse applications. With the move, the operator's subsidiary will become a validator at MultiversX, responsible for verifying transactions, creating blocks and protecting the network from attacks. The German telco further noted that it will ensure security across the blockchain network by relying on its "own multi-cloud strategy, high-performance infrastructure, 24/7 maintenance by experts and a wealth of experience in managed networks". "The metaverse needs secure infrastructures because digital experiences and the gaming world for the masses require stable networks. I am happy to take the next step in Web3 together with MultiversX and to shape this new era," noted Dirk Röder, responsible for the Web3 infrastructure and solutions team at Deutsche Telekom MMS. According to the CEO of MultiversX, Beniamin Mincu, it is a "strong sign of blockchain's progress" when "industry veterans", such as Deutsche Telekom, actively participate in this segment.
UK wholesale fibre altnet Cityfibre says it's enabling its ISP customers to honestly offer 1 Gbit/s broadband services to retail customers by increasing the speed of its wholesale lines, which currently reach more than 3 million UK premises, to 1.2 Gbit/s at the same price as it has been providing its 1 Gbit/s wholesale service. But, as Cityfibre notes, the ISPs also need to do their bit to truly enable gigabit broadband services: "By increasing the wholesale speed to 1.2Gbps, CityFibre is enabling its ISP partners to promise a full 1Gbit/s service to their customers, provided that their own backhaul arrangements and in-premises equipment also supports this." Read more.
- The staff, TelecomTV
Email Newsletters
Sign up to receive TelecomTV's top news and videos, plus exclusive subscriber-only content direct to your inbox.