What's up with… Cellnex, global smartphone sector, Open RAN in Poland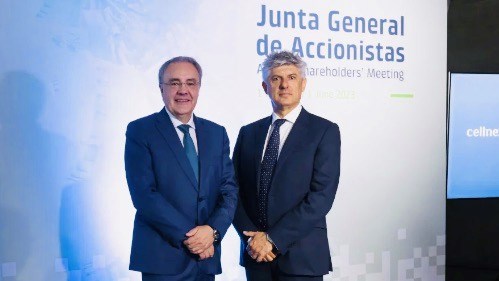 Cellnex welcomes new CEO
Smartphone market outlook gets gloomier
Open RAN fuels 5G private network in Poland
In today's industry news roundup: Patuano gets the nod to fill the CEO chair at Cellnex; IDC shares an even bleaker picture for the global smartphone sector in 2023; local player underpins 5G Open RAN deployment in Poland; and more!
As expected, Marco Patuano has been ratified as the new CEO of European telecom towers giant ​​Cellnex at the company's annual shareholders' meeting. Patuano, who will take over from current CEO Tobias Martinez on 4 June, was named as the preferred candidate in late April. He is no stranger to Cellnex, as he was previously the company's chairman for almost two years from 2018 to 2019, and he has plenty of telecom industry experience, having spent more than 25 years at Telecom Italia (TIM), including as CEO (from 2011 to 2016). He was, reportedly, also the favoured candidate of TCI Fund Management, which became the company's largest single shareholder earlier this year and immediately began agitating for change and for an acceleration of the process to appoint a new CEO. That agitation led to the appointment of Anne Bouverot as the new chair of the Cellnex board at the end of March, and the appointment of a TCI representative, Jonathan Amouyal, to the board. In her inaugural speech as the new head of the board, Bouverot noted: "On behalf of the entire board, I would like to welcome Marco to Cellnex. As an experienced and respected leader with a deep understanding of the dynamics of the telecoms sector and in-depth knowledge of the tower ecosystem in Europe, he is best placed to lead Cellnex in its next chapter. I would also like to thank Tobias for his excellent leadership since 2015, overseeing the truly impressive trajectory of the company into the market leader it is today." Patuano noted that Cellnex is committed to achieving the targets disclosed last November. "We have a clear strategy to strengthen the balance sheet and focus on working with our customers and driving organic growth in this new phase of the company's evolution," he said. Following years of frenzied M&A activity that took the company from a small towers player in Spain to a European shared-infrastructure powerhouse with more than 100,000 sites across 12 countries and annual revenues of around €4bn (at the current run rate), the company is now focused on "organic growth and the consolidation of its activities in the countries in which it operates, with a change of focus of the company's capital allocation policy, prioritising cash flow with the objective of reducing debt and obtaining an investment-grade rating from Standard & Poor's by 2024," the company noted today.
The outlook for the global smartphone sector is getting grimmer by the quarter, it seems. According to research house IDC, which has been tracking the mobile device sector since TelecomTV was still in short trousers, the number of smartphones shipped globally will decline 3.2% in 2023, totaling 1.17 billion units for the year: In February, IDC had been expecting a 1.1% year-on-year decline. The revision is being driven by several factors, according to the IDC team, including a weaker economic outlook and ongoing inflation, though it does still expect the market to recover in 2024 with 6% year-on-year growth. "Our conversations with channels, supply chain partners, and major OEMs all point to recovery being pushed further out and a weaker second half of the year," noted Nabila Popal, an IDC research director. "Consumer demand is recovering much slower than expected in all regions, including China. If 2022 was a year of excess inventory, 2023 is a year of caution. While everyone wants to have inventory ready to ride the wave of the inevitable recovery, no one wants to be stuck holding it too long. This also means the brands that take the risk – at the right time – can potentially reap great rewards of share gain."
A co-development effort involving Hubraum, a Deutsche Telekom tech incubator, along with local Open RAN software specialist IS-Wireless, Benetel and T-Mobile, has deployed Poland's first Open RAN-enabled 5G private network, the partners have announced. Based at the Hub4Industry in the Astor Robotics Center in Krakow, the multivendor network comprises RAN software from IS-Wireless, a mobile core platform from T-Mobile and radio units supplied by Benetel: It was officially launched on 25 May by representatives from the participating partners and Alex Choi, chairman of the O-RAN Alliance. And the team at IS-Wireless is hoping to take the model to other markets. "We are already involved in more implementations, bringing forth the industry 4.0 revolution, by providing our solutions to customers looking to transform their organisations in the country and abroad," noted the vendor's head of marketing Rafał Sanecki, who is particularly ready to meet local needs. "Companies across the Polish market are looking forward to implementing private 5G networks. Dedicated radio [spectrum] will soon be available for this purpose, according to the national regulator," he added. Poland is yet to award licences for the 3.5GHz spectrum, which is best suited for 5G services, having postponed its process during the Covid-19 pandemic, but its initial plans did involve carving out a slice of that band specifically for private network deployments. Read more.
Google Cloud has been busy. It has expanded its long-time relationship with systems integrator and consultancy Capgemini to create a global Generative AI Google Cloud Center of Excellence (CoE) to "help enterprises realise the full potential of AI technologies," the partners have announced. The duo will work together to "rapidly broaden generative AI skills within the 65,000+ Capgemini community that is engaged with Google Cloud," they noted. "Capgemini will bring its deep industry expertise and considerable experience in generative AI to help clients realise the benefits of Google Cloud's generative AI solutions and uncover new sources of business value," stated Aiman Ezzat, CEO of Capgemini. "With this new Generative AI Google Cloud CoE, we will leverage our leading capabilities in business transformation, infrastructure, applications, data, AI and engineering in an array of industry-specific use cases and accelerators, to assist clients in their digital and sustainable transformation journeys." Thomas Kurian, CEO of Google Cloud, added: "Generative AI has the potential to fundamentally improve how businesses operate in every industry. Capgemini has helped some of our largest customers transform their businesses with Google Cloud's data analytics and AI, and the launch of the Generative AI Google Cloud Center of Excellence will provide businesses with the expertise needed to successfully use this breakthrough technology safely and responsibly."
Still with Google Cloud… It has teamed up with Singapore's Ministry of Communications and Information (MCI) to bolster the island state's national artificial intelligence (AI) vision and strategy. The partnership is focused on "supporting the adoption and development of innovative, responsible and inclusive AI technologies to maximise opportunities arising from Singapore and the region," noted the hyperscaler in this announcement. "We welcome the opportunity to work with Google Cloud as we develop our plans to support the growth of the digital economy, and realise the benefits that AI brings to our people and enterprises in a safe and responsible way," noted Andrea Phua, director of the Digital Economy Office at the MCI. Google Cloud's next-generation AI infrastructure, GPU (graphics processing unit) hardware, Vertex AI platform, and AI managed services and tools are already available to users in Singapore "so they can implement AI at scale," added Google Cloud.
As 5G matures and gets more widely deployed, it will have an increasing impact on economies and, according to a new forecast from ABI Research, contribute US$508bn to global GDP by 2030. Deployments within manufacturing are expected to account for almost a third of global GDP contributions, followed by energy generation (including mining and oil and gas), transportation, healthcare, and agriculture. "These numbers underscore the vast size of the opportunity and the transformative potential that 5G connectivity can have on global economic productivity, be it through the public macro-network, a dedicated network slice, or a private cellular network," noted Leo Gergs, principal analyst of enterprise cellular connectivity and 5G markets at ABI Research.
- The staff, TelecomTV