Telcos to play critical 5G role in connected vehicles sector – report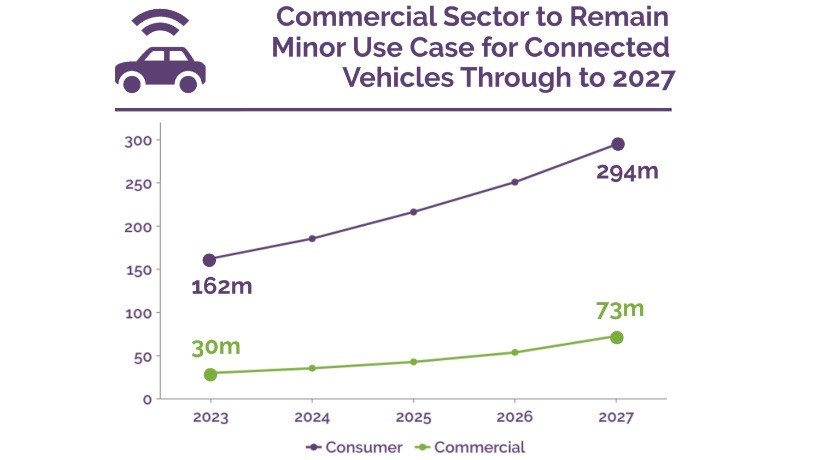 Number of connected vehicles set to grow by 91% between 2023 and 2027, predicts Juniper Research
Total number to hit 367 million by 2027, with consumer vehicles dominating
However, hitting that number will require close cooperation between vehicle manufacturers and mobile operators
The number of connected vehicles globally is set to grow from 192 million this year to more than 367 million in 2027, with 5G connectivity set to play a key role in the development of the market, according to a new report from Juniper Research.
The analyst firm believes the growth will be driven by improvements in both advanced driver assistance systems (ADAS), the attraction of enhanced in-vehicle infotainment systems, and the transformative potential of 5G's high-speed and low-latency capabilities. However, maximising 5G's potential impact will require "effective collaborations between automotive OEMs and [mobile network] operators," according to the authors of the "Connected Vehicles: Operator Opportunities, Competitor Leaderboard & Market Forecasts 2023-2027" report, who believe the 5G connectivity opportunity presented to telcos by the connected vehicle sector will be worth US$3.6bn in 2027.
According to the co-author of the research, Nick Maynard, "5G can allow automotive OEMs [original equipment manufacturers] to upgrade the in-vehicle experience. In a vehicle market transitioning to electric vehicles, improving the user experience is key. Operators hold the critical role in enabling this in a reliable way, making them the partners of choice as their 5G networks rapidly expand." Connected vehicles utilising 5G will be able to exchange information "between the various elements of the transport system and third-party services".
The report is upbeat overall, but does come with the caveat that commercial use cases are proving more difficult to find and justify than those for ordinary family automobile drivers. According to the Juniper Research team, by 2027 commercial vehicles will account for no more than 20% of connected vehicles worldwide, only a slight increase from the 16% that commercial vehicles will account for this year.
The research shows that such slow uptake is because commercial vehicle design is not yet fully exploiting the potential of connectivity beyond simple emergency call features and basic connected infotainment systems. The report recommends that automotive OEMs prioritise integrations with common fleet tracking systems out of the factory to maximise the benefits of connectivity, and to enable commercial fleet owners to maximise efficiency in their processes.
All types of connected vehicle technologies are still 'works in progress'
Various types of connected vehicle technologies are being pursued and improved. Vehicle-to-infrastructure (V2I) connectivity is used mainly to ensure vehicle safety as the vehicle communicates with road infrastructure and shares and receives information, such as traffic flows, road and weather conditions, speed limits, accident reports, and so on. Meanwhile, vehicle-to-vehicle (V2V) connectivity primarily permits the real-time exchange of information between vehicles.
Vehicle-to-cloud (V2C) connectivity is enabled via 4G/LTE networks and is mainly used for downloading over-the-air (OTA) vehicle updates, remote vehicle diagnostics or to connect with internet of things (IoT) devices. Vehicle-to-pedestrian (V2P) connectivity is a newer safety technology that uses sensors to detect pedestrians and other 'obstacles' and provides collision warning and avoidance guidance. Lastly, vehicle-to-everything (V2X) connectivity is exactly what it says it is – the combination of all the above connectivity systems and methods.
Of course, connected vehicle technology is not solely concerned with conventional automobiles. Self-driving vehicles will also exploit connection technologies to communicate with the road infrastructure and cloud platforms, but as incidents of crashes, injuries and deaths proliferate, self-driving vehicles are getting some bad press and would-be user enthusiasm is waning. Again, much stock is again being placed on the ability of 5G to help make self-driving vehicles not only safer but much more intelligent and responsive – it is very much a work in progress.
Email Newsletters
Sign up to receive TelecomTV's top news and videos, plus exclusive subscriber-only content direct to your inbox.