Rakuten Mobile turns a corner, but the road ahead is long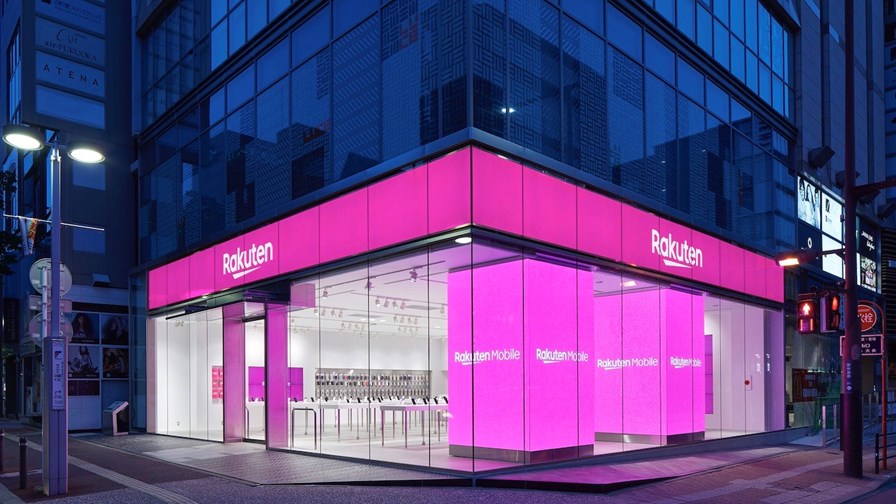 Rakuten Mobile has a long-term strategy for success
The short-term performance, though, continues to be painful
Operating losses are still way ahead of revenues but are finally shrinking sequentially
The big test now is whether Japanese customers will shell out for Rakuten's mobile services, which have so far included a zero-cost tariff option
Rakuten Mobile has always stressed it has a long-term plan for its mobile business and that, in the short term, it will incur substantial initial losses as it builds out its greenfield 4G and 5G network coverage. Those losses continued to mount in the second quarter of this year when, once again, the cost of running Rakuten Mobile pushed parent company Rakuten Group into the red.
Rakuten Group's management, it seems, is under growing pressure from investors who, despite the company's consistent messaging and clearly explained strategy, don't like to see quarter-on-quarter operating losses: Rakuten Group's share price chart, which shows a 42% decline this calendar year to ¥671, suggests many investors are doubting things will get better any time soon. The company's CEO, Hiroshi 'Mickey' Mikitani, spent a lot of time talking about the mobile business during the company's second-quarter earnings webcast this week and deployed the help of Rakuten Mobile CEO Tareq Amin to, once again, explain why the cloud-oriented, software-heavy network being built by the operator using the technology assembled and acquired for its Rakuten Symphony division (more about that later) will ultimately provide significant financial benefits and help it to become the number-one mobile operator in Japan.
That's a fantastic aspiration, of course, but if that goal is ever to be achieved, it won't be any time soon.
On the face of it, Rakuten Mobile's numbers are still hair-raising. In the second quarter of this year, its revenues moved in the right direction, up year on year by 64.5% to ¥84.6bn (US$640m).
But its operating loss was still way higher than its revenues. At ¥124.3bn (US$935.5m) it was ¥24.6bn (US$188m) worse than in the equivalent quarter a year earlier and, as a result, the Rakuten Group reported a second-quarter operating loss of ¥79.1bn (US$596m), some ¥19.5bn (US$150m) worse than a year ago. Without Rakuten Mobile, the Rakuten Group would be reporting a profit.
However, Mikitani said previously that the mobile operator's losses would start to shrink sequentially around this period and he has been proven correct, as the operating loss for the second quarter was slightly better than the eye-watering ¥135bn (US$1bn) reported for the first quarter. This slight improvement was achieved as "more mobile network operator users became paying users" and roaming costs shrank as Rakuten Mobile's network expanded, enabling its customers to connect to Rakuten's own radio access network, and fewer customers needed to use roaming partner KDDI's network.
So a corner has been turned, albeit a small corner on a very long journey.
But the improving trend will continue as Rakuten Mobile further builds out its 4G coverage – it had 47,556 operational base stations at the end of June covering 97.6% of the Japanese population with its 4G signal and aims to have more than 60,000 up and running by the end of next year to cover more than 99% of the country's residents. This ongoing rollout is, of course, expensive, but 2021 was the zenith of the capital expenditure (capex) outlay: The operator's capital expenditures, which have been enormous, are set to drop from this year (as the chart below shows), with the reduction between this year's ¥300bn (US$2.26bn) and the planned 2023 total that comes in closer to ¥200bn (US$1.5bn) set to make a big difference to the operator's financials.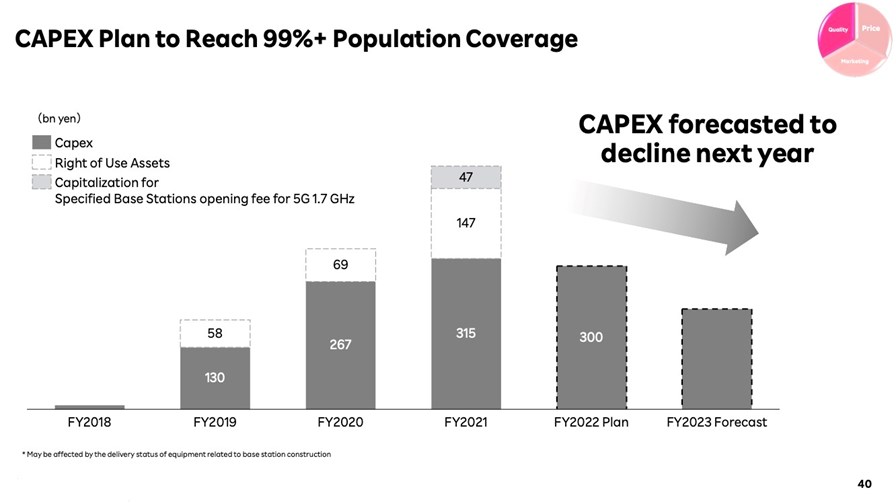 In addition, Rakuten says that from hereon, more customers pay for the operator's services.
All of these metrics are important: Wider coverage improves the customer's mobile service experience and further reduces roaming costs; more paying customers mean greater revenues and Rakuten expects those revenues to improve by leaps and bounds as it phases out the free service package it initially offered to attract early customers to its 4G network.
That free offer is in the process of being withdrawn and will be gone completely by the end of October.
As a result, Rakuten Mobile expects its average revenue per user (ARPU) number to improve by about 50% during the current quarter alone, which is a significant leap.
The only snag is that the withdrawal of the free service package means that Rakuten Mobile has lost some customers – those that didn't want to pay and have gone elsewhere for their mobile service. At the end of June, Rakuten Mobile had just 5.46 million customers, of which 690.000 were mobile virtual network operator (MVNO) customers (meaning they are not connected to Rakuten's own network). That total number is down from the first quarter's 5.8 million customers, so Rakuten needs to reverse that trend, and quickly. By contrast, established rival NTT Docomo has almost 85 million mobile customers.
With the free offer no longer available to entice new sign-ups, Rakuten Mobile now needs to show it can attract new paying customers each quarter, with Mikitani citing 12 million customers as a target (though a timetable for that target was not mentioned) before mentioning 15 million or 20 million during his earnings presentation. To help reach such targets, it is planning a major marketing push and will be adding additional bolt-on services: remember that the bigger picture for Rakuten is to build a market presence in multiple digital services sectors and have customers from each sector using other Rakuten Group services – the company isn't just building a mobile business for the sake of being a mobile operator – see this previous article for further details.
In many ways, Rakuten's challenge is much the same as that of another high-profile greenfield mobile operator, Dish Network in the US. It has now launched its 5G service and has splashed billions of dollars on building out a public cloud-based, Open RAN-enabled network, but that will all be for nothing unless it can attract paying customers. At the end of the day, that's the metric that really counts and that drives recurring revenues.
Dish, of course, is also in the mobile game for the long-haul and it is still very early days for the US 5G entrant, as it is for Rakuten, which has long stressed the attractive economics associated with its unique, software-oriented network, built using technology now on offer to other operators too via the Rakuten Symphony division.
Symphony has been expanding rapidly in an effort to attract business from other network operators around the world. To date, its only major commercial engagement outside Japan is in Germany, where it is building and will run 1&1's greenfield, Open RAN-based 5G network.
But according to Mikitani, there is plenty of interest in what Symphony, which made a lot of noise during this year's MWC event in Barcelona, has to offer. He noted that Symphony has 13 customers (including Rakuten Mobile and 1&1) but has a "pipeline" of 115 interested companies. It also has a staff of 3,500 employees and offices in eight countries: Japan, the US, the UK, Germany, France, India, United Arab Emirates (UAE) and Singapore.
While that pipeline could come to nothing, it's likely to deliver something, but quite what is anyone's guess, because while Germany's 1&1 has gone all in with Symphony, handing over the planning, build and operation of the network to the Rakuten division, many others are likely to just use a small part of the Symphony portfolio. In that respect, AT&T is an existing example, as it is using Symphony's mobile network planning tool, as announced earlier this year.
Rakuten Mobile will be of ongoing interest to the whole communications industry (and the business world at large), such is the magnitude of the gamble and the nature of its operational model, and it will be fascinating to see how this new-age operator develops not only as an alternative competitor to NTT Docomo, KDDI and SoftBank in Japan but as the operator of a network that, it claims, will cost 40% less to build and 30% less to run than traditional mobile networks.
The validity of such cost claims will take years to quantify and qualify: the more meaningful statistics in the short term will be how many customers Rakuten Mobile has at the end of the third and fourth quarters of 2022.
- Ray Le Maistre, Editorial Director, TelecomTV
Email Newsletters
Sign up to receive TelecomTV's top news and videos, plus exclusive subscriber-only content direct to your inbox.