Rakuten sees green shoots of digital ecosystem synergies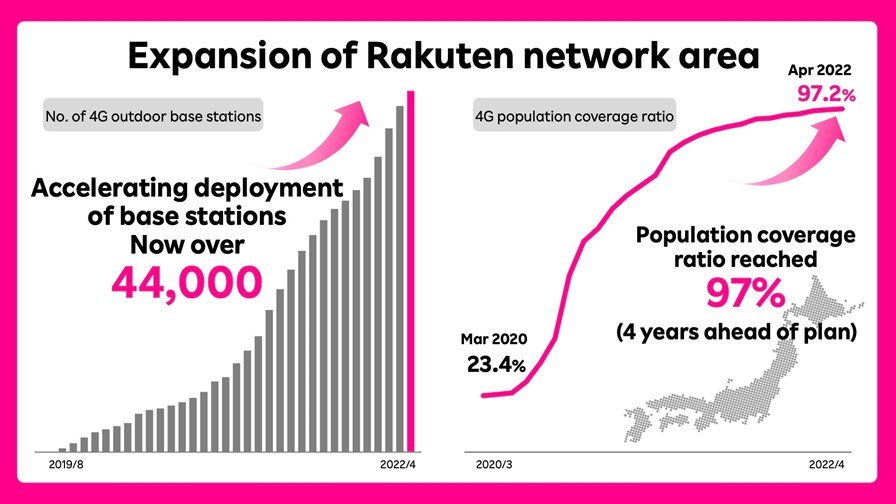 Japanese operator Rakuten Mobile is growing in reach and customer numbers
As it adds mobile users, that has a direct impact on uptake of other services within the Rakuten Group
Now it's doubling down on customer loyalty and satisfaction
This is driving the economic case for the 4G and 5G mobile investments, which are still enormous and still saddling Rakuten with big short-term losses
Japanese operator Rakuten Mobile has become renowned in the mobile networking and services sector for developing and building a greenfield network in a different way, using a cloud-oriented, virtualized architecture for its now expansive 4G network and embracing Open RAN for its 5G rollout. Ultimately, though, its main impact is likely to be on the business and service models that can be used to by mobile-enabled digital service providers in the future and which Rakuten Mobile is implementing right now in the Japanese market.
Those models revolve around using connectivity as the enabler for broad digital services engagement: Rakuten is well placed to do that because it's already part of a broader business empire that is staking a lot on reliable, high-speed mobile connectivity as a driver for other parts of its business.
During a media briefing held on Friday following the publication of the Rakuten Group's latest financials, Tareq Amin, the CEO of Rakuten Mobile and Rakuten Symphony, noted: "What differentiates Rakuten Mobile is that we entered this business largely to drive ecosystem synergy" within the Rakuten Group, which covers a broad range of digital servicesincluding e-commerce, banking, payment platforms, streaming video, insurance and more.
"Our hypotheses was that when we launched the mobile business in Japan, [we believed] the synergy and the impact between a mobile user and the larger ecosystem is going to be substantial," added Amin, who went on to show some of the data points "that are extremely encouraging and proving and validating our business model. Connectivity alone isn't how we monetize a customer – there is a much larger impact on the entire Rakuten Group ecosystem."
Rakuten is emphasizing this now because it has broad reach – its 4G service now covers more than 97% of the Japanese population (see chart above) – and its customer base is starting to grow in a meaningful way: It ended April with 5.8 million mobile customers, the vast majority of which are signed up to its own services (rather than the MVNO customer base it previously relied upon). Every month the total number grows and the proportion of the customer base that are direct Rakuten Mobile customers grows.
So, what has been the impact? Amin shared the statistic that the average yearly GMS (gross merchandise sales) per user at Rakuten Ichiba, the group's e-commerce platform, for people who signed up for the Rakuten Mobile service grew by 67%: For individuals who didn't sign up for its mobile service, the growth was just 20% (see chart below). "If you compare and contrast, it shows that cross-synergy between mobile and [the broader] ecosystem is very, very large," stated Amin.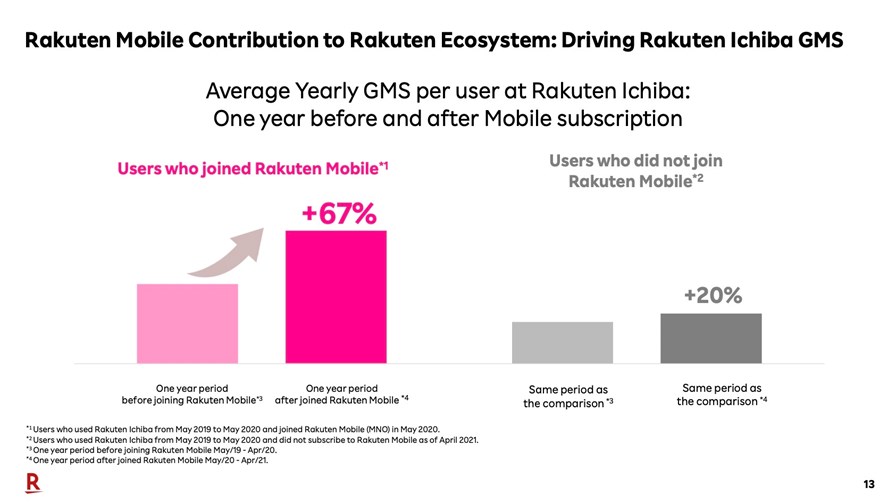 And it's not just Ichiba traction that has been impacted: User statistics also show that Rakuten Mobile customers started using other Rakuten services for the first time once they signed up for the mobile services – for Ichiba it was 35% of customers using it for the first time within 12 months of signing up, for Rakuten Bank it was 10% and so on (see chart below). "This is really what we want to see, and this is what we want to drive faster in terms of synergy on our ecosystem... This is the secret formula for our business model," noted Amin.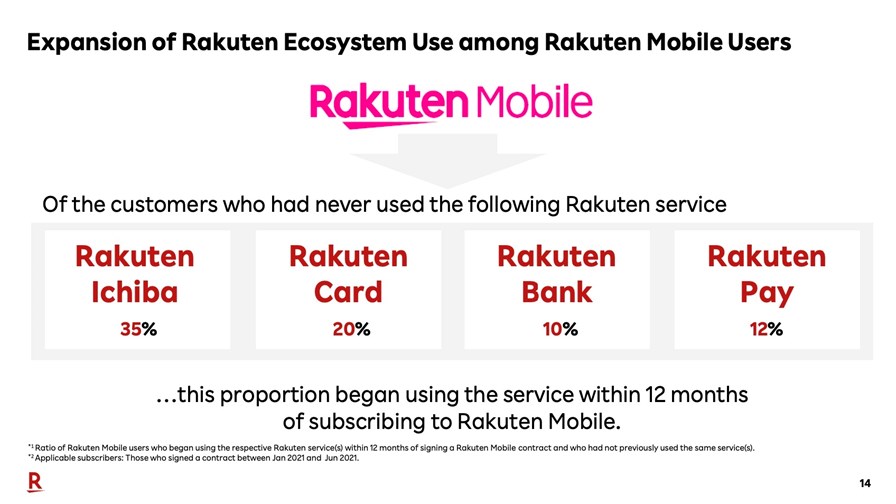 To capitalize on this, Rakuten Mobile is about to start offering other Rakuten group services for free on a trial basis and deliver extra loyalty points for group services points: "Don't underestimate the power of our loyalty reward membership system," noted Amin.
Quantifying the economic impact, and the return on investment for the mobile business, will be the work of the financial team, of course (no doubt in response to many investor questions), but the statistics suggest that there is positive group impact as a result of having mobile connectivity as part of the broader package.
Currently, the numbers aren't pretty. Subscriber numbers are increasing, 4G coverage is now reaching peak and the 5G rollout continues, but Rakuten Mobile is still losing a lot of money due to rollout costs. In the first quarter of this year, its revenues grew by 44% year-on-year to 80.4 billion yen (US$619 million) but its operating loss was 135 billion yen ($1 billion).
As a result, the Rakuten Group reported an operating loss of 98.3 billion yen ($758 million).
But Rakuten is in this for the long-term. It expects its losses from the mobile operations to start shrinking from the second quarter onwards and expects "significant profitability" for Rakuten Mobile by the end of the decade.
This is most certainly a business marathon for Rakuten, though it has decided to sprint in terms of its mobile investments to get its next-gen network up and running ahead of its original plan, and of course there is no certainty that the gamble will pay off. More certain, though, is that Rakuten's business approach, of building a business model on top of mobile connectivity, rather than relying on that connectivity to deliver profitable growth, is one that suits the digital service provider world, and one that needs to be considered by others.
Of course, not everyone has an Ichiba, or a banking service... but that shouldn't stop them thinking about how that ecosystem model might work in other ways and, as the world become more digital and the underlying IT platforms start to support all manner of operations, breaking into new business areas becomes more about will, strategic thinking, customer service and brand than building a new infrastructure giant from scratch.
That's why it'll be interesting to see how 1&1 in Germany develops its business based on the 5G network that Rakuten Symphony is building on its behalf: That German new entrant could offer up more clues as to how the future digital service provider might look.
- Ray Le Maistre, Editorial Director, TelecomTV
Email Newsletters
Sign up to receive TelecomTV's top news and videos, plus exclusive subscriber-only content direct to your inbox.