Nokia's portfolio play is paying off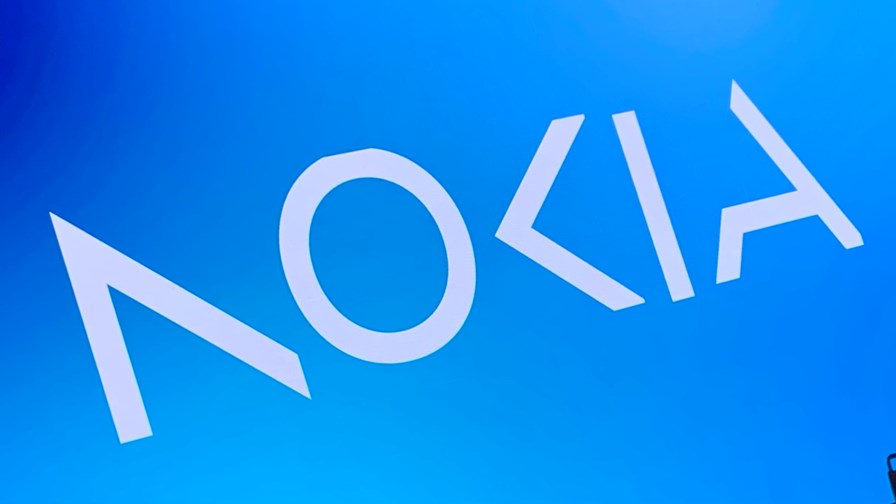 Nokia has retained a broad product portfolio
Mobile Networks division is still its largest unit, generating 44% of Q1 revenues
Its fixed network systems portfolio provides an increasingly strong business bedrock
Network Infrastructure division (broadband, optical, IP) accounted for 38% of revenues in Q1
Sales in India increased by 325% as 5G investment drove demand across the portfolio
Not for the first (or last) time, Nokia can be grateful it didn't throw all its weight behind its mobile networking business and offload its fixed network infrastructure (broadband, optical, IP, submarine) product lines, because that portfolio breadth is proving a tremendous strength right now, as its financials for the first three months of 2023 show.
The vendor generated revenues of €5.86bn during the first quarter of this year, up by an impressive 9% (at constant currency exchange rates) year on year, while operating profit came in at €426m. However, on a comparable basis (stripping out various factors to get a clearer overview of the business), the operating profit was down by 18% year on year, which the vendor attributed to weaker business in North America and a lower contribution from its patent licensing division, Nokia Technologies. Also on a comparable basis, the first quarter operating margin came in at 8.2%, down from 10.9% a year ago.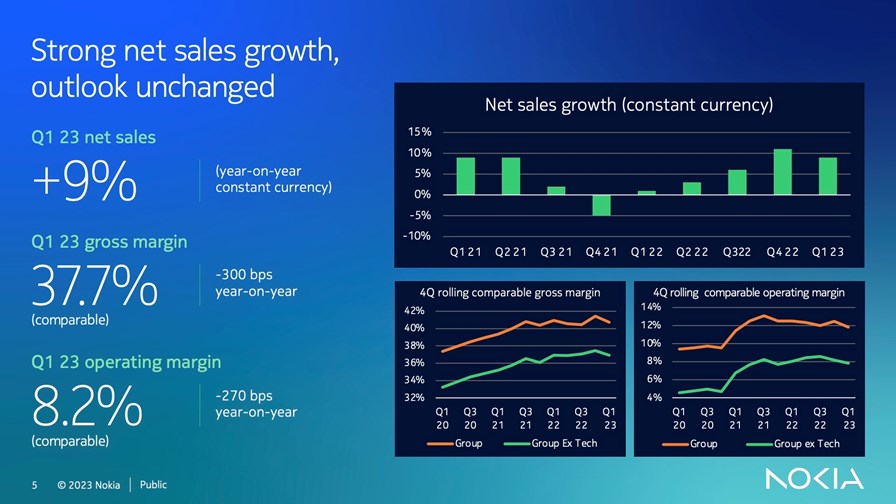 Of those total sales, €2.57bn – almost 44% – was generated by its Mobile Networks division, which sells radio access network infrastructure systems to telcos and enterprises around the world. Mobile Networks year-on-year sales growth came in at 13% at constant currency rates: Reduced network investments in North America were more than offset by the ramp in spending by the main operators in India that are rapidly rolling out their 5G networks, and by improving sales in Europe. That trend of lower spending in the US but much higher mobile network investment in India was also noted by Nokia's main international mobile network sector rival, Ericsson, when it reported its Q1 financials earlier this week – see Capex crunch and higher costs hit Ericsson's numbers.
In North America, Nokia expects the trend of lower investment to continue during the second quarter but improve in the second half of the year. The vendor's management noted during Thursday's earnings conference call that its business remains very strong with T-Mobile US and that, although it suffered a significant loss of business at Verizon in 2020, when Samsung Networks was awarded a major multi-year deal, it has been gaining market share by winning deals with Tier 2 and Tier 3 operators in the US.
Significant year-on-year growth was also the story with the vendor's Network Infrastructure division, which generated revenues of €2.25bn – 38% of the company's total first-quarter sales – and delivered an operating margin of 15.3%, much higher than the 5.3% reported by the Mobile Networks division.
In the past year or so, the star of Nokia's fixed infrastructure business has been the broadband access equipment portfolio, which has been benefitting from increasing investment in fibre access networks around the world, and that was still a strong line of business in the first three months of this year with sales of €650m (though that was down slightly compared with a very strong start to 2022).
But in the first quarter of 2023 it was the optical networks line of business that stood out, with sales up by 45% year on year to €533m. The IP Networks (routers) line of business also reported strong growth, up by 13% to €781m, while Submarine Networks reported year-on-year sales growth of 9% to €285m.
It's worth noting that broadband access, optical and routing equipment sales all improved in India, highlighting the fact that when network operators invest in advanced mobile broadband networks, such as 5G, they also need to ensure they have high-capacity fixed network infrastructure to ensure the delivery of data traffic to and from the radio access network. Across all of its lines of business, Nokia generated revenues of €853m in the first quarter alone, up by 325% year on year.
And Nokia's Network Infrastructure success story isn't set to end any time soon: The company expects ongoing increased spending across all product lines up to 2025 at least, though clearly there will be unsustainable short-term spikes in demand, such as the current one from India where national 5G coverage is expected by the end of 2024.
Nokia's other network product division, Cloud and Network Services (mobile core, AI and other management tools, security systems, private wireless network and other enterprise systems), accounted for 13% of sales, or €760m, up by 3%. Nokia ended the first quarter with 595 private wireless network customers, more than double the number it had two years earlier, and reported a 62% year-on-year increase in revenues (constant currency) from enterprise customers to €566m.
Nokia Technologies, which generates sales from the vendor's patents portfolio, reported a 22% decline in revenues to €242m.
So despite a couple of blips in the smaller parts of the company's business, the overall picture for Nokia in the first quarter was very positive, with notable sales growth reported by its main divisions.
Yet the company's share price took a hit, dropping by almost 9% to €3.89. That appears to be due to the lower like-for-like operating margin, which dipped to a greater extent than expected. However, Nokia's management is confident that margins will improve enough in the second half of the year for the vendor to hits its full-year financial targets, which remain unchanged – revenues at between €24.6bn and €26.2bn and a comparable operating margin of between 11.5% to 14%, much higher than the first-quarter level.
CEO Pekka Lundmark noted on the earnings call that the market is "playing out largely as we expected and we remain on track for our full year targets," though he cautioned that "there are some signs of the economic outlook impacting some customer spending plans. But if we maintain our costs, discipline and execute on our strategy, I believe we are in a strong position to navigate the challenges ahead."
Clearly, investors need more convincing.
- Ray Le Maistre, Editorial Director, TelecomTV
Email Newsletters
Sign up to receive TelecomTV's top news and videos, plus exclusive subscriber-only content direct to your inbox.