What's up with… Cellphones, Verizon, Tejas and BSNL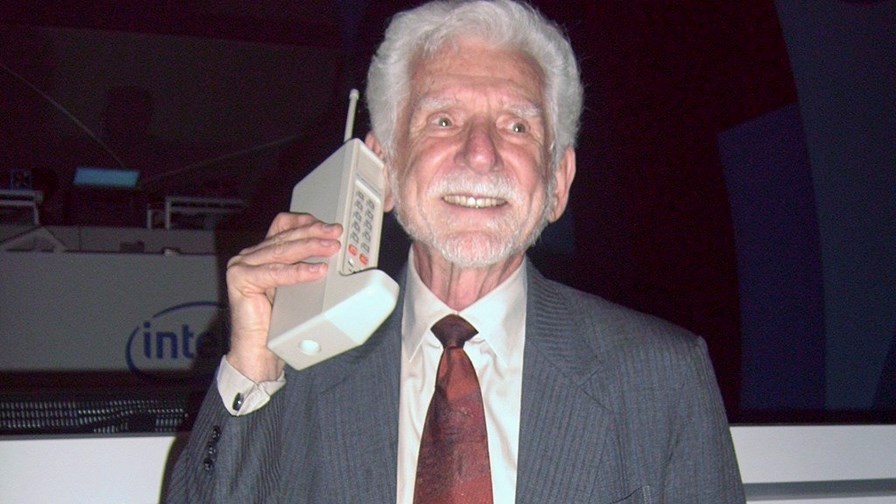 Fifty years ago, Martin Cooper changed our lives
Verizon lands a monster federal contract
Tejas wins its biggest ever deal
In today's industry news roundup: Mobile calls are 50 years old today; Verizon's MCI legacy helps it land a massive federal contract; India's Tejas Networks gets a lift from major router deal; and more!
Fifty years ago today, Motorola's Martin Cooper (unfortunately, no relation to Alice) placed the first call from a cellular handheld phone which, as you can see in the image above, could either be used as a communications device or a replacement boot for a plastic robot. The call set in motion an industrial trend that has changed the world but has not, as yet (unfortunately), heralded a retro return to the use of feature phones the size of a small child (oh, how we'd love to see these being used on today's urban walkways…). So on this grand anniversary, let's give thanks to Dr Cooper and his endeavours. And for those of you wondering, Cooper ordered extra pepperoni on his thin-based margherita, but he had to 'collect' (those were the days)…
US telco Verizon is doing very well when it comes to securing new government contracts. It has just been awarded a US$2.4bn, 15-year deal to upgrade and renew the ageing telecoms and information management systems of the Federal Aviation Administration (FAA). The contract came in under the new FAA Enterprise Network Services (FENS) procurement programme, which is an up-to-date replacement of the venerable FAA Telecommunications Infrastructure (FTI) contract system. The FTI had been in place since 2002 and comms technology has changed dramatically during that 21-year period. The FAA oversees some 28,000 telecoms services and to transition to new systems is a very big and painstaking task that is years in the planning, installation, testing and commissioning. The FAA systems are strategically and practically very important and they run continually, so there can be no unscheduled service interruptions during the lengthy transition from one contract to another and Verizon will be carrying a very heavy responsibility. Where there's a contract winner, there is, inevitably, a contract loser which, in this case, is the Harris Corporation. The company held the preceding contract under the terms of the FTI system. Before Harris, the contract was with WorldCom, the telco infamous for a massive accounting fraud. Coming hot on the heels of the Enron and Tyco scandals, WorldCom's inevitable bankruptcy was one of the biggest in US history: The scandal cost $1,754bn, three times more than Enron, and WorldCom's blustering boss, Bernie Ebbers, was one of the most arrogant and aggressive CEOs of the early 2000s. He was eventually sentenced to 25 years in jail for 'masterminding' the scam. When the dust settled, Verizon bought what was left of WorldCom which, by then, had transmuted into MCI, and so, under the terms of the convention that sometimes "what goes around, comes around", it has, in some sense, won back the contract it lost all those years ago. Verizon will now have responsibility for providing telecoms, information management and network connectivity to the FAA and any and all ancillary services that go along with them. The deal is part of America's Next Generation Air Transportation System plan to modernise the US National Airspace System: The entire process will be completed in 2030. Read more.
The Make in India initiative introduced by the country's government in 2014, combined with a surge in communications network investments to support the rollout of 4G and 5G, is paying off for indigenous vendors. Bengaluru-based data transport and broadband network equipment vendor Tejas Networks has announced its biggest ever single contract, a 6.96bn Indian rupees (INR) (US$84.6m) deal to provide state-owned telco BSNL, which is just getting around to its 4G network rollout, with 13,000 routers for an access and aggregation network upgrade. If Tejas does well, and BSNL manages to claw its way into a competitive position among India's dominant privately owned operators, it can expect further such deals, as BSNL is set to rapidly follow its 4G rollout with an upgrade to 5G and, ultimately, be part of India's ambitious 6G plans. The BSNL deal alone, though, was enough to lift Tejas's share price by 5% to INR610 on India's National Stock Exchange (NSE) in trading on Monday.
The current news cycle shows just how divisive is today's enthusiasm for generative AI systems… While companies such as e& and SK Telecom are embracing OpenAI's GPT platform for various operational and service development gains, the same technology is being banned by government authorities in Italy over privacy concerns, reports the BBC.
Big tech companies from the US and elsewhere are getting their retaliation in early as new UK competition legislation looms, according to reports from Politico. The Bill presaging a new law will be published later this month, and the lobbying against it is getting frantic. As in the US and Europe, the UK has concluded that huge comms corporations and social media platforms are now so big and powerful that they utterly dominate entire market segments and need cutting down to size. But big tech is fighting back hard and is concentrating a lot of time, effort and huge sums of lobbying money on finding a weak link in the chain of proposed restrictions. They seem to have settled on a strategy to appeal rulings made by a more powerful regulator in the hope that concerns that long-drawn out cases will take up so much of its time and resources that it will be forced to weaken its stance and agree to compromises. The Digital Markets, Competition and Consumer Bill will boost the authority of the Competition and Markets Authority (CMA) via its Digital Markets Unit (DMU). Then new law will enable the DMU to designate big tech companies as having "strategic market status" and those with "substantial and entrenched market power" in one or more areas. It will then be able to act to ensure they cannot "unfairly use market power and strategic position to distort or undermine competition between users of the... firm's services." The DMU will require companies so designated to meet stringent requirements relating directly to particular hurt or injuries linked to corporate activities or practices. The unit will also have the power to levy fines of up to 10% of a tech company's global turnover for breaking the new regulations and to go to court to have named individuals disqualified from holding company directorship roles in the UK. Simultaneously, consumer protection law will be beefed-up to tackle "subscription traps" and fake online reviews. Businesses will have to give consumers additional information before signing up to a subscription and make it easier for consumers to opt out of them. Such a system, long needed in rip-off Britain, will be remarkably similar to the "cancellation buttons" laws now operative in various member states of the EU. As you would expect, big tech, with its very deep pockets, is fighting this tooth and nail, mainly on the grounds that the proposed new law will only allow companies to appeal decisions made by the DMU on whether or not the right process was followed (this is called the 'judicial review standard') rather than the actual content or merit of the decision. Such a process is relatively fast track but also makes the appeals process more difficult. The big tech companies want to be able to mount appeals based on "merit" (whatever that might mean in any particular case) and actually go so far as to claim that such a route would "not necessarily" massively slow down the appeals process. But, of course, it would, and such an argument is disingenuous. The reality will be that cases could drag on for years, which is just what big tech companies want because, that way, they'll retain their market dominance for that much longer. And as if to prove that big tech will take advantage of any opportunity...
Apple has wormed its way out of a UK CMA probe into anti-competitive behaviour in the mobile device operating system and cloud-gaming markets by successfully appealing to the Competition Appeal Tribunal (CAT) that the CMA had delayed too long in deciding whether or not to investigate the market further. The CAT decided the CMA had dithered way too long and decided the move to investigate Apple any further "must be quashed." You can read the CAT ruling here.
Broadcom's proposed US$61bn acquisition of VMware has, as expected, been referred by the UK's CMA for an in-depth investigation due to concerns about "a substantial lessening of competition within a market or markets in the United Kingdom." This next phase will last until at least 12 September.
- The staff, TelecomTV
Email Newsletters
Sign up to receive TelecomTV's top news and videos, plus exclusive subscriber-only content direct to your inbox.