Backhaul vendor Aviat beefs up with NEC unit acquisition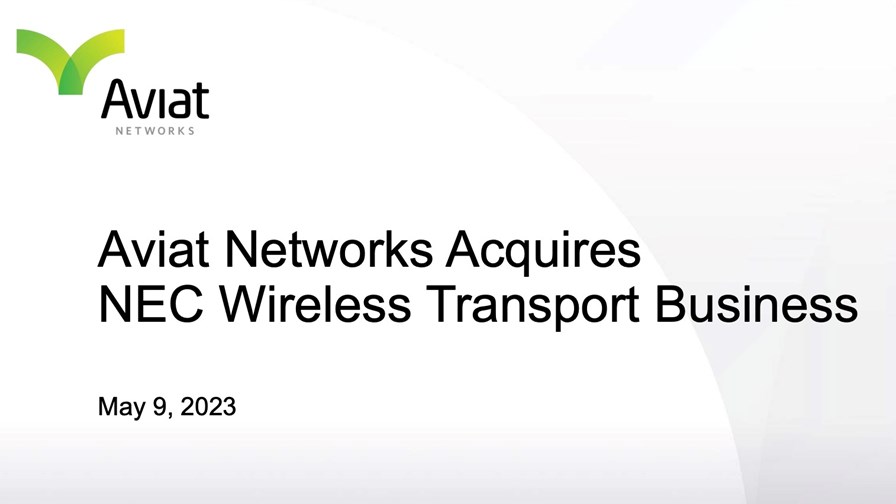 Microwave backhaul systems vendor has been looking to scale up for some time
It tried, without success, to acquire key rival Ceragon last year
Now it has struck a cash and stock deal to acquire NEC's backhaul unit
The move will make it the largest microwave backhaul specialist vendor in the market
Having failed to acquire fellow microwave backhaul vendor Ceragon last year in a bitter $235m takeover battle, Austin, Texas-based Aviat Networks has struck a deal to acquire NEC's wireless transport unit for $70m in cash and stock, a move that will give Aviat the additional scale it has long craved and make it the largest microwave specialist vendor in the market.
With its Pasolink brand, NEC has long been a well-regarded microwave transport systems vendor and, as with other parts of its communications network infrastructure empire, the Japanese vendor has managed to attract customers and a positive reputation, but struggled to build a market-leading international position – its annual revenues are about $150m and the unit is not profitable. Aviat, meanwhile, has been keen to add additional scale to its business for some time – hence the lengthy but ultimately unsuccessful attempt to acquire rival Ceragon last year.
Now Aviat has found a willing partner – the deal has been approved by the boards of both companies and is set to complete during the third quarter of this year – and the extra portfolio breadth and financial muscle it was looking for.
According to its takeover pitch (based on recent statistics from research house Dell'Oro), both Aviat and NEC command about 4% of the overall backhaul systems market, which is dominated by suppliers of fibre-based platforms that account for about 37% of the total global market.
As the chart below shows, combining Aviat and the NEC unit would give Aviat an 8% share of the overall backhaul market with annual revenues of more than $480m, and in the microwave backhaul sector put it behind only the divisions within Huawei and Ericsson that bundle in wireless backhaul as part of radio access network (RAN) deals.
No doubt, Aviat will be pleased to point out that sealing the deal with NEC would give it a larger market share than Ceragon.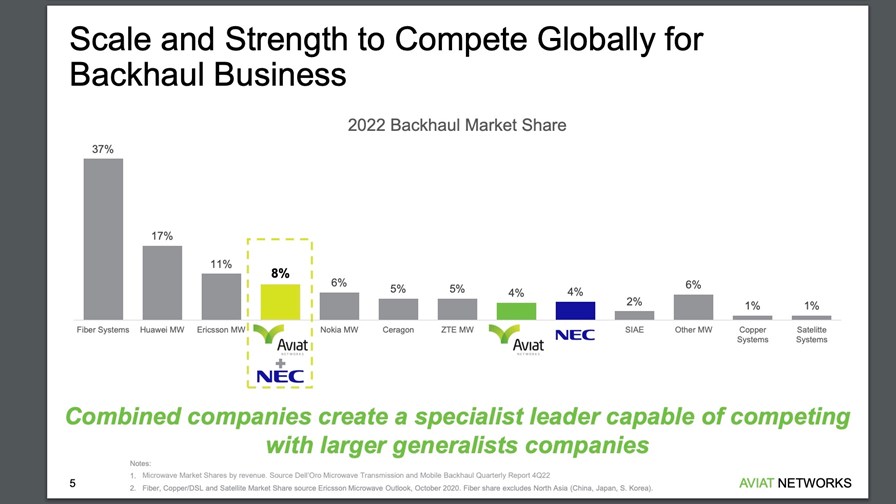 It also helps to diversify Aviat's customer base and portfolio, as it claims there is little overlap with the NEC unit in terms of either product set or customer base.
"The transaction advances Aviat's strategic goal to create the leading wireless transport specialist and to add meaningful scale to our business," noted Aviat CEO Pete Smith. "NEC's wireless transport solutions brand, Pasolink, is recognised by customers around the world for its leading quality and reliability. The addition of NEC's wireless transport business to Aviat's portfolio of high-power, mission-critical radios, all-outdoor microwave and multi-band radios, advanced microwave routers and software offerings will create a compelling solution set for any customer. Aviat and NEC possess highly complementary customers and markets and the combination will enable Aviat to pursue select new Tier 1 business. The increased scale and capabilities will enable Aviat to compete even more effectively against the large generalists and fibre backhaul providers," added the CEO.
Currently, Aviat generates the majority of its sales, some 65%, from private network customers and 35% from network operators, while the NEC business generates 95% of its sales from network operators and just 5% from private networks.
The combined business would service more than 20 Tier 1 mobile operators and be "a leader in private networks," according to Aviat. "With over 3 million Pasolink unit shipments worldwide, Aviat's business will have increased exposure to global 5G spend and private network opportunities that will further diversify Aviat's business into fast-growing international markets with significant growth opportunities," Aviat noted in its announcement about the deal.
The two businesses are also complementary on a geographical basis, as Aviat generates about two-thirds of its business in North America (NEC just 5% in that region), while NEC generates about two-thirds of its sales in Asia Pacific and Latin America (Aviat just 16% in that region).
NEC, meanwhile, says the deal gives it an ongoing stake in the microwave backhaul sector as the largest minority shareholder in Aviat, as it will receive $45m in cash and $25m in Aviat stock for its unit. "NEC is confident that the integration of its wireless transport division with Aviat will bring significant benefits to both companies… This agreement enables NEC to focus efforts on its core business while still maintaining a strong relationship with Aviat," the vendor noted in its announcement.
Aviat's shareholders appear to be enthused about the coupling, as the company's share price jumped by 8.2% to $29.37 in early Tuesday morning trading on New York's Nasdaq exchange.
- Ray Le Maistre, Editorial Director, TelecomTV