Wind Tre joins the 5G party in Italy with ZTE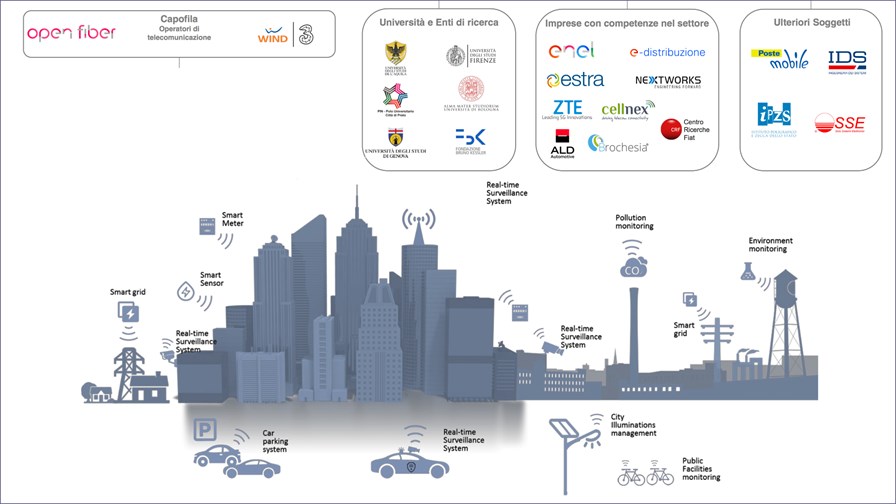 Says it will be first to launch operational 5G in Europe in 3.6 to 3.8GHz
Wind Tre partners with ZTE and Open Fiber in L'Aquila and Prato
Part of government's 5G City project to test technology and use cases
TIM and Vodafone also engaged with 5G trials in the country
Italian mobile operator Wind Tre, Open Fiber (Italy's wholesale fibre operator) and Chinese vendor ZTE have announced a partnership to build what they say will be Europe's first 5G pre-commercial network in the 3.6 to 3.8GHz band – the band which has garnered the most interest in Europe for initial trials and deployment plans. But Italy is proving to be a competitive test-bed for 5G, with others also claiming to be first.
Earlier this year, TelecomTV reported on how the Italian Government had announced its intent to take the lead in rolling out the European Union's 5G Action Plan, encouraging Italy's leading operators to build 5G city-based networks to promote the country's 5G leadership. Rival operator TIM announced at the time that it had selected Turin as its city partner for a limited 5G NR NSA deployment, claiming that it would be the first such deployment in Italy and "one of the first in Europe".
Today, Wind Tre and Open Fiber announced they will partner with ZTE in the Italian province of L'Aquila (believed to be in the earthquake reconstruction zone) and the Tuscan town of Prato. They will also collaborate with local universities, research centres and enterprises to test and verify 5G technical performance, network architecture, 4G/5G network integration and future 5G use cases – including AR/VR, smart city, public safety, 5G healthcare and Industrie 4.0. The pilot project will run until December 2021.
"5G is not only speed, but is a technology that creates an ecosystem to innovate and bring market applications and solutions in various fields: telemedicine, education, smart home, smart cities and augmented reality," said Jeffrey Hedberg , CEO of Wind Tre (in an announcement via Google Translate). "This is a priority for Europe and will allow Italy, in particular, to enhance the skills, people, partnerships and innovation in its path to digital transformation."
Open Fibre is jointly owned by energy company Enel and investment bank Cassa Depositi e Prestiti, and is already working on a gigabit FTTH network.
"The evolution of telecoms is a critical step for the economic and social development of today's Italy, just as was the case with the construction of the motorway network in the 1960s," said Tommaso Pompei , CEO of Open Fiber. "Our Prato 5G City model is a broad ecosystem open to citizens, public authorities, industry, universities and research centres with the aim of improving service efficiency and creating new opportunities for growth."
"We also plan to build a ZTE 5G Innovation and Research Centre in L'Aquila," said Bai Yanmin, GM of ZTE's TDD and 5G products. "We are honoured to partner with Wind Tre and Open Fiber in building Europe's first 5G pre-commercial network."
How Italy seized the 5G initiative
At least, ZTE hopes it will be Europe's first 5G pre-commercial network. Competition in fierce in Italy. In total, five 5G technology pilot cities grouped into three "areas" were selected by the government earlier this year, with trial spectrum in the 3.4 to 3.8GHz bands made available in metropolitan area of Milan, the cities of Prato and L'Aquila, and the cities of Bari and Matera. The government is already eying up some €2.5 billion of revenue through licensing commercial 5G spectrum and services.
Last month, TIM and Fastweb announced a partnership with Huawei to launch pre-standard 3.7GHz 5G trials in Bari and Matera in southern Italy, commencing June next year and targeting 75 per cent geographic coverage by the end of 2018 with full coverage by early 2020. Bari will be host to use case for the shipping industry, with services to improve security, access control and logistics. In Matera, the pilot will focus on the delivery of 3D images of museums and architectural sites to visitors in time for it hosting the European capital of culture in 2019. The trials also promise smart agriculture use cases.
Earlier this year, in July, TIM announced that it also plans to test 5G in San Marino, independent of the government's initiative. A network upgrade planned for completion by the end of this year should see a new small cell and cloud architecture in place in the tiny republic, which is surrounded by Italy, with the now ubiquitous 4x4 MIMO, carrier aggregation and 256QAM technology installed ready for a 5G migration. This project will focus on 5G NR at mmWave frequencies.
"TIM has the privilege of being the leading company for the development of our digital culture," said Giovanni Ferigo, Head of Technology at TIM, "and this agreement adds another major building block to our strategy, allowing us to create the 'First 5G State in the World', projecting the Republic of San Marino into the future ahead of countries such as Japan and South Korea, which have always led the way in technological innovation." TIM has also signed a deal with Ericsson to support 5G activities in Italy, through its "5G for Italy" programme that will deliver a number of industry pilot projects, although details remain undisclosed.
The Italian Ministry of Economic Development announced on its website in September that Vodafone Italia was chosen to conduct trials in Milan, although we have no further publically-released details of this work. The only loser in the project tender appeared to be 2Bite, a broadband ISP in L'Aquila. If you want to see details of the Wind Tre and Open Fiber 5G trial proposal, then the Ministry has a copy on its website (in Italian of course).
Email Newsletters
Sign up to receive TelecomTV's top news and videos, plus exclusive subscriber-only content direct to your inbox.