What's up with… Vodafone UK, global RAN market, Taiwan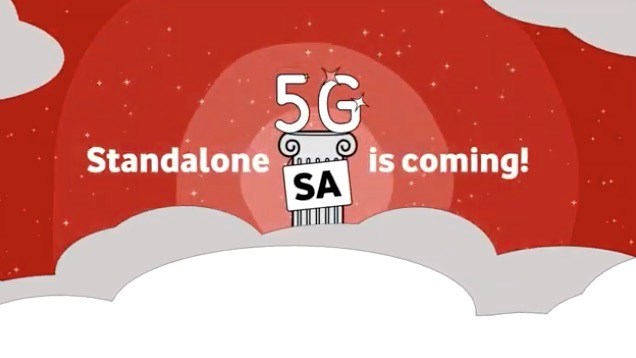 Vodafone UK activates its 5G standalone core
Global RAN market to flatline
Operators merge in Taiwan
In today's industry news roundup: Vodafone UK switches on its 5G SA core; the days of major global RAN sector growth appear to be over; Taiwanese authorities give the green light to telco mergers; and more!
Vodafone UK has joined the relatively small but growing number of mobile operators to have switched on a 5G standalone (SA) core platform, claiming to be the first telco in the UK to have done so. It says it is now ready to undertake some live trials with a select number of customers using the new core platform it has been deploying with Ericsson. "Eligible customers who opt into the trial will benefit from even better reliability, improved battery life and improved coverage," it noted in this announcement. At this point, only customers with either a Samsung Galaxy S21/S22 or OPPO Find X3/X5 Pro smartphone will be able to take part. The new core platform will help to improve customer battery life, provide a smoother experience for services, such as video streaming and online gaming, enable better indoor 5G coverage, provide greater network security and help Vodafone to introduce network slicing services, it added. The platform will also enable Vodafone to trial network steering, "a technology that allows the network to direct a device automatically towards the right connectivity (4G, 5G non-standalone or 5G standalone), depending on what services are being used. Network steering will improve the efficiency of Vodafone's network, providing a better experience for all customers," it claimed. On a less positive note, Vodafone UK's chief network officer, Andrea Dona, stated in this blog that to extend the capabilities of the 5G SA core platform to the whole of the UK would require support from the government and regulators. "This could take the form of providing low-interest loans; reforming regulation around net neutrality; encouraging public procurement of 5G services; or reducing barriers to rollout. Industry consolidation also has an important role to play in providing the scale necessary to invest," added Dona, referring to the planned merger of Vodafone UK and Three. While 5G SA core platforms are seen as vital to unlocking the full service potential of 5G, there are still relatively few up and running around the world: Research house Dell'Oro Group noted earlier this week that, at the end of 2022, only 39 operators had commercially launched full 5G SA networks.
The market for radio access network (RAN) equipment will continue to grow over the next five years, driven by ongoing 5G deployments, but at a much slower pace than it has done over the past four years, according to a new forecast from research firm Dell'Oro Group. "It is still early days in the 5G journey but, at the same time, the coverage and capacity phases that have shaped the capex cycles with previous technology generations still hold," noted Stefan Pongratz, vice president and analyst at Dell'Oro. "Still, even with the expected changes in capital intensities as the operators reach their initial 5G coverage targets, the plethora of 5G frequencies taken together with the upside from FWA and eventually private 5G, will curb the peak-to-trough decline relative to 2G-4G," he added. Pongratz expects the 5G RAN technology sector to grow another 25% to 30% by 2027, "though this will barely be enough to offset steep declines in LTE [4G]," the company noted in this press release. The Dell'Oro team also expects to see healthy growth in the sale of small-cell technology, with the value growing by about 20% over the next five years, while "mmWave projections have been revised downward over the near term and upward in the outer part of the forecast." While Dell'Oro did not share any values in its announcement, previous projections put the value of the overall RAN market in 2022 at about $40bn.
Taiwan's National Communications Commission (NCC) has approved the merger of Taiwan Mobile with Taiwan Star Telecom, and of Far EasTone with Asia Pacific Telecom (APTG). In a statement, the authority said it hopes the mergers will help during a period of "rapid evolution of technology" in the telco industry. It also highlighted that network build-outs now require "huge investment costs" and have capital needs that are "higher than before". Once complete, the mergers are expected to improve network coverage for users in the country and provide a better quality of service. The NCC also believes the new companies "can play a positive role in the domestic telecommunications industry and even the country's overall economy". The mergers are awaiting clearance by the country's Fair Trade Commission and, if approved, they will reduce the number of mobile network providers in the country from five to three. The only other telco in Taiwan would be Chunghwa Telecom, which is the current market leader in terms of mobile subscribers. The NCC statement is available here (in Chinese).
With a population of more than 1.4 billion and growing, India is believed to have already become the world's most populous country, taking over the mantle that has been worn for so long by China. As it does so, the sub-continent is also taking a leaf from the Chinese politburo's well-thumbed copy of the George Orwell playbook and is to tweak legislation pertaining to social media that will result in the government itself being the final arbiter of what is acceptable as content on social media platforms and the sole determiner of what constitutes "truth". Indian authorities vaunt the nation's democratic antecedents and constitution but in an incredibly sly and cynical move the government is unilaterally to 'adapt' the Intermediary Guidelines and Digital Media Ethics Code Rules, an all-enveloping umbrella law that was introduced in 2021. The new powers the government is granting itself have been slipped quietly into sections of the legislation that cover online gaming – on the very last day of the period granted for public and industry comment on proposed changes. The amended law will require any and all content that is "identified as fake or false by the fact check unit at the Press Information Bureau of the Ministry of Information and Broadcasting or other agency authorised by the central government for fact checking or, in respect of any business of the central government" to be deleted. In Orwell's dystopian novel "1984", published in 1948, his main protagonist, Winston Smith (who is by no means a hero), works in the Records Department in the Ministry of Truth, where he rewrites history "according to the needs of the Party". In 2023, his Indian equivalent will be a functionary in the aforementioned Ministry of Information and Broadcasting. After protests by the Indian media in general and the country's Internet Freedom Foundation in particular, the Ministry of Electronics and Information Technology has unbent so far as to graciously extend the consultation period – by seven days – in the knowledge that it won't be sufficient time to mount coherent collective arguments against the intended changes.
BICS has boosted its portfolio of analytics solutions for telco and enterprise customers by deploying a solution from Infovista that provides "near real-time" traffic insights to support network and service operations scenarios, such as monitoring of 5G standalone (SA) networks, internet of things (IoT) and fixed and mobile broadband services. This will help BICS customers to "rapidly build advanced reporting capabilities, in turn increasing operational efficiency and strengthening their competitiveness," according to Infovista. Laurent Missa, senior operations support systems team leader at BICS, said: "Infovista was the clear partner for us to continue in our rapid growth with differentiated service performance and reliability." Find out more.
Canadian operator Rogers Communications has reportedly insisted in a legal filing that its proposal to acquire domestic rival Shaw Communications needs to be allowed to proceed. According to Reuters, the company claimed the proposed deal is "pro-competitive" and has been delayed long enough. The two companies reached a CAN$20.4bn (approximately US$15.1bn) agreement to merge in March 2021, but since then have faced challenges to finalise the deal. Canada's Competition Tribunal approved the merger of Rogers and Shaw on 30 December 2022 but the country's Competition Bureau is appealing the ruling over concerns that it would cause reduced competition. A Federal Court of Appeal hearing is scheduled for 24 January.
Federated Wireless, a company developing shared spectrum Citizens Broadband Radio Service (CBRS) capabilities, has been selected to bring its CBRS network to Hawaiian regional wireless provider Mobi. Using CBRS spectrum at 3.5GHz, the move is expected to allow Mobi to deliver high-speed broadband services across hard-to-reach regions of the islands. As part of the deal, Federated Wireless will act as Mobi's spectrum access system (SAS) and environmental sensing capability (ESC) partner. The use of CBRS was authorised by the Federal Communications Commission (FCC) in January 2020 to support 5G and other advanced mobile services in the US. Read more.
Philippine operator Globe Telecom has confirmed it is on track to complete by April what it claims is the longest domestic submarine fibre cable network project in the country. The $150m initiative, called the Philippine Domestic Submarine Cable Network (PDSCN), runs for a total cable distance of 2,500km and lands at more than a dozen sites, with the aim to "further boost" digitalisation in the countryside, the telco explained in a statement. "As the PDSCN project nears completion, Globe is shifting its focus towards capital efficiency and optimisation, with plans to reduce its capital expenditures budget to $1.3bn in 2023 and $1bn in 2024 from approximately $1.9bn in 2022", it noted.
Is crypto going extinct? The New York City-headquartered GraniteShares, a provider of exchange-traded products (ETPs), has just published a report showing that the majority of retail traders, those brave souls who buy and sell securities on stock exchanges for their own accounts, now believe that the deepening crypto slump is more likely to be an "extinction event" rather than a long crypto winter. ETPs are presented as a cost-effective and safe way for retail traders to add variety to an investment portfolio. Importantly, they are passive investments that aim to replicate the performance of a given market, most commonly by tracking an underlying benchmark index. ETPs (usually) attract lower management fees than index funds and active mutual funds. Retail share traders are now increasingly focused on investing in companies involved in the digital asset sector rather than investing directly in cryptocurrencies themselves. Meanwhile, the prolonged fall of the value of digital assets (bitcoin took another hammering on the markets this week) is pushing regular share investors to buy individual stocks related to the digital asset sector. The study, undertaken on behalf of GraniteShares by independent research company Consumer Intelligence, shows that 33% of regular share traders say they now prefer to hold individual stocks in crypto companies. Meanwhile, 21% of retail share traders say they own shares in companies operating in the digital asset sector but do not own any cryptocurrencies. This, according to the report, is proof positive that "the collapse of FTX and other companies, coupled with the slide in prices in the past year, has shaken confidence in investing in cryptocurrencies". Furthermore, 31% of retail share traders believe the current crisis in the crypto sector is an extinction event compared with 27% who believe it is "just another" crypto winter from which the sector will eventually recover. Some 42% couldn't say either way. Will Rhind, the founder and CEO at GraniteShares, commented: "The collapse in the total market capitalisation of cryptocurrencies from more than US$3tn at its height to around $814bn has been spectacular and is clearly having an impact on the views of retail investors. Many still see value in the sector and are investing in the stocks of individual companies, such as Coinbase, which may be seen as a more attractive and perhaps secure way to invest in crypto. More than one in five own stakes in crypto companies." He added: "There is a growing belief that the current troubles in the crypto market could be an extinction event and certainly weaker companies are going out of business."
Unsurprisingly, if the parlous state of the UK's revered National Health Service after 13 years of government underfunding and understaffing is anything to go by, a new study from Juniper Research, "Remote Patient Monitoring [RPM]: Key Trends, Regional Analysis & Market Forecasts 2023-2027", shows that the number of sick people using RPM globally will hit 115.5 million by 2027, spurred by "healthcare system pressures". That figure equates to 1.4% of the world's population. Not a particularly potent statistic you might think (yet), but that percentage is climbing fast. Estimates are that 75 million people will, perforce, have to use RPM this year as pressures on healthcare systems grow. So-called "alternative" healthcare solutions are needed and RPM encompasses a range of health monitoring devices designed to "enable continuous communication between patients and healthcare providers, without the need for close contact." Bots ahoy! The Juniper Research report forecasts that, by 2027, 90 million people suffering cardiac problems will be using RPM solutions and recommends that healthcare providers apply them to monitor the heart rate and blood pressure of cardiac patients at home to keep down the number of them that would otherwise be admitted to hospital for close monitoring of their symptoms. The report adds that RPM solutions will also indirectly decrease disease transmission rates and alleviate pressure on healthcare systems by reducing the demand for hospital beds. Cara Malone, author of the report, says: "There are a variety of connected devices that can be used for cardiac patient monitoring, for example, blood pressure and heart rate monitors, which can be challenging for less technologically literate patients. Vendors must prioritise device simplification through software improvements, whilst also incorporating patient education to improve healthcare outcomes." Key to this is said to be data monitoring in real time aided by the full incorporation of AI analysis.
- The staff, TelecomTV
Email Newsletters
Sign up to receive TelecomTV's top news and videos, plus exclusive subscriber-only content direct to your inbox.