What's up with… T-Mobile US, MediaTek & Inmarsat, Nokia and Huawei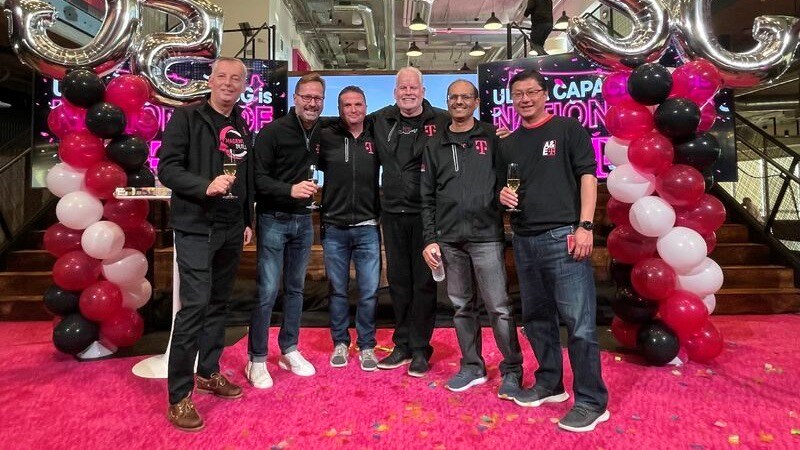 T-Mobile US clarifies its new tech leadership team line-up
MediaTek and Inmarsat make headway with direct satellite-to-device tech
Huawei gets the hump as Nokia preps legacy JV exit
T-Mobile US president and CEO Mike Sievert has taken to LinkedIn to unveil the new technology executive line-up for the operator, which announced earlier this year that president of technology, Neville Ray, would step down before this autumn and hand over to current chief network officer Ulf Ewaldsson. Ray, who has now handed over his day-to-day role to Ewaldsson, has taken on the role of strategic advisor ahead of his retirement. In addition, current CTO Abdul Saad is also stepping down from his role to "spend time with his family" and has been replaced by John Saw, who was until this week the executive VP of advanced and emerging technologies. Finally, chief procurement officer Mike Simpson is moving across to the operator's finance department to lead an expanded procurement and supply chain organisation. "These leaders contributed so much to the Un-carrier, delivering what's recognized as the nation's best network for customers by independent third parties. And you know what? We're just getting started!", noted Sievert with typical T-Mobile ebullience.
Chipmaker MediaTek and satellite service provider Inmarsat have expanded their joint efforts to bring satellite connectivity directly to smartphones, internet of things (IoT) and other devices. The pair have signed a Memorandum of Understanding (MoU) which covers joint technology innovation and the commercial deployment of satellite-enabled devices. This development builds on three years of joint work that involved conducting "numerous successful live, in-orbit trials of two-way communications to demonstrate the effectiveness of combining their technologies and space assets in real-life applications". In 2020, the companies claimed a world-first in public testing of 5G satellite IoT data connection. Now, Inmarsat stated that its L-band satellite network and MediaTek's chipsets are being trialled by "major network operators and device manufacturers for direct-to-device, two-way satellite connectivity". The two companies' end goal is to allow mobile operators, smartphone makers and the broader IoT ecosystem to offer satellite services, including two-way text messaging, emergency communications, device tracking and monitoring, without the need for "pointing" on most devices. According to Inmarsat's chief commercial and digital officer, Jat Brainch, the pair can support "a revolution in direct-to-device, IoT and car connectivity" which "does not require complex 'aiming' of the device". Read more.
Huawei has taken umbrage at Nokia's decision to exit a legacy joint venture (JV) that, let's face it, few outside China had even remembered existed. TD Tech was formed initially by Huawei and Siemens in 2004 to target the market for the Chinese-specific version of the 3G standard, TD-SCDMA. Nokia inherited the JV when its networks division was merged with Siemens Communications to form Nokia Siemens Networks in 2007. Nokia said TD Tech's business has "pivoted into handsets, modems, and other devices, and there are no operational activities between TD Tech and Nokia," so it is selling its 51% stake for (reportedly) about US$300m. "The business does not fit Nokia's strategic focus as a B2B technology innovation leader. Therefore, Nokia has entered into an agreement to sell its share in the company to New East Materials Co., Ltd. The closing is subject to conditions and the sale will only take place if and when these conditions are met," the vendor added in a statement emailed to TelecomTV. But Huawei, it seems, is unhappy with Nokia's move, according to local reports, and stated there is "no chance" it will operate the JV with New East Materials because, while it is OK with Nokia selling its stake, Huawei will only be satisfied if the new owner has the same "strategic capabilities" as the Finnish giant. It also believes it has first refusal for the sale of Nokia's stake. Huawei's position could jeopardise the sale to New East Materials, it seems…
Canadian operator Bell has taken a legal approach to vandalism on its network by filing a lawsuit against Sylvain Fleury, who was arrested by the police over accusations of stealing copper wire from the company. The telco has also begun pursuing his co-conspirators, as well as individuals and scrap yard businesses who "knowingly purchased the stolen copper", it said in a statement. Bell's VP of operations services and core network, Nick Payant, explained there had been more than 170 incidents of vandalism in the past 15 months and suggested that "extra alarms, security and support from local law enforcement isn't enough". Payant called for the Canadian government to help in prioritising increased fines and to make amends to the criminal code to protect the telco's critical infrastructure. Copper thefts have led to repeated outages impacting Bell's customers late last year, CBC has previously reported.
Troubled SoftBank Group has agreed to sell its venture early-stage capital arm SoftBank Ventures Asia after the group experienced major losses from unprofitable start-up investments (some of these bets were reportedly later supported by SoftBank's Vision Fund which booked an investment loss of nearly $5bn for its fiscal third quarter ending 31 December 2022). As per the deal, South-Korea based SoftBank Ventures Asia will be acquired by a "newly formed ecosystem builder and venture capital entity" called The Edgeof which has been co-founded by investor Atsushi Taira and Taizo Son, a businessman and brother of SoftBank's founder Masayoshi Son. In its statement, SoftBank explained that the move aims to "establish a pan-Asian ecosystem for pioneering start-ups". The company also unveiled plans for "a fresh brand identity" to demonstrate The Edgeof's commitment to "cultivating ground-breaking technologies across the region" and to support start-ups that pledge to "transform the world" in areas such as energy, water, agriculture, food, sustainability, "AI/robot-driven changes in societies, healthcare, learning and all things essential for the next generations". The takeover, which is expected to close this year depending on regulatory approval, has already raised concerns over governance of the firm by the family of SoftBank's founder, reported The Financial Times.
- The staff, TelecomTV
Email Newsletters
Sign up to receive TelecomTV's top news and videos, plus exclusive subscriber-only content direct to your inbox.