What's up with… T-Mobile US, Viasat and Inmarsat, Cornerstone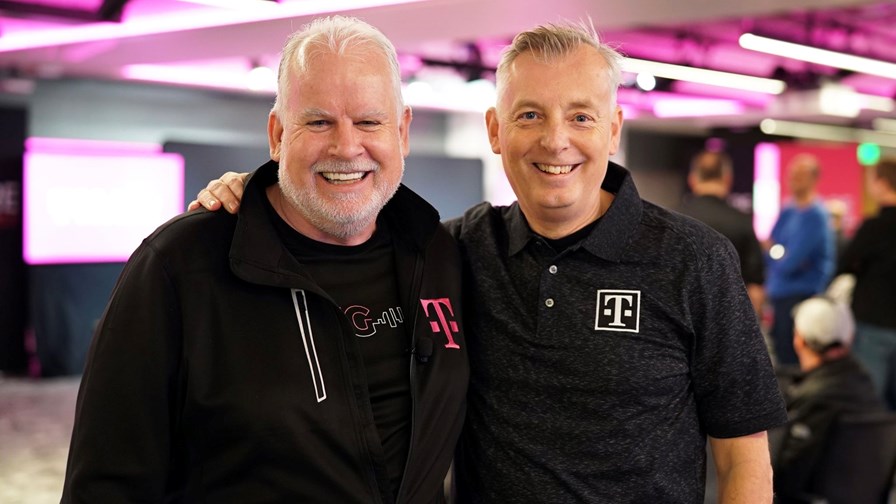 T-Mobile US announces a new head of technology as it suffers an outage
The EC announces a deep probe into Viasat's takeover of Inmarsat
A slice of UK towers giant Cornerstone is reportedly up for grabs
In today's industry news roundup: Neville Ray is to hand over the T-Mobile technology reins to Ulf Ewaldsson… but the gloss was taken off the news by a service outage at the Un-carrier; the European Commission wants to take a much closer look at Viasat's proposed takeover of Inmarsat; Liberty Global and Telefónica are exploring the sale of a hefty chunk of UK towers firm Cornerstone; and more!
After 23 years at the operator, T-Mobile US president of technology, Neville Ray, is to step down before this autumn, at which point he will hand over to current chief network officer Ulf Ewaldsson. "There are so many things Neville has contributed to this company, but one of the most important has been his commitment to building the best, most effective technology team in this industry that will continue to deliver for our future," noted T-Mobile CEO Mike Sievert. "Neville and his team have worked tirelessly to bring the Un-carrier from last to best in network performance and made T-Mobile's network a true competitive weapon," he added. Ewaldsson noted on LinkedIn that he is honoured to take on the role of president of technology for T-Mobile upon Neville Ray's retirement. "Neville has numerous accolades that have positioned the Un-carrier as a formidable technology leader. I'm so grateful for the opportunity to keep the legacy of the network leader strong as we enter this new era of the Un-carrier!" he wrote. Read more.
The news of that succession came just as T-Mobile was hitting the headlines for the wrong reasons, with the operator reportedly suffering serious service interruptions across the US late on Monday. According to Reuters, there were more than 83,000 reports of outages, based on data from outage tracking website Downdetector.com. Ray posted an update on Twitter saying that the company was now operating at "near normal levels" after it had identified a third-party "fibre interruption issue" that had affected voice, messaging and data services for some users in several areas. He added that the operator is continuing to monitor the situation. Reuters noted that there were also thousands of reports for outages of services provided by Verizon and AT&T.
The European Commission (EC) has opened an in-depth investigation into the proposed acquisition of satellite communications provider Inmarsat by peer Viasat over concerns about restricted competition in the broadband in-flight connectivity (IFC) market. In its announcement outlining findings from its preliminary probe into the deal, the commission noted that both companies are "close competitors" for the supply of broadband IFC services to commercial airlines, competing "head-to-head" in tenders for contracts, particularly in the European Economic Area (EEA). Now, the commission is seeking to find whether the proposed merger could reduce competition in a market that currently has only a few alternative suppliers as there are "relatively high barriers to entry". It has set itself a deadline of 29 June 2023 to take a decision on the transaction. Inmarsat and Viasat responded to the probe announcement in a joint statement, reaffirming their commitment to work with the EC and expressing confidence that "the proposed combination will strengthen competition in the growing satellite communications market and enable the combined group to offer innovative new services to its customers in Europe and around the world".
A 25% stake in the UK's largest mobile towers company, Cornerstone, might soon be up for grabs, Reuters has reported. Vodafone-owned Vantage Towers has a 50% stake in Cornerstone and is retaining this stake, but Liberty Global and Telefónica jointly own the other half and are reportedly preparing to sell half of their holding in the company, which manages more than 20,000 sites across the UK.
Microsoft's Industrial Metaverse Core unit, which was only formed last October, has been closed down as part of the tech giant's recently announced cuts. What does this mean for Microsoft's metaverse strategy? Technology industry analyst Richard Windsor believes this is a chance for the company to start again with a new approach because it was clear to him that the initial effort "wasn't working". To find out more, read Windsor's blog.
Telkom Indonesia has partnered with NEC and ADVA for the deployment of time synchronisation solutions to help it enhance the timing accuracy of its transport network services across the country. "We're bringing the levels of reliability and stability that Telkom Indonesia's 5G network needs for the high-bandwidth, ultra-low latency services of tomorrow," said Gil Biran, GM of Oscilloquartz, ADVA. Read more.
Optus claims to be the first Australian operator to have demonstrated 5G dynamic network slicing, in a joint effort with Ericsson and Cradlepoint. The telco said it showcased how operators can create different network slices, sporting specific performance and security characteristics, to "uniquely support the different types of applications businesses rely on". To conduct the end-to-end dynamic slicing, Optus leveraged its 5G standalone (SA) live network based on Ericsson's 5G core and radio access network (RAN), Cradlepoint's 5G routers at the wide area network edge and a Google Pixel Pro 6 phone. Additionally, Optus and Ericsson have carried out a "world-first" end-to-end test of the latest outdoor precise positioning technology used in 5G-based high accuracy global navigation satellite system (GNSS) solutions. See more.
- The staff, TelecomTV
Email Newsletters
Stay up to date with the latest industry developments: sign up to receive TelecomTV's top news and videos plus exclusive subscriber-only content direct to your inbox – including our daily news briefing and weekly wrap.