What's up with… Qualcomm, Nokia and NTT Docomo, FCC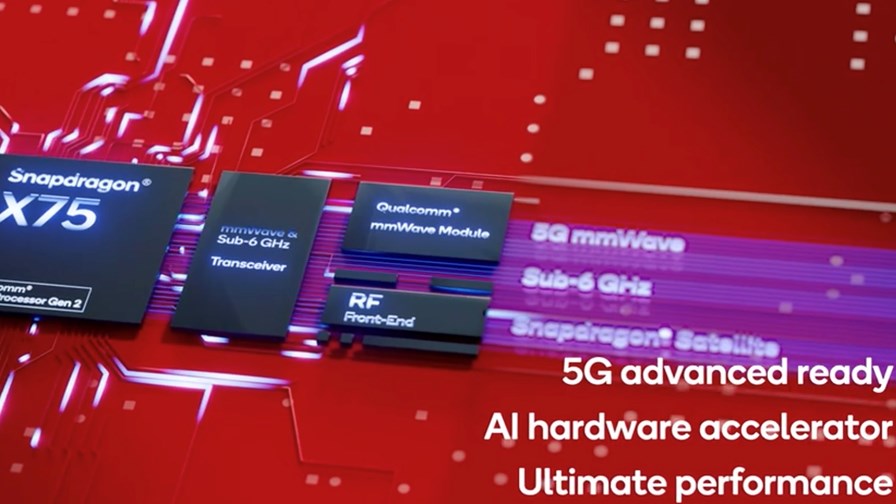 Qualcomm ups the 5G-Advanced ante
Nokia and NTT Docomo boast 6G advances
No FCC gig for Gigi?
In today's industry news roundup: Wireless chip giant to rock up to MWC23 with an impressive-sounding 5G-Advanced solution; Nokia and NTT Docomo have been looking even further ahead with some smart antenna R&D; the FCC's vacant fifth seat is still unfilled as politicians squabble (that's not news, obvs!); and more!
Qualcomm is boasting it has launched the industry's first modem for 5G-Advanced, which is the next step in the evolution of 5G networks based on the 3GPP's release of 18 specifications. The wireless chip giant says its Snapdragon X75 device is suitable for deployment in smartphones and IoT modules and will support high-speed 5G services in fixed wireless access (FWA) broadband and 5G private network deployments. In addition to integrated, optimised AI capabilities for features such as mmWave beam management, the modem boasts 10-carrier aggregation to boost connectivity capacity, a converged transceiver for mmWave and sub 6 GHz spectrum, advanced power efficiency software and a lot more. For FWA deployments, Qualcomm has developed the X75-based Fixed Wireless Access Platform Gen 3, which the vendor claims is "the world's first fully integrated 5G Advanced-ready fixed wireless access (FWA) platform with mmWave, sub 6 GHz, and Wi-Fi 7 support, including 10Gbit/s Ethernet capability." The Snapdragon X75 is currently available for customers to test and will be available commercially by the second half of this year. Now all the industry needs is a plan to make money from 5G services… Read more.
With MWC23 fast approaching and the 5G monetisation elephant still crowding out a large part of the telecom industry sitting room, expect to hear a lot about 6G in the coming few weeks, because it's nice to have a distraction every now and then. The latest (admittedly very interesting) 6G missive comes from Nokia and Japan's NTT Docomo, and boasts of no less than "two technological milestones on the path to 6G." The first is very pertinent not only to 6G but also hopefully to 5G, as it involves the "implementation of artificial intelligence (AI) and machine learning (ML) into the radio air interface, effectively giving 6G radios the ability to learn." This is also something that is attracting a lot of attention in the disaggregated RAN research and development sector, of course. The second milestone is the use of sub-terahertz (sub-THz) spectrum to "dramatically boost network capacity" – more specifically, Nokia and NTT Docomo "were able to demonstrate a 25Gbit/s connection on a single 256QAM stream over a carrier frequency of 144 GHz using beamforming." Read more.
The question that currently goes unanswered, of course, is when anyone will have the brass neck to start talking about what 7G might look like…. But you never know what kind of thing you might hear on the show floor in Barcelona, so don't rule it out!
The ongoing saga at the US Federal Communications Commission (FCC) continues and it remains uncertain when the regulator will finally get its key fifth seat filled, as the nomination of Gigi Sohn by President Joe Biden has reportedly faced strong opposition from members of the Republican Party. At her third hearing before the Senate Commerce Committee since being nominated in October 2021, Sohn told senators that industry opponents feared a pro-competition policymaker who would support policies in favour of faster and cheaper broadband connectivity, reported Reuters. According to Republican senators, Sohn was misleading the US Congress and was incapable of being impartial to serve in a leadership position at an independent regulatory body like the FCC, the news report stated. Currently, Democrats don't have a majority of seats in the FCC, which makes it impossible to move forward on efforts by them to restore net neutrality in the US. It is as yet unclear when the Senate Commerce Committee will hold a vote on Sohn's nomination.
Twitter CEO Elon Musk has reportedly announced that he expects his successor to take the helm at the company by the end of 2023. Forbes has cited Musk as saying that he wants to stabilise the organisation and make sure it is in good financial health before passing the torch. According to the report, Musk sees the end of this year as "good timing" for the top-level change. If this is indeed the timeline, this would mean that Musk will have continued to run the social media giant for a year after Twitter users voted in a poll in favour of his departure as chief.
Telecom Italia (TIM) managed a 1.6% year-on-year revenue increase for 2022 to €14.6bn and reported a dip in earnings that was in line with expectations, but now faces a massive year ahead as it seeks to restructure its portfolio and sell some lines of business so it can pay off some of its €20bn debt pile. The operator's board is to meet on 24 February to discuss the recent offer from private equity firm KKR to acquire TIM's fixed line and submarine networks unit, dubbed NetCo, which now reaches 16 million premises across Italy (of which 7.7 million are reached with fibre lines). In addition to unveiling its full-year results, the operator also unveiled its new three-year strategy which, if all goes to plan, will result in small but progressive increases in sales and margins during the 2023-25 period.
The UK Telecoms Innovation Network (UKTIN) has appointed one of the industry's most highly regarded and respected fellows, Nick Johnson, as its new director. Johnson is well known for his time in the small cell sector, having been the founder and CTO at ip.access, which was acquired by Mavenir in 2020.
Contact centre and unified communications platform specialist Avaya, which has been suffering a decline in sales and reported an enormous operating loss of $1.35bn against revenues of $577m in the third quarter of last year, has filed for Chapter 11 bankruptcy protection (five years after it emerged from its previous Chapter 11 process). The vendor, which initiated a cost-cutting process last autumn, will see its debts reduce from about $3.4bn to around $800m as a result of the restructuring process: The company needed to initiate bankruptcy protection proceedings because it was unsure it could meet its debt repayment obligations this year. As part of the process it has managed to raise $780m in new financing to get it through the next few months without going under, reported Reuters. This time last year, Avaya's stock was worth $14.76 per share – it closed yesterday at $0.27 before the Chapter 11 process was announced.
Damage to Deutsche Telekom's fibre cables in Germany has allegedly caused a group-wide IT system failure at aviation company Lufthansa. Reuters has reported that the operator's fibre network was damaged during construction work in the German city of Frankfurt. As a result, multiple flights have been either delayed or cancelled worldwide, added the report. Repairs are expected to be completed this afternoon in Central European Standard Time.
Middle East operator giant e& (formerly Etisalat) has finalised the acquisition of a 100% shareholding in online marketplace company Service Souk DMCC, also known as ServiceMarket. The takeover is expected to complement the telco's existing marketplace services portfolio, better known as the brand Smiles, and is seen as a key move in line with e&'s strategy to diversify its business. According to the company, the takeover also contributes to the "growth of the country's ambitions of becoming a digital economy".
Swiss operator Sunrise has taken over the cable networks run by Dottikon AGD Antenna Cooperative, Dintikon Antenna Cooperative, Boniswil Television Cooperative and Mogelsberg Community Corporation, with retroactive effect from 1 January 2023. Sunrise noted the takeovers are "the result of many years of consistent and successful collaboration". Christophe Millet, head of partner networks at Sunrise, noted: "These four takeovers allow us to increase our visibility as an infrastructure provider. We're also delighted to be able to provide our innovative products and services to local residents based on a solid foundation of future-proof infrastructure". Following the takeover, approximately 4,500 connected households will keep their access to Sunrise's products and are set to "benefit from the company's innovative strength", according to the telco. See more.
- The staff, TelecomTV
Email Newsletters
Stay up to date with the latest industry developments: sign up to receive TelecomTV's top news and videos plus exclusive subscriber-only content direct to your inbox – including our daily news briefing and weekly wrap.