Verizon buys Straight Path spectrum for a staggering $3.1 billion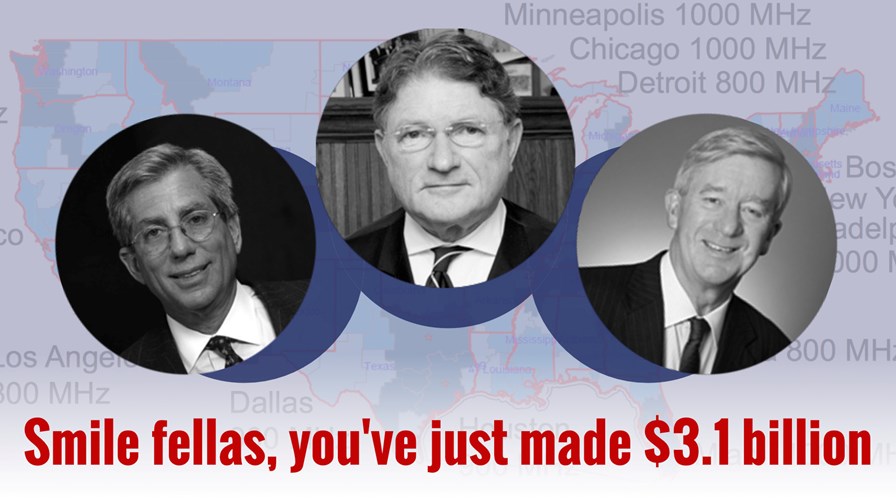 Straight Path ditches AT&T and takes Verizon's cash instead
Follows the FCC deal to sell its mmW spectrum hoard
39GHz spectrum originally acquired in FCC auction back in 2000 by Winstar
FCC bags a bonus payday in the process
What to buy the person who has everything? More spectrum. Yes, it's a no-brainer in the telecoms industry, with telcos' insatiable appetite for spectrum showing no signs of abating. Just when AT&T thought it had acquired a tasty helping of spectrum from Straight Path Communications, along comes Verizon and doubles the offer. Sold to the highest bidder!
Straight Path is a curious company. It was fined $100 million by the FCC for its inaction over its spectrum ("spectrum squatting", as it is commonly known), although this was reduced to a more modest $15 million plus 20 per cent of sale value if it offloaded it to a company that actually was going to use it. So that's a nice $635 million payday for the FCC, if we have our maths correct, leaving a net $2.5 billion for the Straight Path shareholders.
"Squatting on spectrum licenses without any meaningful effort to put them to good use in a timely manner is fundamentally inconsistent with the public good," said Travis LeBlanc, Chief of the FCC's Enforcement Bureau, speaking in January this year. "Wireless spectrum is a scarce public resource. We expect every person or company that receives a spectrum license to put it to productive use."
An anonymous source told the FCC in 2015 that Straight Path had submitted filings incorrectly claiming that they had constructed systems to use its spectrum, but which in fact were never built. In July 2016, an internal investigation by Straight Path concluded that equipment had been deployed only for a short period of time at the original transmitter locations. Hence the hefty fine.
Straight Path was spun off from its parent company, IDT Corporation, in 2013 and led by Davidi Jonas, who had until that point managed IDT's spectrum division as VP of Business Development. The logic was that "IDT could better realize the true value of its Spectrum and Intellectual Property divisions in an independent entity." Quite so.
Straight Path announced this morning that it will sign a definitive merger agreement under which Verizon Communications will acquire Straight Path for $184 per share, reflecting an enterprise value of approximately $3.1 billion. Verizon will also pay a termination fee of $38 million to AT&T, as compensation for being gazumped (it was only willing to pay $1.25 billion).
So why all the interest?
Straight Path holds a portfolio of 39GHz and 28GHz wireless spectrum licenses – so-called millimetre wave (mmW) spectrum, that will really come into play in the mid-2020s when 5G starts to mature and mmW equipment becomes proven (along with all the difficulties associated with mmW propagation for cellular). In fact, Straight Path is the largest holder of 39GHz spectrum in the US with about 95 per cent of total issued licenses. Its 28GHz spectrum covers cities including New York and San Francisco.
The company says it has "a full national network" of 735 licenses, including "deep coverage in major markets, totalling more than 175 billion MHz-PoPs in 39GHz spectrum," and this is after it agreed to return 93 of its original 828 39GHz licenses to the FCC as part of its settlement. Its 28GHz spectrum totals approximately 39 billion MHz-PoPs across 133 licences.
Spectrum trading
These licenses were originally purchased from Winstar Communications, in a roundabout way… Winstar obtained its licences in the FCC auction of 39GHz spectrum for fixed-wireless services back in 2000, when the regulator netted a rather modest (by today's standards) $410 million for 2,173 licences. Winstar raised its average spectrum holdings from 800MHz to over 1,000 MHz in over 60 markets throughout the US. It spent $161 million for 931 licenses and was the surprise winner in the auction.
Winstar CEO William Rouhana was gung-ho about using this spectrum to "build the most widely available, end-to-end network and provide a full portfolio of broadband services to businesses". Unfortunately, within a year Winstar went bankrupt.
Enter IDT Corporation, which acquired substantially all of the assets of the bankrupt Winstar for about $42.5 million in December 2001. Cue several internal reorganisations and shuffling of companies, but preciously little use of this spectrum. Until, that is, the FCC changed the usage rules for mmW spectrum with its Spectrum Frontiers Report & Order in July last year.
Email Newsletters
Sign up to receive TelecomTV's top news and videos, plus exclusive subscriber-only content direct to your inbox.