UK to create a new "digital twin" to map the roll-out of mmW 5G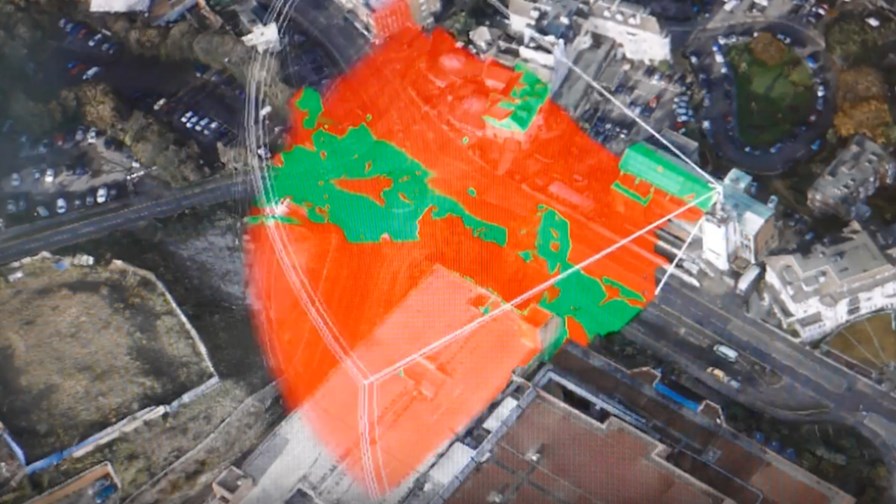 Government commissions digital map pilot for 5G planning
Ordnance Survey, Met Office and the 5GIC to create digital twin
Model to include weather conditions, tree foliage and vegetation lifecycles
Also includes details of future building projects
The biggest complaint levelled against mobile operators usually concerns lack of coverage. No matter what technology advancements the operators offer, they are rendered meaningless by the presence of "not-spots" and localised areas where coverage is either non-existence or drops to near-useless GSM. Despite the best efforts of lobby groups and politicians, the operators cannot – or will not – fill these spots, often citing economic reasons.
The arrival of 5G threatens to make the situation worse, not better. The high frequency cm and mm wave bands that will deliver massive data throughput are extremely difficult to manage, being suitable only to short distances and subject to interference from walls, buildings, people and even the weather. Techniques such as beamforming and steering will be needed to provide coverage in built-up areas like towns and cities, which is where high-frequency 5G should come into its own.
Key to making all this work is network planning, with a degree of precision never yet seen in the industry. What's needed is a combination of sophisticated radio propagation models for these new frequencies combined with highly detailed topographical plans. In other words, we need maps, and damn fine ones at that.
The UK government, to its credit, gets this. So it is heartening to discover that the Department of Culture, Media & Sport (DCMS) has today commissioned a consortium of organisations to develop a brand new planning and mapping tool that will be instrumental for the national rollout of 5G (and hopefully a rollout free of coverage shadows and not-spots…)
Smart maps for a smart future
The Ordnance Survey (OS) has a long and distinguished history with mapping. It was created after the Scottish rebellion of 1745 to map and survey the Scottish Highlands for military purposes, offering its maps of the country for sale to the public in the early 1800s. Who better then to lead the new consortium than the OS? It is joined by the 5G Innovation Centre (5GIC) at the University of Surrey (probably the pre-eminent 5G research centre in the world) and the Met Office (which undertakes weather forecasts in the UK).
The consortium will build a "digital twin" of the real world, which will be used to determine the prime locations to place the radio antennae access points. As already mentioned, different construction materials can markedly reduce radio propagation, as can raindrops and the leaves of a tree for mmW signals. This makes access point placement critical for optimal – and therefore cost-effective – network performance.
One option would be to send out teams of engineers in white vans to take a look for themselves, then engage in lengthy trial and error work until the best results are achieved. But back in the real world, budgets won't stretch that far. Far better to do this digitally. With a digital twin, network planners can place an access point and immediately see impediments there are to the signal (see image above).
Included in the model's intelligence are weather conditions, tree foliage and the lifecycles of vegetation, and details of future building projects, all of which gives planners the opportunity to test broadcast range and reliability throughout the seasons and over the coming years.
"Our ambition is to be a world leader in 5G technology, which is why we are investing in research and demonstration initiatives like this ground-breaking 5G mapping pilot," said Matt Hancock, Minister of State for Digital and Culture. "It is projects such as this which will make sure the UK can harness the potential of this exciting technology and help build the hyper-connected Britain we all want to see."
The planning and mapping tool will be trialled first in the town of Bournemouth on the south coast of England, and if successful the tool will be scaled up to cover the rest of the UK, and even shared with other countries as they develop their own 5G networks. Surveying for parts of Bournemouth is already underway.
"Linking OS data to spectrum information and meteorological data will deliver faster speeds and better coverage to connected devices, all the while helping keep rollout costs to a minimum," said Andrew Loveless, OS Commercial Director. "In creating a highly accurate digital model of the real world, with added in attributes and intelligence, OS is taking mapping and data visualisation to unprecedented new levels with what can be achieved, complementing the government's Digital Britain strategy. It is a Smart map for a Smart future."
"With our expertise in both numerical weather prediction and the remote sensing of the atmosphere (e.g. weather satellites and radar), the Met Office is well-placed to contribute realistic high-resolution weather scenarios and the associated impacts on signal transmission to our project partners," said Dr Dave Jones, Head of Observations R&D at the Met Office.
Let's hope the pilot is a success and is quickly rolled out nationally. If operators can use this resource, and Ofcom can add it to its regulatory toolbox, then perhaps UK consumers and businesses can finally benefit from comprehensive high-speed data coverage.
Email Newsletters
Sign up to receive TelecomTV's top news and videos, plus exclusive subscriber-only content direct to your inbox.