Smile, you're on 5G: Verizon and KT conduct first video call on pre-5G Samsung tablet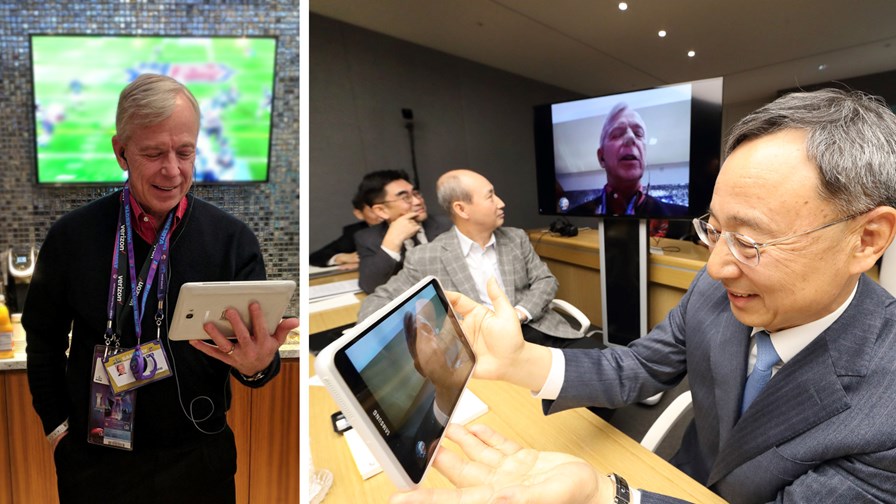 Verizon CEO makes 5G video call during Super Bowl to KT CEO in Seoul
Samsung supplied 5G access units, routers, virtualised RAN and core for the test
Featured a prototype 5G-enabled tablet from Samsung
Operated across the 28GHz band
You've got to love the Super Bowl (or "a sponsored sport event" as Samsung puts it). American football might not be your thing, but the game is a magnet for expensive advertising, live acts and as many promotional opportunities as you can cram into a 60 minute game (or about 12 minutes of actual "ball in play" game time). So whilst we congratulate the Philadelphia Eagles on winning Super Bowl LII last night, let's not overlook another 5G "first".
At some stage during the razzmatazz, the chairmen and CEOs from Korean telco KT and US telco Verizon conducted a live video call using an end-to-end 5G solution from Samsung that included the vendor's first prototype 5G tablet. Verizon was a little more circumspect in its description of the test in its very short news announcement, saying that: "Verizon chairman and CEO Lowell McAdam and KT chairman and CEO Chang-Gyu Hwang successfully conducted the first-ever pre-commercial 5G video call on two fully functioning prototype 5G tablets." Note the emphasis on the phrase "pre-commercial", although chances are it would be extremely close to the first Rel-15 specification. We assume (in the absence of receiving clarification) that the solution was based on 5G NR in NSA mode using the LTE core network, which would still constitute "an end-to-end 5G solution".
"By working closely with industry leaders like KT and Samsung, we are finally making 5G a reality," said Ed Chan, SCP and Chief Technology Architect at Verizon. "Seeing Samsung's 5G end-to-end solutions in action, including a working prototype 5G tablet, underscores how important our collaborative relationship has been in helping accelerate the availability of commercial 5G mobility for customers. We are glad to be working with like-minded partners to build the 5G future globally."
The three companies have been working closely on 5G research and development since 2015, including in Verizon's 5G Technical Forum (5GTF) and KT's PyeongChang 5G Special Interest Group (5G SIG), which collectively released early 5G specification candidates for consideration by 3GPP to help inform and accelerate its NR standard. Verizon's McAdam was holed up in a corporate box in Minneapolis for the Super Bowl game, whilst KT's Hwang participated from corporate headquarters in Seoul.
"It brings great pleasure to see where all the contributions we have been making on 5G specifications are leading us," said Hong-beom Jeon, EVP and Head of Infra laboratory at KT. "The fact that 5G is no longer a dream owes its debt to the collaborations we have carried out with operators like Verizon and vendors like Samsung. Our efforts have enabled some of the most demanding tasks to come to fruition."
End-to-end 28GHz trial
Samsung says it supplied the network infrastructure for the trial, composed of two 28GHz 5G access units, 5G home routers, virtualized RAN and virtualized core network, as well as the prototype 5G tablet device. The tablet also demonstrated data session handovers between LTE and 5G. Samsung says it used its in-house technology and assets to develop the first commercial ASIC-based 5G modems and mmWave RFICs, creating one of the smallest 5G radio base stations and 5G home routers.
Being a physicist and a purist, I would argue that 28GHz is more cmWave than mmWave (30-300GHz), but the industry marketeers will no doubt reclassify anything over 24GHz as mmWave.
"We have been working closely with KT and Verizon to demonstrate mobile 5G use cases at two prestigious global events," said Woojune Kim, SVP and Head of North American Business, Samsung Electronics. "This demonstration with KT and Verizon represents a huge milestone for us, showing our contribution to the development of early 5G global specifications and 3GPP NR, and spotlighting the next generation Samsung technologies that let operators implement robust new services."
Expect a further trial or two when the Winter Olympics begins at the end of this week in Korea.
Email Newsletters
Stay up to date with the latest industry developments: sign up to receive TelecomTV's top news and videos plus exclusive subscriber-only content direct to your inbox – including our daily news briefing and weekly wrap.