Singtel aims to be a Paragon of enterprise 5G virtue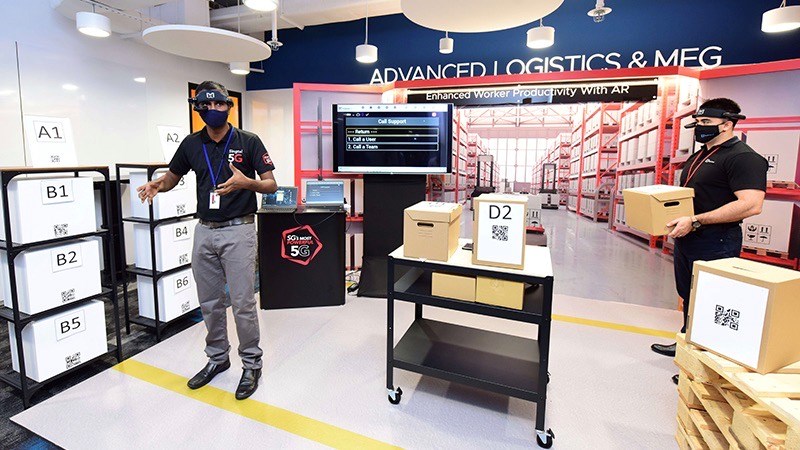 Introduces a one stop digital acceleration platform for businesses and corporations
Enterprises can use Singtel's 5G network to activate network slices on demand
Platform bolstered by a strong multi-edge computing (MEC) ecosystem
Major role envisaged in enabling enterprises to transition legacy applications onto 5G networks
With just about every telco and service provider on the planet now consumed with 5G, and the need to realise some sort of returns on the big investments they have made in spectrum and technologies to enable its rollout, the problems and opportunities inherent in building strong and permanent new business with their lucrative enterprise customer is uppermost in their minds and plans. After all, and despite all the hype about how much domestic subscribers will just love 5G services and be more than happy to pay a sizeable premium to enjoy them, the reality is that long-term repeat revenues will come from a massive uptake of 5G by the global enterprise market.
That's why Singapore Telecommunications Limited (or Singtel, as it is usually known) has introduced its strategy for growing its enterprise business, not only at home in the island state but the world over, where it has a presence or partners. Not one to sell itself short, Singtel has named its new home-grown, in-house developed platform "Paragon". The dictionary definition of the word is "that which is a model of excellence or perfection" so the telco could be making a rod for its own back if Paragon turns out to be less than a perfect solution to the 5G enterprise conundrum. Being a Yorkshireman and knowing the platforms at Hull's Paragon railway station since my childhood, I can attest from personal experience that they aren't quite the model of excellent perfection the name suggests, but perhaps Singtel's platform will be.
So, according to this morning's press release, Paragon is "a revolutionary platform that enables enterprises to tap into Singtel's 5G network to activate network slices on demand, deploy mission critical applications on Singtel MEC (multi-access edge compute) as well as access a robust eco-system of partner applications, offering them unparalleled control and choices."
What's more it is also "the industry's first all-in-one orchestration platform for 5G edge computing and cloud services," which, Singtel says, will significantly help minimise the complexity and time needed to adopt 5G MEC and low latency applications and services, thus reducing the barriers to entry for enterprises, enabling faster deployment of use cases whilst simultaneously markedly lowering operational and other costs. It also permits enterprises securely to deploy applications in a hybrid way across the edge at Singtel MEC and a public cloud of an enterprise customer's own choice.
Singtel makes the valid point that without an all-in-one solution to hand, enterprises have to work with multiple network connectivity tools and the cloud as well as the application lifecycle at the edge. It's a difficult and complex task and Paragon allows enterprises to interact with a 5G network and deploy their edge computing applications and services on Singtel's infrastructure independently, securely and, it is claimed, within minutes, thus once more improving time-to-market while reducing costs. Enterprises can also speed and refine their 5G use cases thanks to the in-built to gain access a wide range of solutions from Singtel's many partners.
Rollout to Singapore first, then regionally and later to the wider world
Commenting at the launch of Paragon, Bill Chang, the CEO of Group Enterprise at Singtel, explained that many enterprises are undergoing rapid digitalisation even as they explore and develop tailored 5G solutions for use in their various industrial sectors. He said, "We understand the challenges and complexities that they face in managing the various networks, edge cloud applications, and services with the required cyber security, resiliency, and demanding service assurances required, cost-effectively. Paragon was conceived, developed, and delivered to help enterprises meet these needs through a single platform".
Chang added that successful trials are already being conducted on Paragon and 5G-related fields, ranging from chipset manufacturers to IoT, and he expects that apps and software developers, content producers, systems integrators, and solution providers will join them to scale the Paragon platform both regionally and globally.
The CEO also stressed that where edge computing solutions are concerned, Paragon can provide a huge improvement in latency with much higher bandwidth throughput from Singtel's 5G network permitting improved performance and quicker decision-making at the edge, which is where the data is. Such ability is critical for 5G use cases such as autonomous systems including the robotics, drone, and vehicle sectors, immersive, video-rich experiences and powerful real-time edge AI.
Singtel believes a further key role for Paragon will be in helping enterprises to adapt their legacy applications to run over fast, secure and resilient 5G networks rather than older 4G networks that simply are not as advanced.
As to the future, Singtel plans to scale Paragon with a number of telcos, first across South-East Asia and then into the wider world, and wants its ecosystem partners to play a big part in delivering the overall solutions built on the Paragon platform. Here, Singtel puts a premium on the value of the Paragon Marketplace which, in essence, works pretty much like an app store in allowing its partners to provide and offer solutions, via a strong and standard API, and to quickly to build, provision and deploy them through the Paragon platform: Some apps, including real-time fleet management and smart warehouse management, are already available.
No doubt other telcos will launch similar solutions in the weeks and months to come as securing ROI on 5G investments becomes increasingly critical, but Singtel is first out of the traps with the industry's first all-in-one platform for 5G networks, edge computing and services orchestration, and it deserves recognition and plaudits for so doing.
By the way, the word "paragon" derives from the Old Italian "paragone", which literally means "touchstone." Touchstone are black stones (usually of fine-grained dark schist or jasper) that were used to judge the purity of gold or silver. The precious metals were rubbed on the stone and the intensity of the colour of the mark left on them, after the application of a coat of nitric acid, was a very good indication of their quality. Touchstones still have use today in the assaying of gold and, again, continue to provide a good indication of the quality of the metal being tested. Not many people know that...
Email Newsletters
Sign up to receive TelecomTV's top news and videos, plus exclusive subscriber-only content direct to your inbox.