Scream if you want to go faster: it's playtime for 5G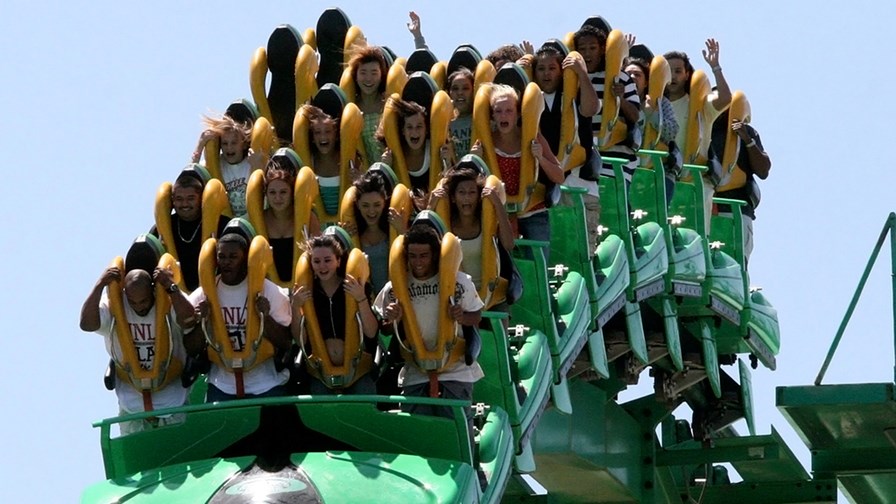 SK Telecom unveils its 5G Playground
The South Korean telco will run a trial 5G network in 2017
Telefónica to build its 5TONIC lab in Madrid
Focus on virtualisation and wireless systems
If you want to have some fun in this industry, then head towards the 5G light. Developments for "still a long way from being standardised" 5G are coming thick and fast, but it's already clear that a lot of engineers are salivating at the prospect of corporate chequebooks being whipped out and budgets doubled. It's about to be playtime in the labs.
And no one understands this more than South Korean telco SK Telecom, which has just announced the opening of its "5G Playground". Described as an integrated innovation centre for the development of 5G technologies and services, the 5G Playground is intended to lead the telco's innovation efforts towards 5G commercialisation.
And that commercialisation isn't far away. Like a growing number of telcos and vendors, SK Telecom is prepared to roll-out "pre-standard" 5G technologies, in order to test the market and get a head start on competitors. To that end, it has announced that it plans to launch a 5G trial service in South Korea during 2017 – three years before the first standard-compliant commercial 5G systems will be available.
"SK Telecom is delighted to announce the opening of 5G Playground, which will serve as a hub for innovations towards achieving 5G, which holds the power to turn our imaginations into reality," said Alex Jinsung Choi, CTO of SK Telecom. "At 5G Playground, SK Telecom will work relentlessly with global leading companies to develop 5G technologies and services, while building a 5G ecosystem that brings benefits to all stakeholders."
The 5G Playground consists of a 5G Testbed, which hosts multiple technical test beds and advanced testing equipment; a Virtual Experience Room where the telco can showcase its future services and devices; and the T Open Lab, which supports the establishment of a 5G ecosystem through support for venture-backed companies.
The testbeds have been created with Nokia, Ericsson, Samsung, Intel and Rohde & Schwarz. With Nokia, SK Telecom is developing a centimeter-wave 5G MIMO-based radio system and have already successfully demonstrated 19.1Gbit/s transmission speeds with 400MHz of bandwidth. They are also collaborating on an SDN-enabled Evolved Packet Core architecture. Ericsson is working with SK Telecom on network slicing and an alternative cmWave approach. Samsung is collaborating on 3D beamforming techniques for millimeter-wave systems, and Intel is working with the telco on 'Anchor-Booster Cell' and Massive MIMO with Cloud RAN.
SK Telecom said that it will contribute to the development of 5G requirements and standards, and has this week published its guidelines for 5G architecture design and implementation.
Just the tonic
Over in Europe, Telefónica is also getting in on the fun and games. The telco has announced the creation of the first "laboratory of 5G excellence" in Spain, in partnership with IMDEA Networks. Called 5TONIC (the name works slightly better in Spanish, but only just; let's hope they didn't pay the brand agency too much money for that one), the lab will foster an open ecosystem for innovation and investigation as well as to provide a place where industry and the academic world can work together on furthering the development of 5G technologies and the associated ecosystem.
The lab will be located at the central office of IMDEA Networks on the outskirts of Madrid and will open its doors next November. It will operate at least until the first 5G products are commercially viable, around 2020 or later, and involve participation from vendor partners (Ericsson is the first to sign up).
The lab will comprise two main areas. Firstly a unit dealing with virtualisation software for 5G networks, centred on NFV, SDN security services, network control and management planes, cloud services and signalling services. The second unit will look at 5G wireless systems, focused on the air interface, radio aspects, duplexing, multiplexing, media access control, spectrum, interference, mobility tracking and all based on a multi-RAT approach.
"The opening of this centre is a step forward for Telefónica which has been actively participating in a wide spectrum of international projects, industrial associations, and standardisation of 5G technologies organisms," said Enrique Blanco, Global CTO for Telefónica. "The centre of 5G excellence in Madrid will allow us to test, choose, and prioritise the functionalities of the candidate networks and services that will be part of future 5G networks, in order for the resulting system to be consistent and coherent. We don't want the 5G networks start-up to be a specific single event, but rather a process which we want to begin right now".
Email Newsletters
Sign up to receive TelecomTV's top news and videos, plus exclusive subscriber-only content direct to your inbox.