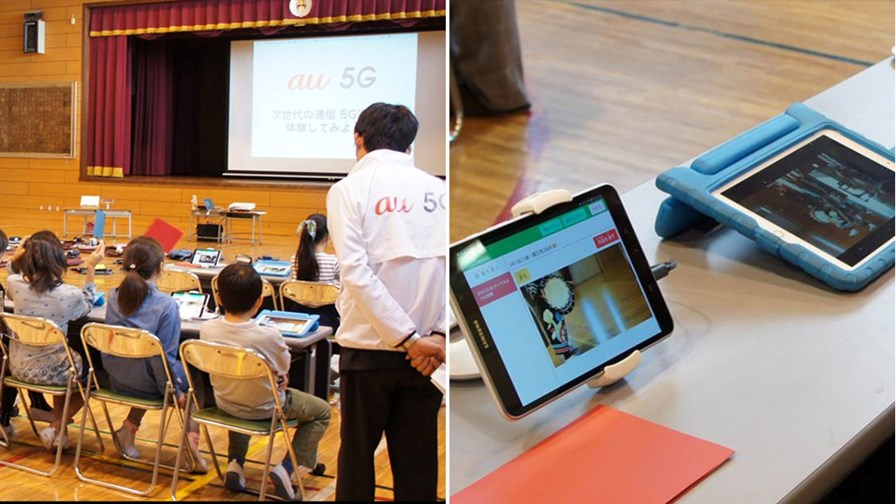 4K video sharing finds its way into the classroom
Demo uses 28-GHz spectrum to deliver massive bandwidth boost
Education 4.0 to help students succeed in Industry 4.0
5G promises to bring exciting new classroom experiences to Japanese elementary students, after Samsung and KDDI carried out a live demonstration of the technology at one such school.
Working with the Advanced Telecommunications Research Institute International (ITR), the companies set up a network running at 28 GHz in the gym at Maehara Elementary School in Tokyo. This allowed students equipped with tablets to download and upload 4K videos with relative ease, giving pupils and teachers a taste of how 5G might one day support new ways of teaching.
Downloading and sharing videos is likely to be just the start of a 5G-fuelled revolution in education though.
As many have pointed out before, augmented and virtual reality (A/VR), coupled with ultrafast connectivity, has the potential to unlock new methods of teaching and rich new experiences for students. That's not to say that every pupil in every school will soon don a VR headset every morning when the school bell rings. But just as with the advent of PCs, A/VR will make its way into schools gradually, becoming more common as the cost of the technology comes down.
On this side of the world, higher education lobby group Jisc recently launched its Education 4.0 initiative, which aims to prepare students for Industry 4.0 by pushing for policies that encourage learning institutions to equip them with the necessary skills and technology.
Jisc sees AI, mixed reality, and machine learning as among the most important innovations that will drive the more significant changes in education.
Demonstrations like the one carried out this week in Japan by Samsung and KDDI are an important first step in this direction, and highlights how operators have an opportunity to become trusted technology partners for teachers of all age groups.
Full press release below:
Korea: January 10, 2019
Next-generation technology enhances classroom activities with ultra-high-definition video, providing an immersive educational experience for students
Samsung Electronics and KDDI today announced the successful demonstration of their 5G capabilities by working with the Advanced Telecommunications Research Institute International (ATR) to deploy ultra-fast communications at Maehara Elementary School in Tokyo. For the first time in Japan, 5G was utilized to help students download contents in class using UHD, powered by the infrastructure of next-generation technologies.
The demonstration, made possible by Samsung's 5G solutions, was conducted from November 21 to December 12, 2018 at the gym inside Maehara Elementary School. In order to showcase 5G capabilities, the gym was set up with Samsung's 5G network using a 28GHz band to enable transmission of UHD videos in a school setting. The demo involved comparing the difference between 5G tablets and Wi-Fi tablets in their ability to download and play back videos.
During the demonstration, students were given a chance to create their own videos and experience high-speed and large capacity transmission of large video files. In doing so, they verified the capabilities of 5G for this type of use case. KDDI was responsible for assessing and designing the 5G areas used in the trial and ATR provided the testing infrastructure.
"We have been able to successfully demonstrate how 5G can reshape the future of education in Japan and beyond by building a live environment to showcase the concept," said Yoshiaki Uchida, Member of the Board, Executive Vice President at KDDI. "Together with Samsung, our long-term partner in this space, we are delivering solutions that will enable innovative academic experiences in the classroom and support young people's immersive learning for years to come."
"5G will be the key to creating new user experiences that are more vivid and dynamic than ever before," said Paul Kyungwhoon Cheun, Executive Vice President and Head of Networks Business at Samsung Electronics. "We will continue collaborating with partners like KDDI to establish many more exciting 5G use cases that improve people's lives."
Leveraging 5G will enhance various classroom activities and ultimately offer a whole new academic experience to students and teachers. During the Samsung and KDDI demonstration, large UHD videos were transmitted without interruption, despite requiring large amounts of bandwidth. This allowed the children to enjoy a seamless connection while engaging with the contents.
This content extract was originally sourced from an external website (
Samsung Press Room
) and is the copyright of the external website owner. TelecomTV is not responsible for the content of external websites.
Legal Notices
Email Newsletters
Stay up to date with the latest industry developments: sign up to receive TelecomTV's top news and videos plus exclusive subscriber-only content direct to your inbox – including our daily news briefing and weekly wrap.