Qualcomm study says 5G could create 22m jobs and produce $12.3 trillion of goods and services by 2035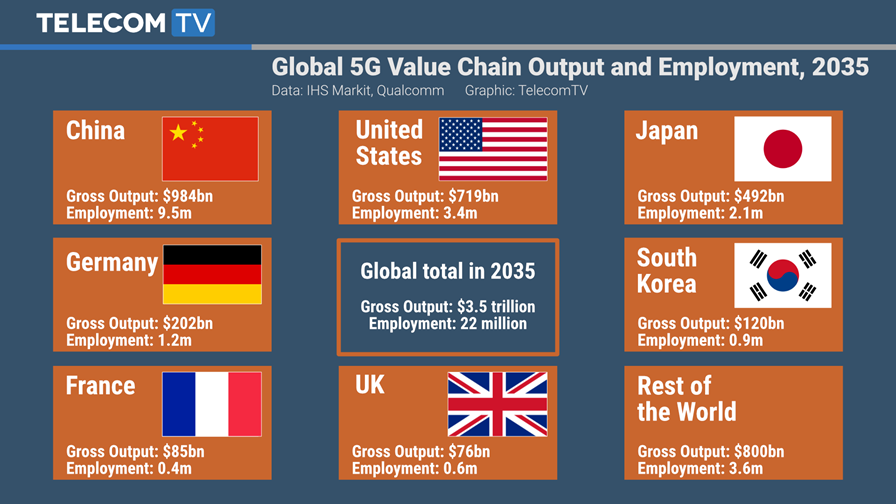 The full economic benefit of 5G should be realised globally by 2035
The 5G value chain itself could generate up to $3.5 trillion in revenue in 2035
5G value chain will invest an average of $200 billion annually
From 2020 to 2035, the total contribution of 5G to real global GDP will be around $3 trillion
Qualcomm Technologies has published the results of research it has commissioned on the likely impact of 5G. The "5G Economy" comprises two separate reports. The first is an economic impact study conducted by IHS Markit and validated by Professor David Teece of U.C. California. The second is a public survey report carried out by PSB Research into the expectations for 5G among business and technology leaders. Qualcomm says the combined findings show how 5G will profoundly affect the global economy and that business decision makers in technology and other industries overwhelmingly believe in the transformational nature of 5G.
"These respected researchers confirmed our strong belief that 5G will be a fundamental game changer," said Qualcomm CEO Steve Mollenkopf.
The work indicates that 5G will push mobile into the exclusive realm of so-called "general purpose technologies, like electricity and the automobile" that provide the foundation for large-scale innovation, give rise to new industries and benefit entire economies. This move, according to Professor Teece, will "assure the technology's long-term impact on society and continued growth for decades."
Bullish economic growth forecasts
According to the study, in 2035, when Qualcomm believes 5G's full economic benefit should be realised across the world, a broad range of industries – from retail to education, transportation to entertainment – could produce up to $12.3 trillion worth of goods and services enabled by 5G, which is equivalent (almost) to the entire US consumer spending last year. The 5G value chain itself could generate up to $3.5 trillion in revenue in 2035, supporting as many as 22 million jobs.
It goes on to conclude that the 5G value chain will invest an average of $200 billion annually to continually expand and strengthen the 5G technology base within network and business application infrastructure. Over time, it says that 5G deployment will fuel sustainable long term growth to global real GDP. From 2020 to 2035, the total contribution of 5G to real global GDP will be around $3 trillion, equivalent to an economy the size of India. Bold claims indeed, especially when you consider that global GDP today (according to the World Bank) is about $74 trillion.
"The economic effect of new investment, R&D and technological innovation alone indicates 5G will have a profound and sustained impact on global growth," the report stated, further asserting that "the diffusion of 5G technologies across wide swaths of the global economy represents one of the fundamental contributors to expansion in the global economy over the next two decades."
IHS Markit evaluated the potential of 21 unique 5G use cases that will affect productivity and enhance economic activity across a broad range of industry sectors. They covered all three major 5G areas (although we should perhaps now consider Fixed Wireless to be a fourth area), namely Enhanced Mobile Broadband (EMBB), Massive Internet of Things (MIoT), and Mission Critical Services (MCS).
According to the report, hastening the journey to the 5G economy requires that policymaking bodies:
Enable firms to make long-term investments and R&D
Engender public-private cooperation on development of 5G standards
Ensure regulation and permitting keep pace with the rate of innovation
"The challenge for policymakers in the 5G economy is that they must be prepared to address the ubiquity of 5G in everyday life without creating regimes that stunt continued innovation," it said.
To understand the global economic impact of the 5G Economy, IHS Markit and Professor Teece developed an economic model of the potential global sales activity across multiple industry sectors. It is well worth reading the report for a detailed explanation, but below is a summary chart of their consolidated findings.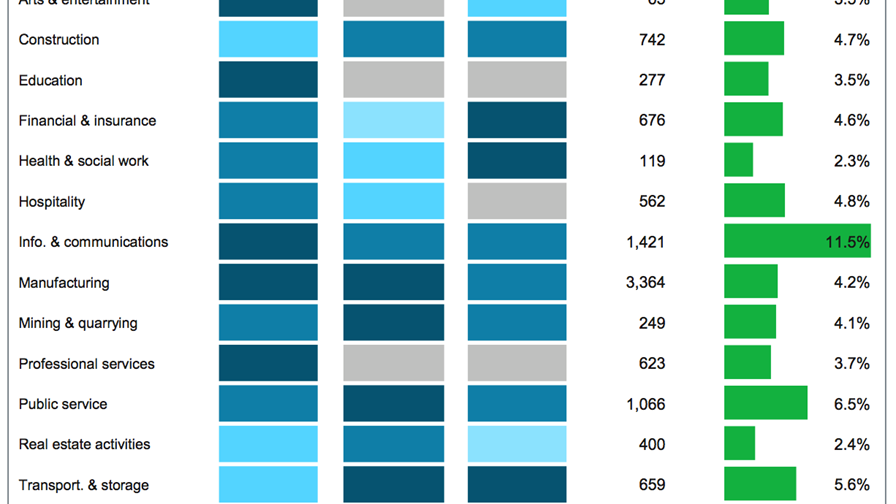 What do business leaders expect of 5G?
Complementing the economic study, polling research done by PSB suggests that business decision makers and opinion leaders around the globe expect 5G to bring widespread benefits for society and the economy overall, enabling new products and services, increasing productivity and allowing for new industries to emerge. Over 90 per cent of the more than 3,500 respondents agreed that 5G will enable new products, services and use cases that have not been invented yet.
The objectives for the study were to measure awareness of 5G and its potential impact on stakeholders' lives, the economy and the global society, assess the 5G landscape and what it would take for a company to be a leader in 5G, and explore barriers to adoption of 5G and opportunities for growth. The key findings of the study included the following:
While awareness of 5G is low, respondents believe the transition from LTE to 5G will be seamless;
Business decision makers say 5G will have 'a great deal' of impact on their businesses and the economy than LTE;
87 per cent of respondents expect that some industries will merge as a result of 5G, and 89 per cent expect to see increased productivity;
It is critical for 5G to deliver cybersecurity and data protections, ultra-high reliability, and extreme data speeds;
Companies with past experience developing and delivering wireless connectivity solutions are seen as best equipped to be leaders in 5G;
91 per cent of respondents expect new products and services that have yet to be invented;
Both technology industry standards and IP rights protections are key in helping companies deliver the full benefits of 5G
Again, there's a wealth of detail in the second report and it's worth a read. Together, the two reports add yet more detailed analysis to help quantify the potential social and economic benefits of 5G. What we want to see next is an accurate estimate of how much this will all cost, once we know exactly what it is that we need to build...
Email Newsletters
Sign up to receive TelecomTV's top news and videos, plus exclusive subscriber-only content direct to your inbox.