New Australian Prime Minister bans Huawei and ZTE from 5G contracts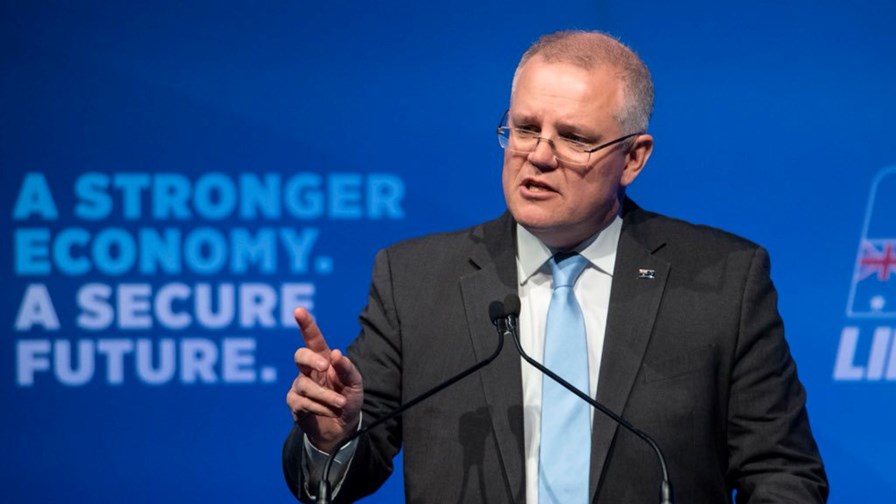 Election to PM comes a day after Scott Morrison publishes 5G warning
Huawei and ZTE banned from participating in the country's 5G rollout
Deemed as being subject to "extrajudicial directions from a foreign government"
The decision is "politically motivated" claimed Huawei
Australia has a new prime minister – the fifth in as many years, such is the risk of trying to control a wafer-thin majority in a coalition government when your own party is in the midst of a civil war. New PM Scott Morrison, who is perhaps most well-known to Australians for his hard-line stance on asylum seekers, stated today that one of his major priorities would be Australia's "economic and national security". No surprise, therefore, that on Thursday – hours before the latest political coup in the Liberal Party – Morrison (in his then capacity as Acting Minister for Home Affairs) issued a media release that provided "5G security guidance to Australian carriers" and that effectively banned Chinese vendors ZTE and Huawei from participating in the country's 5G network build-out.
The government missive, co-authored with Mitch Fifield, Minister for Communications and the Arts (who resigned just 48 minutes later…), skilfully omitted any mention of ZTE and Huawei or indeed of China. It warned against vendors "who are likely to be subject to extrajudicial directions from a foreign government" and reminded telcos that it was enacting legislation to ensure they adequately protect their 5G networks (you can read the full government media release here). Morrison said the Government has been working closely with telcos to ensure that they are ready to comply when the legislation commences on 18 September 2018.
"The Government has now provided carriers with clear guidance about how their new legal obligations apply to 5G networks," said Morrison. "The Government's first priority will always be the safety and security of Australians."
Confirmation of the ban came from Huawei via Twitter, which said that it and ZTE "have been banned from providing 5G technology to Australia". The whole tweet is below:
We have been informed by the Govt that Huawei & ZTE have been banned from providing 5G technology to Australia. This is a extremely disappointing result for consumers. Huawei is a world leader in 5G. Has safely & securely delivered wireless technology in Aust for close to 15 yrs

— Huawei Australia (@HuaweiOZ) August 22, 2018
Whilst ZTE has so far remained silent on the matter, Huawei has since released a full statement, claiming that "the decision to block Huawei from Australia's 5G market is politically motivated" and denies Australian businesses and consumers the right to choose from the best communications technology available.
"A non-competitive market will raise the cost of network construction and have lasting effects on Australia's transition to a digital economy," it added, stressing (correctly) that Huawei is one of the core developers behind 5G technology. Of course, this fails to take into account that there is still competition without the presence of Huawei (and to a lesser extent ZTE) – the likes of Nokia, Ericsson and Samsung, plus all the alternative vendors in the virtualisation sector, must be thinking the old glory days have returned, where they can compete on features and capabilities rather than being dragged down into a price war by Huawei's unbelievably low sales terms. Not such good news for Telstra et al, whose price bargaining leverage has just been removed.
"There is no fundamental difference between 5G and 4G network architecture; the core networks and access networks are still separated," argued Huawei, picking up on a theme in the government's statement. "Moreover, 5G has stronger guarantees around privacy and security protection than 3G and 4G."
Security risks
However, the Australian government – and indeed those of the UK and US – are already panicked about the risks of spying and access to national infrastructure. Whilst the "State Players" accused of being behind cyberattacks are usually Russia or North Korea, China gets is held up to be the culprit of telecoms interference. Indeed, outgoing Prime Minister Malcolm Turnbull has had several major tussles with Beijing over claims of Chinese influence in Australian pollical affairs, although his hard-line stance was softening a little recently.
Politicians from all parties have flagged concerns over China's recent National Intelligence Law, which calls on all companies and citizens to assist with the country's intelligence activities. In fact, China's cybersecurity law would appear to compel any telecoms vendor to inform the government of network vulnerabilities they identify (although terminology is somewhat ambiguous at times). Go join the dots on that.
"Interpreting Chinese law should be left to qualified and impartial legal experts," huffed Huawei. "Chinese law does not grant government the authority to compel telecommunications firms to install backdoors or listening devices, or engage in any behaviour that might compromise the telecommunications equipment of other nations." It added; "Huawei has never been asked to engage in intelligence work on behalf of any government."
Telco reaction
The telcos themselves are keeping fairly quiet, with no official news releases or social media posts. In comments to the Australian national press, they have revealed a little of their positions:
Telstra said it had seen the announcement and "will comply with the government's direction."
Vodafone's CSO Dan Lloyd said "This decision, which has been dropped on the eve of the 5G auction, creates uncertainty for carriers' investment plans" and that it "fundamentally undermines Australia's 5G future".
TPG Telecom's COO Craig Levy said "I don't think it's good for the industry as a whole, as it limits competition."
Optus' VP of regulatory and public affairs Andrew Sheridan, said, however, it provided "certainty" to the industry.
Meanwhile, questions remain about the status of existing installed equipment from Huawei and ZTE. Is this more or less secure than new 5G equipment? Will the government call for it all to be replaced, and would the telcos comply or baulk at the additional cost of doing so? And what about smartphones and user devices – which are now seen as just as much part of the overall network as the core, access and edge – will user devices from Huawei and ZTE also be banned?
It's very easy to point the finger of blame and to score some political points, especially on the eve of an election, but it is another matter to disentangle the web of communications networks and surgically remove all traces of a particular vendor. And let's not forget the magic phrase here, "who's going to pay for this?"
Email Newsletters
Sign up to receive TelecomTV's top news and videos, plus exclusive subscriber-only content direct to your inbox.