IETF looks to strengthen collaboration with 3GPP over 5G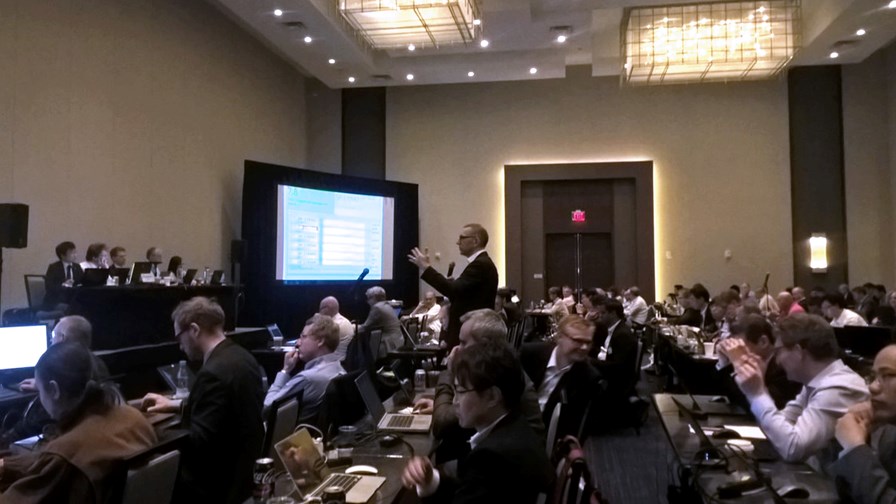 Closer collaboration sought between 3GPP and IETF
Leveraging IETF's links with IEEE, BBF, OPNFV and other groups
Applicable new work areas include routing enhancements and DetNet
Current technologies of interest are EAP and HTTP/2
This week the 3GPP is holding its TSG Plenary meeting in West Palm Beach, where it welcomed Alissa Cooper, the chair of the IETF (Internet Engineering Task Force) and Cisco Fellow, as it seeks to establish closer cooperation in the run up to 5G. As Georg Mayer, the 3GPP CT Chairman, told delegates (and as you can also learn from our interview with him on TelecomTV), 3GPP and IETF cooperation has already made a major impact, particularly on protocol related topics.
The stated mission of the IETF is to produce high quality, relevant technical and engineering documents that influence the way others design, use and manage the Internet in such a way as to make the Internet work more efficiently. It does this by adhering to a number of foundational principles: working within an open process, showing technical competence, having a volunteer core, creating rough consensus, running code and ensuring protocol ownership. Its technical areas cover all aspects of the Internet, from transport and routing through to security and management. For every Internet acronym out there, chances are the IETF has been involved in its development.
The IETF creates standards as RFCs (requests for comments). The process is a somewhat different from what is generally seen in the telecoms world. A specification undergoes a period of development and several phases of review by the community and is revised accordingly, before being adopted as a standard and published. The process is intended to balance the conflicting goals of displaying technical competence, the requirement for pre-implementation and testing, and the need to allow all parties to comment.
Bringing the Internet to Telecoms
Ms Cooper told 3GPP delegates that important parts of the 5G work will span multiple standards development organisations (SDOs) and open source projects, and identified several areas of IETF work that could be relevant to the 3GPP's development of 5G, covering new uses of existing technology as well as new technology currently under development by the IETF.
She identified possible new uses of new specific existing technologies – EAP and HTTP/2. EAP is the Extensible Authentication Protocol (EAP) and provides a framework for network access authentication, including SIM-based options. A draft 5G security specification from 3GPP SA3 already includes the use of this framework. HTTP/2, as the name suggests, is a revision to the HTTP standard and is of potential interest for 5G and IoT applications due to focus on reducing latency and conserving network and server resources.
Moving on to new technology under development by IETF, routing-related work was front and centre of her presentation, and there was a long list of possible uses:
Data models as abstractions for consuming topology or proximity, etc
Path computation to meet constraints of 5G radio
Routing protocols for distributed networking
Encapsulations to provide abstractions and metadata (being developed by the MPLS, Network Virtualization Overlays, and Deterministic Networking working groups)
Segment routing as means to provide transport slices
and service chaining to transport traffic across virtualized functions
Deterministic networking (or DETNET) is an area that is getting a lot of interest as a future network architecture model. It offers support for applications requiring controlled latency, loss, jitter and high reliability within an administrative domain. The "deterministic" part of the name describes the distribution of packets over time and space for redundancy, achieved by reserving data plane resources on path for individual flows. All extremely technical and quite a way off from commercial introduction, but could very well form a part of 3GPP's Rel-16 core network deliberations as 5G develops.
There is also a brand new transport protocol under development by IETF called QUIC (which Georg refers to in our video interview). It provides a UDP-based, stream-multiplexing, always-encrypted transport protocol focused on minimising application latency.
Data-centric networking
As is becoming ever more apparent, 5G and the evolution of cellular is not just about the radio elements – the core network architecture is also a critical component of 5G systems. With data networking no longer an after-thought in cellular networks, as it was when GSM was first developed, it makes perfect sense for the telecoms industry to leverage the strengths and capabilities of Internet engineers and developers. Whilst today's over-patched Internet may very well be creaking under the pressure of ever greater usage and subject to security attacks that it was never designed to repel, its development continues apace and there are some extremely promising technologies emerging.
Which begs the question, how best to collaborate? Ms Cooper believes that the IETF's existing relationships with the IEEE, BBF, OPNFV and other bodies will be an area that will help broader collaboration, in addition to the potential for 3GPP and IETF to build on their established cooperation on work areas such as SIP and IMS. Bilateral liaisons have been created between the two groups, and the telecoms industry is urged to track and share work dependencies at an early stage.
As BT once urged in a much-loved advertising campaign: it's good to talk.
Email Newsletters
Sign up to receive TelecomTV's top news and videos, plus exclusive subscriber-only content direct to your inbox.