IBM and Ericsson announce "mmW-on-a-chip" with 28GHz 5G phased array antenna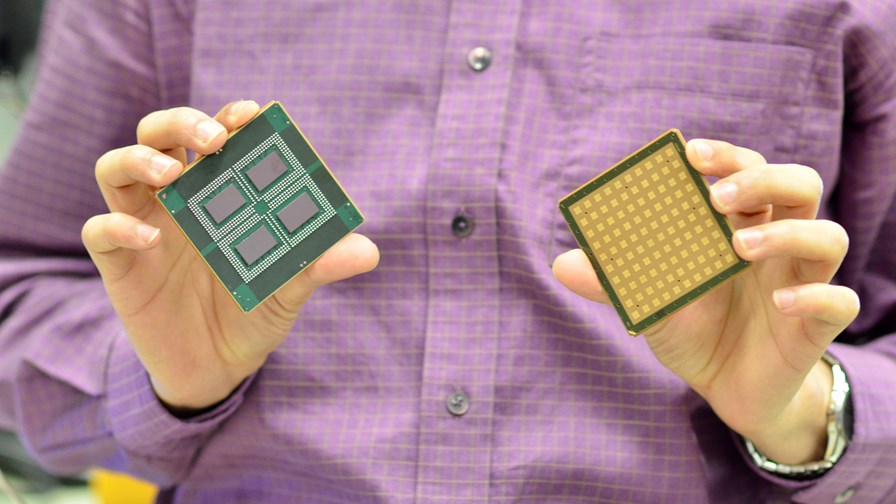 Silicon-based millimetre wave phased array antenna
Four monolithic integrated circuits and 64 dual-polarized antennas
Module measures just 2.8-inches square
Concurrent dual-polarisation in transmit and receive modes
IBM and Ericsson have announced results of joint research that they believe could accelerate the launch of 5G networks and support new mobile enterprise and user experiences. The companies have created a compact silicon-based millimetre wave (mmW) phased array integrated circuit operating at 28GHz that has been demonstrated in a phased array antenna module designed for use in future 5G base stations.
Whilst most initial commercial 5G networks will operate within spectrum that is either already in use by current cellular systems or new spectrum in similar frequencies, it is widely believed that the big potential of 5G will only be realised when systems start to use the millimetre wave bands at much higher frequencies. Such solutions could utilise huge throughputs, but the trade-off is shorter distances and far more unpredictable and demanding propagation characteristics.
Scientists at IBM Research and Ericsson say they reached their breakthrough as a result of a two-year collaboration that set out to develop phased array antenna designs for 5G. IBM's expertise in highly integrated phased array mmW IC and antenna-in-package solutions, together with Ericsson's expertise in circuit and system design for mobile communications, helped the team reach several new technological milestones.
"The development of this 5G millimetre wave phased array is an important breakthrough," said Dr. Dario Gil, VP of Science & Solutions, IBM Research, "not just because of its compact size and low cost, which make it a very commercially attractive solution for network equipment companies and operators, but its potential to unleash and inspire brand new ideas and innovations we haven't yet imagined, thanks to a fully networked society."
Making mmW fit for 5G
IBM Research developed the first monolithic mmW radio in 2006, then in 2013 the team presented results of a highly integrated mmW phased array transceiver for both cellular and radar imaging applications. For future 5G phased array deployments to be commercially viable the size, weight, cost and performance of the component are important factors. The module created by IBM and Ericsson consists of four monolithic integrated circuits and 64 dual-polarized antennas, measuring approximately 2.8-inches square.
Another performance advance reported by the team is the demonstration of concurrent dual-polarization operation in transmit and receive modes. This capability enables one phased array antenna module to form two beams simultaneously, doubling the number of users to be served at the same time and so improving the overall value and economics of the technology.
Returning to the problem of short distances associated with mmW transmission, IBM and Ericsson say a major hurdle for the use of mmW signals in 5G is achieving sufficient range between radios to support target applications. At 28GHz, each antenna is tiny and individually would support short communication distances, but combining multiple antennas not only increases the range but also enables steering of signals in specific directions. The IBM and Ericsson team says its phased array design supports beam-steering resolution of less than 1.4 degrees for high precision pointing of the beam towards users.
"There has been a lot of encouraging progress in 5G standardization last year including the beginning of live field trials," said Thomas Noren, Senior Advisor, Business Unit Network Products at Ericsson. "Big efforts in research and development are key to this and our collaboration with IBM Research on phased array antennas can help operators to effectively deploy radio access infrastructure necessary to support a 5G future. New use cases and applications that span human machine interaction, VR, smart home devices and connected cars will depend on innovative technologies that can bring the promises of faster data rates, broader bandwidth and longer battery life to reality."
Email Newsletters
Stay up to date with the latest industry developments: sign up to receive TelecomTV's top news and videos plus exclusive subscriber-only content direct to your inbox – including our daily news briefing and weekly wrap.