Huawei demonstrates 5G antenna solutions and dual connectivity trials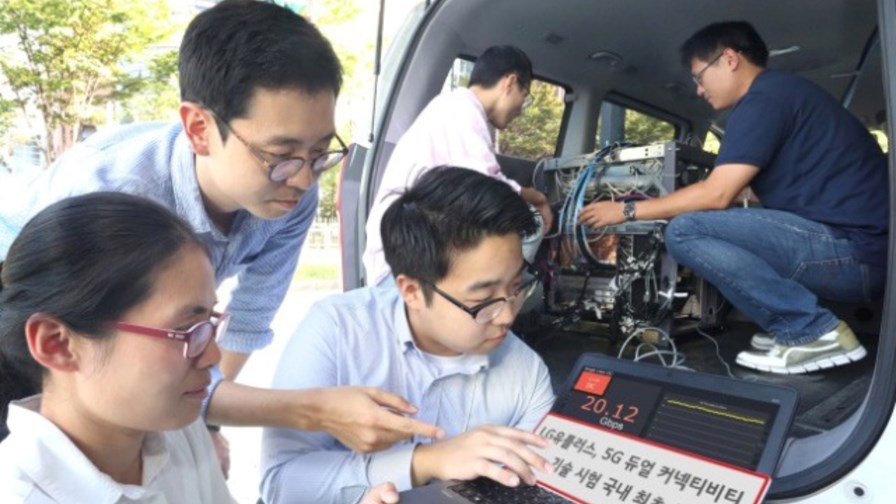 5G-oriented antenna deployment solution with Telefónica Deutschland
FDD/TDD converged antenna platforms supporting low and high bands
5G dual connectivity verification trials with LG U+ in Seoul
Connected 3.5GHz and 28GHz base stations for 20Gbit/s single user rate
Huawei has been busy promoting its 5G credentials this week with a number of announcements around antennas and dual connectivity. If column inches equates to market leadership, then the Chinese vendor would be lapping the pack by now in the 5G race. Obviously it doesn't, but it is a pretty good indicator of a company's commitment to a technology, and there's no doubting Huawei's commitment to 5G.
The first announcement concerns the vendor's partnership with Telefónica Deutschland to launch what it describes as the world's first 5G-oriented antenna deployment solution. Huawei says this approach can resolve the challenge of insufficient antenna installation space for the deployment of both high-band 4T4R (i.e. a 4x4 MIMO array) over sub-3GHz frequencies and Massive MIMO.
It says that as 700MHz, 1400MHz and other new frequencies are distributed to meet the evolution of LTE, full band 4x4 has emerged as a mainstream configuration, yet simple overlays cannot meet deployment requirements. Additionally, operators are expected to reserve antenna installation space for Massive MIMO to implement a smooth evolution to 5G.
Huawei is betting that a single antenna that integrates all sub-3GHz bands and reserves space for Massive MIMO will be the most typical antenna solution for 5G. It has therefore collaborated with Telefónica Deutschland to jointly release a 5G-oriented antenna deployment solution, which incorporates both a 14-port multi-band antenna and a TDD 3.5GHz Massive MIMO antenna to meet Telefónica's requirements for 5G evolution.
"We believe that during the future-oriented network evolution of mobile broadband, antenna installation space severely hinders the progress of network deployment," said Jaime Lluch, RAN Director for Telefónica Deutschland. "[This new] 5G-oriented antenna deployment solution can address the challenge of insufficient space, while ensuring excellent network performance and capacity."
Huawei has also released its new FDD antenna and FDD/TDD converged antenna platforms, designed to support full-band 4x4 and FDD/TDD convergent networking to – again – support a smooth evolution to 5G.
The new full-band platform provides antenna to support two full low bands and four full high bands, featuring innovative decoupling and dipole reuse technologies. The low-band arrays enable co-antenna 4x4 deployment on the 700MHz, 800MHz and 900MHz bands, while the high-band arrays support 4x4 on full bands ranging from 1400MHz to 2600MHz. TDD bands adopt beamforming to support dual-8T8R deployment on both 2.3/2.6 GHz and 3.5GHz bands, helping to expand TDD network capacity.
"Antenna modernisation and reshaping are the starting line for 5G network construction," explained Joyee Zhang, President of Huawei's Wireless Network Antenna Business Unit, said. "Only early planning and implementation can help operators achieve business success in the 5G era. A series of antenna solutions have been launched to assist operators in resolving capacity and spectrum issues."
Dual Connectivity
Whilst its antenna announcements were made at this week's Global Antenna Technology and Industry Forum in Munich, over in South Korea Huawei was busy working with local operator LG U+ to complete "5G Dual-Connectivity" technology verification during a 5G field test in Seoul. During the test, the terminal simultaneously connected to 3.5GHz and 28GHz base stations, receiving data from the two base stations and thereby providing a significant increase in single-user data transmission rate. The test used two base stations at an LG U+ 5G test site in Seoul, confirming that the downlink data from both base stations was combined to provide a rate of around 20Gbit/s.
Dual connectivity is a technique that allows multiple base stations to transmit data either simultaneously or alternately to a user so that they can seamlessly communicate with other users when roaming between base stations. Dual connectivity technology is suitable for use between 5G 3.5GHz base stations and 28GHz base stations, and can also be used between LTE and 5G base stations.
Previously, LG U+ had verified dual connectivity between LTE base stations in a laboratory environment. This latest test sets up a foundation for future 4G-5G dual connectivity in a 4G-5G heterogeneous network.
"By demonstrating dual connectivity technology, which will play a key role in multi-operation of 4G and 5G wireless base stations, we will develop various next-generation technologies to provide a 5G service," said Kim Dae Hee, Managing Director of LG U+ 5G Strategy.
Email Newsletters
Sign up to receive TelecomTV's top news and videos, plus exclusive subscriber-only content direct to your inbox.