Hold the front page, Europe could be a leading market for 5G (#wowreally?)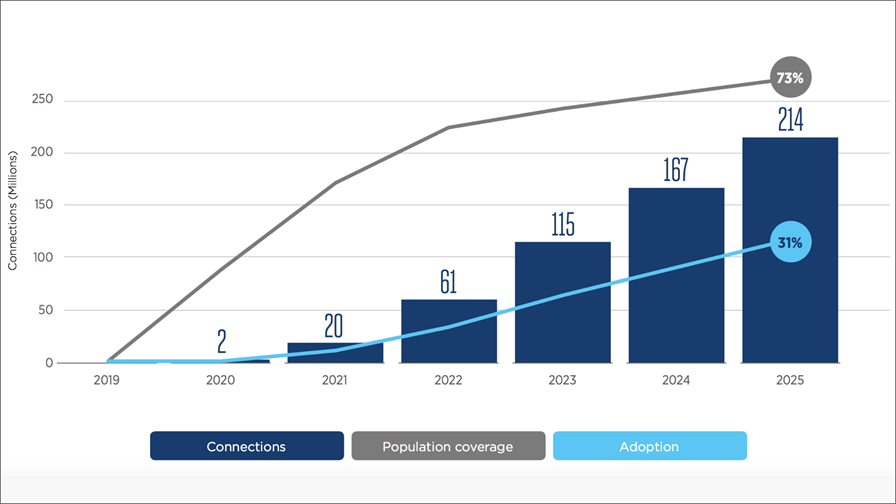 GSMA says 5G to account for a third of Europe's mobile market by 2025
214 million 5G connections in Europe by 2025
Mobile operator revenue reached €143 billion in 2016
GSMA CEO continues his lobbying for a "fresh regulatory approach"
Like the stadium rock group that bounds onto the stage with the obligatory "hello [insert name of city here]" and then continues to proclaim that the fans in [insert name of city here] are the greatest ever, the GSMA is touring the world to promote the economic benefits of mobile technology. This month, it's Europe's turn. A new report suggests that Europe will be "one of the largest 5G markets in the world" by 2025. A pretty safe and vague statement if ever there was one.
Now we have great respect for the GSMA and how it has helped manage the successful growth of global mobile services, and we regularly cover its extensive reports and initiatives. To paraphrase The Donald, "nobody knows more about mobile than we do". But sometimes the worthy facts and insights get lost behind unhelpful headlines and hijacked for political lobbying purposes.
Case in point is the GSMA's latest report. We are told that more than 30 per cent of Europe's mobile connections will be running on 5G networks by 2025, and that there will be 214 million 5G connections in Europe by that year. With the first commercial 5G networks in Europe due to be switched on by 2020, 5G network coverage is expected to reach almost three-quarters of Europe's population by 2025. But the first quote from the GSMA's Director General is a plea for regulatory reforms. Subtle it is not.
"Europe has an opportunity to re-establish itself as a global technology leader as we move toward the 5G era, but this can only happen if policymakers move quickly and boldly to make the necessary regulatory reforms to boost the region's competitiveness on the global stage and bring innovative services to Europe's citizens," said Mats Granryd, Director General of the GSMA. "A forward-looking regulatory environment designed to encourage long-term investment and innovation in Europe's digital infrastructure is essential to maintaining a vibrant European mobile ecosystem and delivering the European Commission's vision for a 'Gigabit Society'."
Chill out Mats, I think its hygge time. Firstly, can Europe really be "a global technology leader" in what is well and truly a global industry with contributions and innovations from all parts of the world? Does it even need to be a global technology leader? How does that square with the GSMA's friends in North America and Asia? I'm sure they don't want to play second fiddle to Europe. It's bad enough the UK thinking it can become a 5G powerhouse (I'm still waiting for its Northern Powerhouse, but that's another story), when the important aspect here is that the global industry as a whole – irrespective of where individual companies may be headquartered – benefits from the significant investment in 5G and can deliver valued services to customers.
"Europe needs a holistic policy and regulatory framework that reinforces its position as a preferred location for investment and innovation," added Granryd, warming to his theme. "We are calling for fresh dialogue between government and industry to assess how the Digital Single Market has performed to date, what needs to change and where regulation can promote the long-term development of Europe's digital vision."
Incremental growth
So let's move along to the actual research contained within the report. Europe is a highly penetrated, developed market. At the end of last year, there were 456 million unique mobile subscribers in Europe, equivalent to 84 per cent of the population. By 2020, an extra 43 million are expected to be added to the total, nudging the penetration percentage slowly up to 86 per cent. There's not much space for growth, and what growth there is will no doubt be relatively expensive to achieve (too expensive to bother?) as we reach the top of the adoption curve.
As least the mobile operators can take some consolation from the fact that subscribers continue to migrate to LTE network services, with 4G accounting for a third of mobile connections in Europe at the end of 2016, and forecast to account for more than 60 per cent by 2020. Mind you, some countries are better than others at this – the UK and the Netherlands lead the way, with Austria underperforming.
However, revenue growth is not exactly dynamic, although it is finally showing signs of reversing its recent negative trend. The GSMA Intelligence team found that European mobile operator revenue reached €143 billion in 2016 and is expected to increase fractionally by €3 billion by the end of 2020. The report attributes this "steadying performance" to rising data demand, improved macroeconomic conditions and an easing of regulatory pressures (oh dear, the regulatory word again…).
Last year, the GSMA calculated that mobile technologies and services generated €540 billion in economic value across Europe, a contribution equivalent to 3.4 per cent of Europe's GDP. By 2020, this figure is expected to increase to around €670 billion – increasing to 3.9 per cent of GDP. But rather than consumer subscriber growth, this expected improvement is down to the growth in productivity brought about by IoT and M2M technology and the increased digitisation of industry and services.
There is a lot of great information in the report, which is worth extracting. A final note of caution from the authors on 5G: "GSMA Intelligence anticipates that global 5G adoption will take longer than 4G because of slower network rollouts and uncertainties around the value proposition relative to LTE". So, rather than focus on lobbying politicians and regulators for an easier ride, how about helping the industry identify the critically important 5G value proposition and launch profitable services? What about it, Mats?
Email Newsletters
Sign up to receive TelecomTV's top news and videos, plus exclusive subscriber-only content direct to your inbox.