Ericsson previews its MWC activities with Gigabit LTE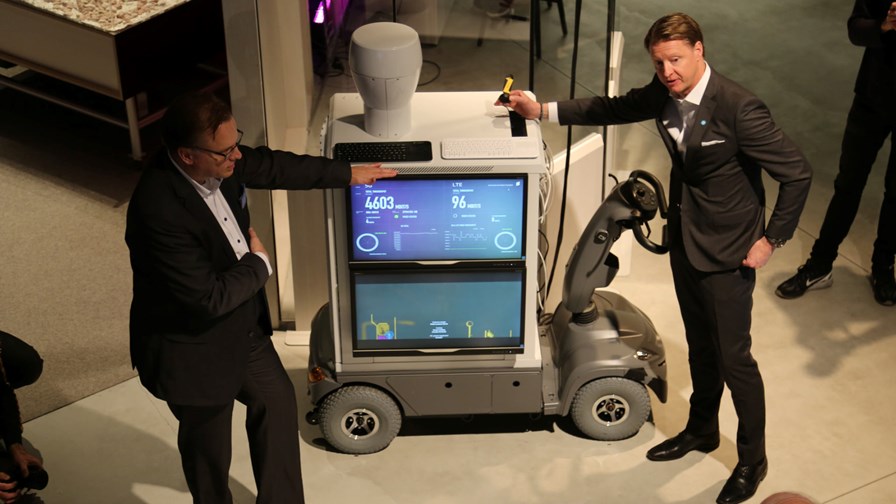 Four new solutions to be showcased at Mobile World Congress
World's first commercial Gigabit LTE downlink data speeds promised
Threefold network efficiency gains while lowering TCO by 60 per cent
Hyper-scalable radio access network architecture for Cloud RAN
Ericsson this morning launched four new solutions to help telcos capture new business opportunities created as we move closer to the era of 5G; all of which will be showcased during Mobile World Congress (MWC) in Barcelona next month.
Like the rest of the industry, Ericsson sees a growing number of diverse network uses resulting from growth in IoT, 5G and the cloud – all of which will bring new value chains, financial models and business opportunities. This requires telcos to maintain their transformation strategies and adopt new ways to create value for consumers, whilst also focusing on improving network performance.
The vendor is calling its first solution "Mobile Broadband for Everyone", supporting the vision of making mobile Internet access available to all by addressing three different challenges: enhancing network performance, improving operations efficiency and lowering cost for mobile broadband coverage.
The approach utilises Ericsson's WCDMA technologies to double network performance on existing site infrastructure and increase network operational efficiency by a factor of three, whilst its Mobile Broadband Expander lowers total cost of ownership (TCO) by up to 60 per cent by simplifying deployments of the numerous 2G-only sites that already exist. The full solution will be commercially available in the second quarter of the year.
Its second launch is entitled "Delivering Extreme App Coverage" and supports what it claims will be the world's first commercial offering of LTE 1Gbit/s peak data rates, in addition to hyper-scalable radio access network architecture for Cloud RAN. To achieve this, its Radio System product is being enhanced with the addition of three new radio access products supporting 4x4 MIMO, and new spectrum bands. Ericsson says that efficiently addressing user demands for extreme app coverage will also drive requirements for multi-gigabit capacities and multi-band solutions in the backhaul, which it is addressing with new microwave solutions. Expect a Q2 release date for commercial orders.
The third launch covers "Experience Centric Managed Services", and features new service operations centre (SOC) and experience management centre (EMC) functions for its Managed Services solution. It says the SOC monitors the performance of services such as video streaming and web browsing in real time, which is translated and correlated into network performance requirements. The EMC, meanwhile, monitors consumers' experiences and perception through surveys, social media analytics, Net Performance Score studies and churn analysis.
Finally, the BSS "Revenue Manager" completes Ericsson's MWC launches. This is a new convergent, real-time charging and billing product for digital service providers that leverages a cloud-based and highly-configurable architecture to deliver improved levels of automation, flexibility and operational efficiency. The company says it will enable service providers to launch new products and services in days, capture new revenue streams with real-time revenue sharing and drive customer experience through unified policy control.
1Gbit/s downloads for LTE
Picking up on the second launch, Ericsson has provided further details of its commercial Gigabit LTE solution (known as Software 16B) supporting user download speeds of up to 1Gbit/s. It works on three component Carrier Aggregation supporting up to 60MHz combined bandwidth. It also features 4X4 MIMO to double the number of unique data streams being transmitted to a user's device, and LTE 256 QAM encoding to fit more data into the available spectrum. Further use of Ericsson's Lean Carrier solution also increases data throughput and overall system capacity by reducing the interference caused by excess reference signalling across the LTE network.
Ericsson is also introducing its Elastic RAN solution, enabling every Ericsson LTE baseband unit to coordinate with any adjacent one – whether in a centralised, distributed or hybrid network architecture – and this hyper-scalable architecture will support an operator's migration to Cloud RAN.
"We are excited to have been able to efficiently drive new performance milestones in our LTE network in the evolution towards 5G, including recently partnering with Ericsson to demonstrate the world's first end-to-end 1Gbit/s capability on Telstra's live network," said Mike Wright, Group Managing Director Networks, Telstra. "Ericsson's latest LTE innovations, including Gigabit LTE will enable us to continue to raise the bar in terms of user experience across a wide range of applications and media streaming."
Email Newsletters
Stay up to date with the latest industry developments: sign up to receive TelecomTV's top news and videos plus exclusive subscriber-only content direct to your inbox – including our daily news briefing and weekly wrap.