Ericsson determined to lead the race to 5G, announces New Radio equipment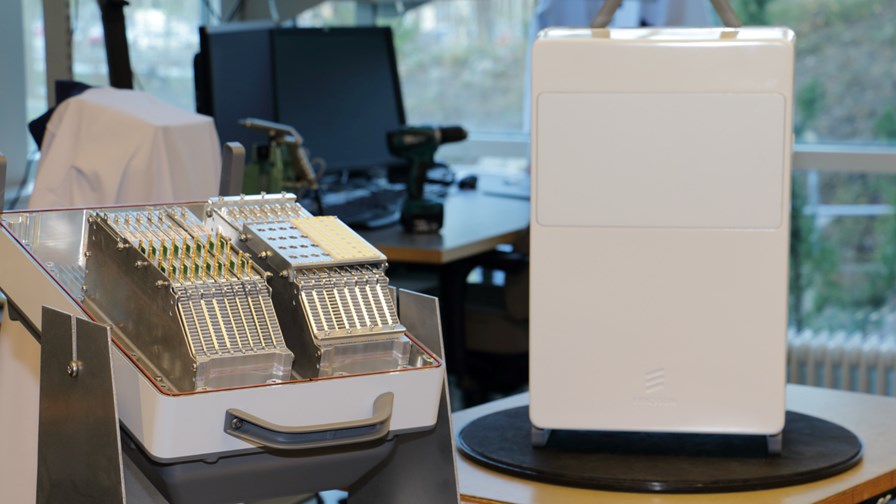 The AIR 6468 said to be the world's first commercial 5G NR radio
Support for Massive MIMO and Multi-User MIMO
Network Deployment Delivery Platform aims to speed up network builds
If you had to put money on which vendor would be first to release 5G-ready infrastructure equipment that will support the "as yet to be defined" new radio air interface that will power "true" next-generation services, then Ericsson would be your safest bet. True to form, the leading mobile vendor has just announced what it says is the "world's first commercial 5G New Radio (NR) radio" for massive MIMO and multi-user MIMO, which will available sometime in 2017.
New Radio is the term being given to the next generation cellular radio and air interface technology and is still being defined by the 3GPP standards group. Although it may sound somewhat nonsensical that Ericsson is releasing a commercial 5G product for a technology that is not only yet to be standardised, but also isn't even defined, such is the demand from operators and vendors to stay ahead of the game in 5G that this will surely be the first of many such "5G" products for the next year or two. Besides, the product should be able to support changes to the NR standard as and when they are agreed.
"As we accelerate toward 5G, it's beneficial to have a flexible radio platform that can be deployed not only for LTE, but also versions of future 5G NR standards," explained Tom Keathley, SVP of Wireless Network Architecture and Design at AT&T. Indeed, AT&T is one of several telcos that is aggressively pursuing pre-standards 5G technology trials and tests, and next year will want to move on from using limited test equipment to trialling commercial-grade equipment that can be properly integrated into its network. This is going to be particularly important when you consider the various NR/LTE operational architectures that 3GPP is evaluating, with interoperability between legacy core networks and RAN with the new 5G technologies.
Ericsson says that the addition of the new AIR 6468 NR radio solution (which also provides LTE support) to its already announced 5G Plug-Ins and Radio System Baseband 5216, means that the company is the first to deliver all components of a 5G access network. Massive MIMO and MU-MIMO will improve user experience while enhancing the capacity and coverage of the network and reducing interference.
"Massive MIMO, also known as 3D MIMO, is an important milestone in China Mobile's technology roadmap from 4G to 5G," said Huang Yuhong, Deputy Head, China Mobile Research Institute (CMRI). "We are very happy that Ericsson's new radio product is coming to market soon to meet our needs and enable us to integrate 5G technologies into our existing networks."
To support new network builds, Ericsson has created what it says is the industry's first industrialised network rollout services solution. It says the Network Deployment Delivery Platform will facilitate the complete configuration, installation, integration, shakedown and handover of a fully verified site, ready in a single site visit.
"Ericsson has driven innovation in every generation of mobile technology and now we are set to over-deliver on an aggressive promise," said Arun Bansal, Head of Business Unit Network Products, Ericsson. "We are introducing the new hardware that 5G Plug-Ins, announced in June, will run on, so that the first operators can start to deploy 5G infrastructure. And, we are also launching innovations that improve both the performance and efficiency of today's networks using concepts that will evolve into 5G."
All well and good in terms of pre-standards testing and trials, but it is important to reiterate here – 3GPP work on NR is at a very early stage. You can take a look at work in progress and see for yourself (some good RAT work going on here for instance).
There are actually two 5G races going on at the moment – there's the race between various vendors and telcos to be first with equipment and networks, plus, there's the more hidden (but perhaps more important) race between the 3GPP and "corporate interests". This latter race sees the 3GPP group trying to create the best possible new 5G-related standards, whilst coming under intense pressure from the industry at large to complete "that will do" standards as fast as possible. It's a race the 3GPP has to win.
Email Newsletters
Sign up to receive TelecomTV's top news and videos, plus exclusive subscriber-only content direct to your inbox.