Deutsche Telekom deploys Europe's first commercial 5G NR implementation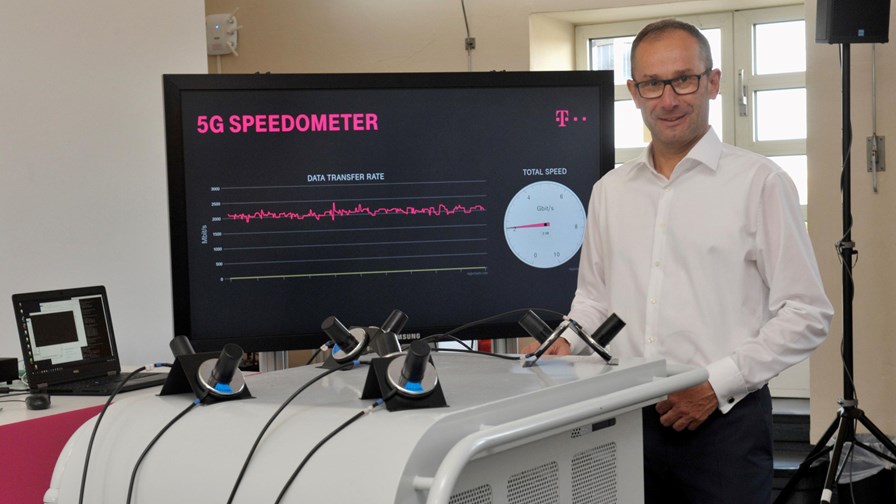 First pre-standard 5G connection in live network in central Berlin
Based on the 3GPP's 5G New Radio "non standalone mode"
Sub 6Ghz connection supports multi-gigabit throughput speeds
Also launches 1Gbit/s FTTH service for flat fee of €120 per month
Deutsche Telekom says it has performed Europe's first pre-standard 5G connection in live network conditions on commercial sites in central Berlin. Powered by Huawei user equipment using 3GPP specifications for 5G New Radio (NR) in non-standalone mode, the deployment reportedly achieved a 5G connection at over 2Gbit/s and a low latency of 3 milliseconds in the 3.7GHz frequency band.
"With this real-world achievement, Deutsche Telekom is making its first important step towards a 5G network launch," said Bruno Jacobfeuerborn, CTO, Deutsche Telekom (pictured above). "When the standard is defined, we will trial it in 2018 to prepare the ground for a wider deployment of commercial sites and the offering of devices for the mass market as they become available." As regular TelecomTV viewers will know, the first drop of 3GPP Release 15 will be released this December.
With the Non-Standalone 5G NR mode for the enhanced Mobile Broadband (eMBB) use-case, the connection is anchored in the LTE network while 5G NR carriers are used to increase data-rates and reduce latency.
"5G new radio will be critical for meeting our customers' ever-increasing connectivity requirements that are steadily growing with more and more network connections," said Claudia Nemat, Deutsche Telekom Board member for Technology and Innovation. "Our achievement demonstrates the feasibility of our plans to deliver a superior, new customer experience."
"These achievements highlight the capabilities of the 5G NR equipment to meet operators' requirements for addressing new business opportunities for end users," said Huimin Zhu, Vice President for 5G at Huawei. "Huawei is confident that the partnership with Deutsche Telekom can fully prepare the commercial launch of 5G NR services in Europe by 2020 thanks to 3GPP standardisation efforts."
Broadband access
Meanwhile, Deutsche Telekom has released some facts about its network coverage in Germany and future plans. The telco says it invested €5 billion in network build-out in Germany in 2016, and that its LTE coverage has reached 93 per cent of the country's population.
"We have succeeded in more than doubling the overall size of the network since 2007," said Niek Jan van Damme, member of the Board of Management of Deutsche Telekom. "As a result of this expansion, Deutsche Telekom has gained more fiber-optic customers than any other European network operator, with approximately 8.2 million lines."
Deutsche Telekom is planning to introduce "super vectoring" into its fixed access network during 2018, aiming for speeds of up to 250Mbit/s. It has also announced plans to extend broadband coverage of at least 50Mbit/s to 80 per cent of households in Germany. This month it will launch a 1Gbit/s service for its FTTH full-fibre customers. The MagentaZuhause GIGA plan offers downloads at up to 1Gbit/s and uploads at up to 500Mbit/s, together with flat-rate calls within the entire domestic fixed-line network and to all German mobile networks, for a fee of €119.95 per month.
Email Newsletters
Sign up to receive TelecomTV's top news and videos, plus exclusive subscriber-only content direct to your inbox.