5G network slicing enables safer "eye in the sky" for drones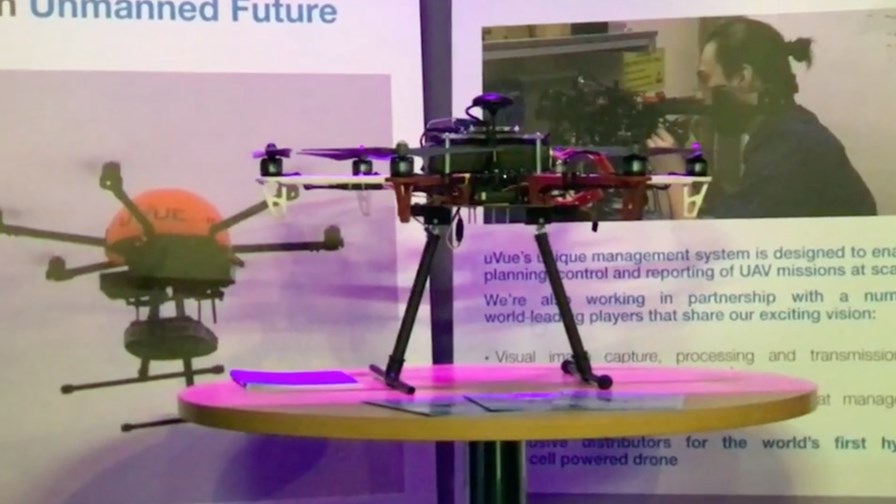 Drones used to demonstrate network slicing capabilities by BT
uVue performs drone flights using prototype pre-5G network slice over LTE
Private slice protected whilst the rest of the network was deliberately overloaded
Will allow drones to operate with existing air traffic command systems
An innovative and attention-grabbing use case for network slicing was demonstrated in the UK recently. Network slicing is perhaps the most hyped new aspect of 5G networks, yet despite the hype and over-use of the phrase it is also the most exciting and potentially disruptive aspect of 5G. For once, the hype could well be justified. Hopefully…
Cambridge-based company uVue has just disclosed details of its network slicing demo, which it conducted during Innovation Week at the BT Labs in Martlesham (we have an exclusive "Inside the Labs" video feature from the event which you can view here). The company said it conducted the first drone flight controlled via a dedicated network slice on a pre-5G mobile network, using LTE radio access. uVue and BT said they executed well over 100 flights, demonstrating the technology to more than 3,000 attendees.
"Uniquely, the drone was controlled manually over LTE radio access and a dedicated pre-5G network slice with low latency from stick to propeller," said Paul Bramall, uVue's Director of Engineering. "Additionally, high definition video footage was streamed from the drone across the network at low latency for display to the audience. Although conventional 2.4GHz/5GHz RF remote control hardware was fitted to provide a seamless back-up control channel, the cellular network was so reliable that it was never required."
In collaboration with uVue, BT was able to demonstrate the concept of network slicing in a pre-5G deployment, which allows service providers to dynamically allocate and reserve resources to particular services over cellular networks.
"The demonstration was most effective in showing that we are able to protect a private 'slice' of the network for uVue's drone as the rest of the network was deliberately overloaded," explained Maria Cuevas, BT's Head of Converged Core Network and Services Research. "The slice allocated to drone control remained perfectly functional and stable, enabling the drone to remain responsive to the pilot's control at all times."
uVue is building the management control architecture for deploying thousands of unmanned aerial vehicles, pushes artificial intelligence to the network edge, making the drones inherently safer, fault-tolerant, independent, giving them the ability to respond to changing local conditions, without reverting to a central 'brain' for instructions.
Using real-time reporting and prediction, uVue says drone activity can be tracked and "played forward" and can operate with existing command and control systems – such as air traffic control – enabling drones to fly safely with other aircraft.
"I was delighted at how responsive the drone control was over the mobile network and at how reliable the private slice was," said Russ Delaney, Director of Tech Ops at uVue and an ex-British Army helicopter instructor and drone pilot. "Delivery of real-time, low latency HD video footage back over the network provided a completely new standard for 'eye in the sky'. This is a key milestone in UAV development, showing that cellular networks have immense potential to provide uncompromised drone control and hence air safety."
Video footage of the flight courtesy of uVue can be viewed here, so long as you don't mind watching a vertical video in a horizontal frame…
Email Newsletters
Sign up to receive TelecomTV's top news and videos, plus exclusive subscriber-only content direct to your inbox.