37 per cent of company executives have no idea about 5G; tell that to the telcos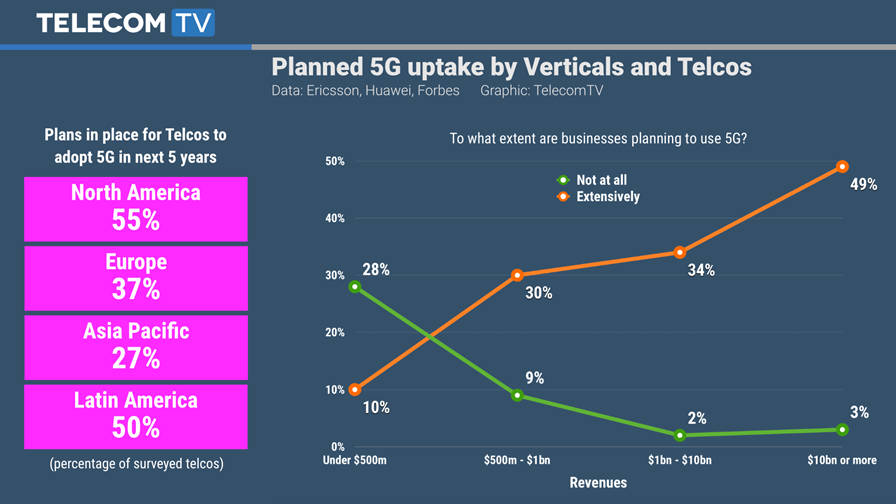 Survey of 100 telcos conducted by Ericsson
87 per cent says 5G will be a "game-changer"
Survey of 1,100 businesses conducted by Huawei and Forbes
80 per cent believe 5G technologies will help their business
Two surveys have landed on our virtual desk at TelecomTV this morning. Whilst both focus on 5G, one has been completed by telco executives and the other by vertical businesses around the world. No surprise that there is a huge disparity between the two.
Let's take the findings from Ericsson first. It commissioned a detailed survey of 100 technology leaders from telecom operators in North America, Europe, Asia Pacific, and Central and Latin America, and asked them about their plans for 5G adoption. The headline figure is that 87 per cent agreed with the statement: "5G will be a real game-changer for us."
It also revealed that 92 per cent of respondents agreed that 5G paves the way for the emergence of new technologies, 86 per cent believed that 5G enables a wider range of services than any network has done before, and 86 per cent also believed that 5G will enable new disruptive business models and technology in industries. These are extremely high percentages and really come as no surprise.
Given that Ericsson is predicting that there will be 150 million 5G subscriptions by the end of 2021, it is worth looking to see where these customers will come from. According to the telco survey, there's a broadly equal split between believing 5G will be primarily consumer-driven and business-driven. However, there was a distinct regional disagreement – 66 per cent of European and North American operators believed 5G will be more consumer-driven, but 61 per cent of Asia Pacific and Central and Latin America operators expect 5G to be more business-driven. Unfortunately, the reasons for the disparity are unclear, but it would be a useful exercise to dig deeper into this.
What do businesses think?
Which brings us to the Huawei survey, conducted in partnership with Forbes. They spoke to over 1,100 executives at the end of last year about their mobile requirements and what they expect from 5G. There was an even geographic spread, with 43 per cent of respondents at CEO level, and a wide range of verticals were covered (manufacturing being best represented with 18 per cent). Finally, 44 per cent of respondents were from companies with annual revenues less than $500 million and 22 per cent from companies with revenues of over $10 billion.
So what did they reveal? More than one-third of all executives say that their current systems already can't support the evolving needs of their business and that they've out-grown their networks. Which is where the potential of 5G comes into play:
67 per cent of executives say they need mobile networks that provide ultra-high throughput
64 per cent say they require massive numbers of connections
59 per cent say they need ultra-low latency capabilities.
All looking good for 5G, except for one small problem – an incredible lack of awareness. 36 per cent of all executives polled say they know "very little" or "nothing" about the technologies and issues around 5G wireless. Only 27 per cent say they are "very familiar", and these numbers also include executives in the ICT sector, who the report says are much better informed than their colleagues in other verticals. We would love to delve into the raw data for further analysis, but unfortunately it's not been made available. However, we suspect if you extracted the number of CEOs from non-ICT companies you would find that the percentage who know next to nothing about 5G would be nearer a half than a third (we've put a call out to Huawei for the data and will update if we strike lucky).
The good news, though, is that more than 80 per cent of all executives believe that 5G technologies will have positive effects on multiple areas of their business, especially customer experience, service quality and worker productivity. Further good news is that the larger the enterprise, the more they are already planning for 5G, as the chart above shows.
So the message for the telecoms is clear: we need to be more inclusive with verticals, more communication is required (both ways) and more focus on SMEs. Telcos want 5G and verticals want 5G (even if they are not clear exactly what it is); time to bring the two sides together and harmonise our approach to making 5G a reality.
Email Newsletters
Sign up to receive TelecomTV's top news and videos, plus exclusive subscriber-only content direct to your inbox.