LTE takes to the skies with Inmarsat and Alcatel-Lucent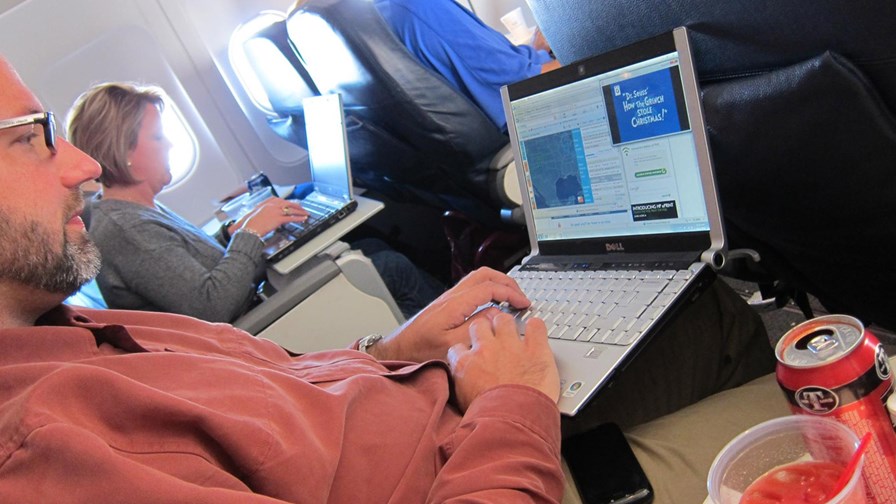 In-flight communications hasn't seen much innovation since the introduction of the clunky handset built into the back of the passenger entertainment controller. And let's be honest, you had to be either fiscally reckless or drunk to actually use it. Whilst we've seen limited deployments of in-flight Wi-Fi and cellular capabilities, the results haven't been promising.
Whilst the US airlines wrestle with the issue, despite FCC approval last year, around 27 international airlines allow some degree of mobile use. Of these, the majority offer voice calls. Of course, in-flight roaming charges apply, and they can be quite steep. Just last week, reports emerged that a Singapore Airlines passenger ended up with a bill for almost $1,171 after signing up for a $29 in-flight Wi-Fi service and incurring substantial data overage charges.
Ian Dawkins, the CEO of in-flight communications provider OnAir, said earlier this year that fewer than 10 per cent of mobile phone use during travel are voice calls, with the majority of passengers preferring to use text and data.
OnAir has 21 airlines as partners with six more planned by the end of the year. Rival AeroMobile says it has service with 13 airlines, with three more about to go live. In 2013 AeroMobile reported an 80 per cent increase in the number of travellers using their mobile phones in the aircraft cabin, with more than 7.4m devices attached to the network.
Against this background, the maritime and aviation satellite company Inmarsat has announced plans for the first European Union broadband aviation network, and has signed up Alcatel-Lucent as its technology partner.
The plan is to provide an integrated telecoms network to deliver high-speed broadband services to commercial and business aviation passengers across the European Union, with launch scheduled for the end of 2016. The network will consist of an S-band satellite (Europasat), constructed by Thales Alenia Space, and a Europe-wide S-band ground network, supporting an LTE communications network. The result should be a service capable of providing data speeds of up to 75Mbit/s. So hopefully no more $1,171 bills…
Alcatel-Lucent has already trialled LTE-based air-to-ground technology back in 2011, and will now adapt the 4G standard to support the required S-band spectrum required for the ground infrastructure component of the new network.
"Inmarsat is setting a new standard for aviation connectivity, enabling airlines to offer their passengers access to online services for work or leisure using their own devices and with reliability and speeds previously only available on the ground," said Leo Mondale, President of Inmarsat Aviation. "These enhanced capabilities across Europe will be offered alongside Inmarsat's GX aviation services, extending Inmarsat's broadband service coverage for aviation passengers."
Licenses for the satellite component of the network have been applied for in all EU Member States, and authorisation has already been received in 23 of these. Inmarsat says the first ground component licenses have now been received and good progress has been made in a number of other Member States. The company is also in on-going discussions with a number of major airlines and other industry partners.
Email Newsletters
Sign up to receive TelecomTV's top news and videos, plus exclusive subscriber-only content direct to your inbox.