Voice services and smart cities becoming increasingly important in the move towards Carrier Wi-Fi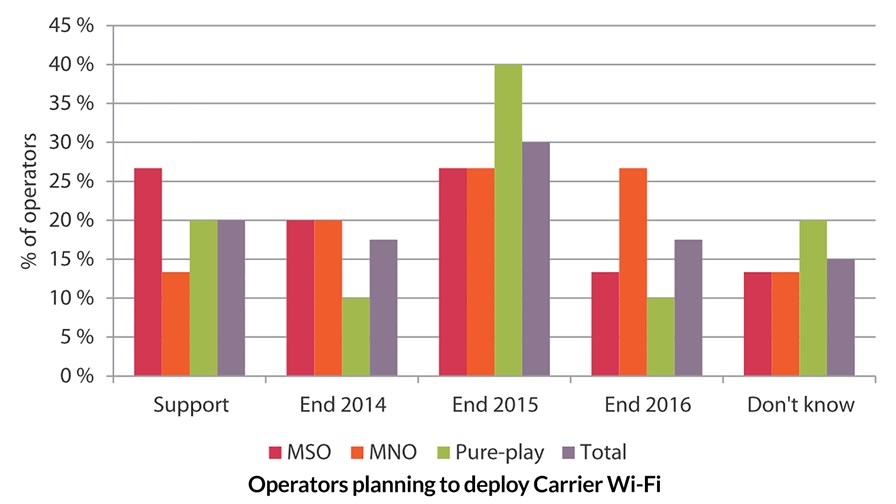 You wait years for a carrier Wi-Fi survey and then two come along at once; thanks, in part, to a small cells event that is taking place in the US. Earlier this week, TelecomTV reported on the findings of an annual carrier Wi-Fi survey from the Wireless Broadband Alliance and research firm Maravedis-Rethink. Now, BSS/OSS company Amdocs has published the results of research it commissioned from Real Wireless and Rethink Technology Research (yes, that's the "rethink" in Maravedis, who have obviously been extremely busy in this sector…)
Amdocs sought to explore the transition from "best-effort" to "carrier-grade" Wi-Fi networks among multiple service operators (MSO)and mobile network operators. It believes this transition comes in response to changing customer expectations for improved capacity and quality for the delivery of their data-based services, together with the need for operators to support new revenue streams.
According to the research, service providers realize that "best-effort" Wi-Fi is becoming less profitable and that new revenue streams can only be built once a higher QoE is assured. This higher QoE is necessary for services such as ubiquitous TV, health monitoring, enterprise voice, online gaming, media streaming and VoIP.
All Wi-Fi providers are looking increasingly towards voice services, rather than being just hotspots for email and web browsing. The research found that two-thirds of MSOs and 50 per cent of pure-plays plan to support voice over Wi-Fi services by the end of 2016, in order to increase their ability to be the primary service provider to many consumers and enterprises. Sixty per cent of mobile network operators have similar plans, mainly as an interim step towards the more fully featured VoLTE.
The results suggest that carrier-grade Wi-Fi hotspots will grow from 14 per cent today to 72 per cent of overall Wi-Fi hotspots by 2018, and that 85 per cent of operators plan to invest in carrier-grade Wi-Fi by 2016. MSOs see carrier-grade Wi-Fi providing better positioning in MVNO deals, supporting quad-play offerings, while network operators plan to use carrier-grade Wi-Fi to broaden their networks and offload RAN traffic.
"Service providers are starting to see Wi-Fi as a strategically important offering that can enhance or damage their reputations and which needs to support a user experience comparable to that of cellular networks," said Oliver Bosshard, Managing Consultant at Real Wireless. "Best-effort Wi-Fi networks are not controlled from the operator's core network or operational support systems tools, and the access points often do not support any form of traffic management or prioritisation. As a result, operators are unable to monitor or address performance issues such as congestion."
By the end of 2016, it is likely that 61 per cent of MSOs' Wi-Fi hotspots, and 70 per cent of network operator hotspots, will be sourced from third parties to take advantage of shared cost savings and accelerated deployment, up from 45 per cent today.
However, Smart City applications is the category that is most important across all provider types, being placed in the top spot by pure-play Wi-Fi providers, in second ranking by MNOs and third by network operators. The importance among pure-play providers is partly because they can build on existing municipal networks and partnerships with local authorities and other agencies which will be investing in broader smart city applications, such as intelligent lighting or traffic management. This is seen as an important emerging opportunity in which Wi-Fi will be a suitable network for many deployments, enhancing the value of existing locations in city centres.
Email Newsletters
Sign up to receive TelecomTV's top news and videos, plus exclusive subscriber-only content direct to your inbox.