Life in the fast lane: from WiFi to WiGig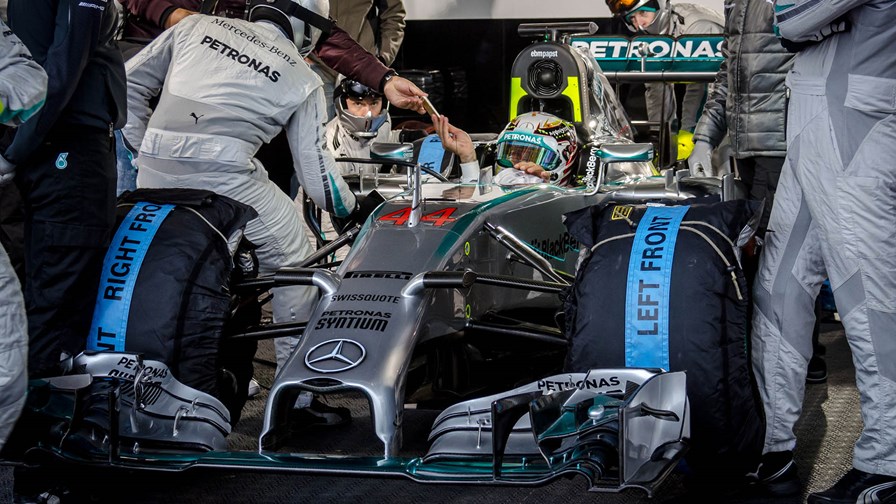 F1 proving ground for WiFi telemetrics
Qualcomm providing 802.11ac solution
Will upgrade to 802.11ad WiGig version later
As Lewis Hamilton stormed to victory in the Austin Grand Prix yesterday and claimed his third Formula One World Championship, one can only admire his skill and resolve. But every great driver needs a great car and team behind them, and the Mercedes AMG is this year's engineering marvel. Understanding the minutia of the car's performance and being able to make rapid changes is key to achieving an optimal set-up, which is why telemetry plays such a big part.
This weekend, Qualcomm announced that it was working with the Mercedes AMG Petronas team to enable the wireless download of race car telemetry data via WiFi using 5GHz spectrum during race weekend practice sessions. This technology implementation marks a significant improvement over previous wired data offloading processes. The telemetry includes data from thermal imaging tire cameras, which is used to improve speed, efficiency and vehicle safety.
As with all Formula One related technology, there's a good change that a lot of it eventually finds its way into the wider automotive market and will be featuring in a dealership near you someday soon. At least that's the excuse many sponsors give for pumping millions of dollars into the sport.
"Through this project, we have learned new ways to use WiFi in the automotive environment," said Derek Aberle, president of Qualcomm. "We believe this technology, as well as other advanced wireless technologies, has the potential to shape future developments in Dedicated Short Range Communications, Vehicle-to-Vehicle and Vehicle-to-Infrastructure communications. These types of technologies will lead to increased driver safety and provide important data pertaining to the vehicle's journey."
Qualcomm wants to create a model for the connected car, including communication, energy efficiency, infotainment and safety by adopting an array of interworking mobile technologies. The company is involved in more than 40 connected car programs with more than 15 OEMs globally and has been involved in automotive connectivity for more than a decade.
From ac to ad – maximising WiFi's capabilities
The system comprised several Snapdragon 805 processors with VIVE 802.11ac WiFi, along with multiple access points, one in the pit lane and one in the garage, to improve the speed of connectivity and data transfer. Qualcomm said it will continue to advance this solution throughout the 2016 race season and beyond, with potential system architecture changes and planned migration to 802.11ad Wi-Fi solutions over 60GHz spectrum to bring further improvements to the speed and efficiency of data transfer.
Both 802.11ac and 802.11ad (also still known as WiGig) are now starting to take off commercially. As Philip Solis, Research Director at ABI Research points out, 802.11ac is so much more complex than previous standards that it was broken up into two waves of certification by the Wi-Fi Alliance.
802.11ac Wave 1 supports 80MHz channels in the 5GHz band with 4x4 MIMO configurations. MIMO was first introduced in 802.11n and allows WiFi to use the way radio waves naturally propagate and reflect to add more data streams that increase speed and range. 802.11ac Wave 2 supports 160MHz channels and extends the highest order of MIMO configuration to 8X8, and also introduces MU-MIMO.
"MU-MIMO allows the access point to split the data streams among multiple MU-MIMO enabled clients," explains Solis. "This maximizes the capacity of the WiFi network as a whole and allows the MIMO-enabled access point to put those data streams to much better use."
So long as the client devices are MU-MIMO enabled, otherwise the access point must communicate with those one at a time, rather than grouping them together. 802.11ad, meanwhile, is optimised for very high data rates at very short distances and is aimed, for the moment at least, at enterprise-level organisations. Perfect, then, for pit lane data dumps, and for helping to give Lewis Hamilton his fourth world championship title.
Email Newsletters
Sign up to receive TelecomTV's top news and videos, plus exclusive subscriber-only content direct to your inbox.