Marketing broadband: Wi-Fi quality coverage becomes big selling point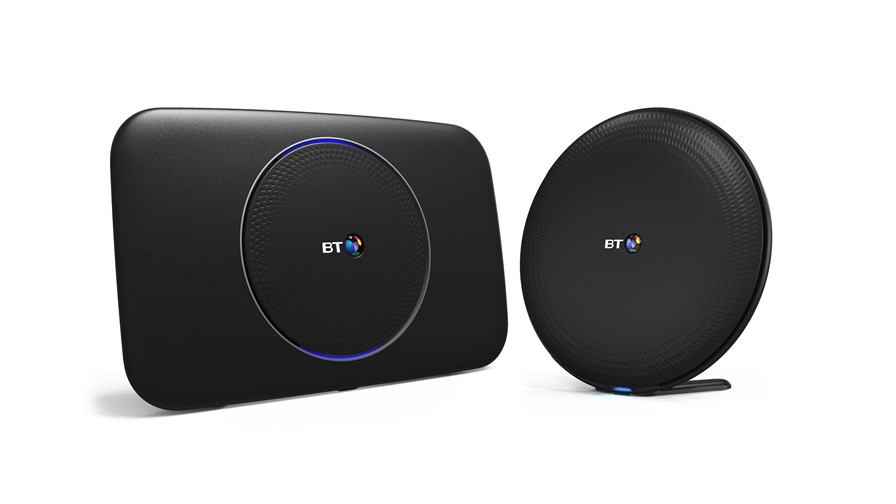 Wi-Fi's ability to cover the smart home and all its extremities now highly important
BT introduces a mesh solution and a guarantee to go with it
For many years the industry has treated Wi-Fi in a disinterested "if you must, here's a Wi-Fi hub" sort of a way - a reluctant additional cost to the broadband offer. As a result - as we have often mentioned before - the hubs (all hubs, it seemed) were ugly, their management abilities minimal and their instructions about as friendly as a tetchy ferret. That's started to change as, at least in the UK, broadband competition heated up and selling points become about more than just speed and price.
BT has long been a bit of a Wi-Fi fan. Before it had tucked its own mobile operator under its wing with the EE purchase it had no reason to regard the IEEE standard technology as a competitor (as many did and still do) and it even saw 'Wi-Fi sharing' as a viable way forward.
In that regard it champions a multi-technology approach to the broadband market, happy to back multiple horses in the effort to cost-effectively extend faster services to more customers - across fibre, copper and radio (when the opportunity allows).
It has just announced that it's extending its performance-guaranteed 'Complete Wi-Fi' offer, announced in November to a limited range of customers (presumably to test the water before taking the big plunge), and now available to all its broadband customers.
'Complete Wi-Fi is an attempt to get rid of those home 'black spots' that have bedeviled the technology from the beginning because things like thick walls and Rolled Steel Joists (RSJs) in the ceiling play havoc with the signal.
So BT is deploying a Wi-Fi mesh involving "unique Wi-Fi Discs which pair with the new BT Smart Hub 2." (see more technical details below) which it's confident will get rid of the in-house coverage problem by extending the signal to the farthest corners of the home. BT is offering a money-back guarantee to seal the deal.
In doing so, the BT Wi-Fi router's abilities have arguably become the main selling point for its fixed broadband, not the contentious 'fibre broadband' schtick it has been pushing for years.
This is necessary as speed, increasingly, has become a given for consumers and BT's DSL range now provides adequate bandwidth for most users and applications.
So the broadband marketing focus has rightly changed and Wi-Fi coverage is now the thing to push. Perhaps BT's insistence that its faster DSL is in fact 'fibre' broadband can be put to bed now that the marketing battle has moved on?
BT extends 'Complete Wi-Fi' offer to all fibre customers- ending black spots for even more homes with the world's first Wi-Fi coverage guarantee
Jan 11, 2019 10:22 GMT
All BT fibre broadband customers can now getComplete Wi-Fi - guaranteeing customers a strong wi-fi signal in every room of their home
Complete Wi-Fi guarantees customers wall-to-wall coverage, and provides faster wi-fi speeds – boosting average speeds in a four-bedroom house by up to 25%
Available on Superfast Fibre packages from just £39.99 per month
BT Plus customers continue to get the best value deal for Complete Wi-Fi for just £5 more per month
BT today announced that it is extending its hugely popular Complete Wi-Fi to new Superfast and Ultrafast Fibre broadband customers. With Complete Wi-Fi, BT is the only broadband provider in the world to offer customers a strong reliable Wi-Fi guarantee for every room of their home.
Complete Wi-Fi is now available for new Superfast Fibre customers, including on entry level Superfast Fibre Essential plans from just £39.99 per month - providing great value for families requiring simple everyday broadband use throughout their homes.
Complete Wi-Fi was initially launched to BT Plus customers in November, and is part of BT's commitment to provide customers with the best connections, at home and on the go.
Unlike current Wi-Fi extenders, Complete Wi-Fi from BT uses unique Wi-Fi Discs which pair with the new BT Smart Hub 2 – the UK's most powerful hub - creating a single seamless, powerful wi-fi network in a customer's home. Complete Wi-Fi enables both wall-to-wall coverage, and faster Wi-Fi speeds, allowing customers to stream HD video content in more places around the home. A four-bedroom home could see an increase in Wi-Fi speeds of up to 25% around the home with just one disc.
Customers can quickly set-up Complete Wi-Fi from their smartphone with the My BT app. This allows them to easily make sure they're getting the strongest signal around their home – directing them where to place their Wi-Fi Disc and check the strength of their wi-fi signal in every room.
Complete Wi-Fi answers what is a daily problem for families in the UK experiencing poor wi-fi signal with around 10 million homes requiring a solution to their wi-fi dead spots. According to the BT Modern Families report, 43% of people believe poor wi-fi restricts life at home, 52% of families are put off living in, or buying, a house with wi-fi black spots, and 43% of families claim they would be more productive and happy if their wi-fi worked across the whole home.
Pete Oliver, Managing Director of Marketing for BT's Consumer business said : "A strong Wi-Fi connection throughout the home is so important for modern families, whatever they're doing - whether it's online gaming in the attic, homework in a bedroom, or streaming HD movies in the spare room. Complete Wi-Fi has been hugely popular for those on BT Plus, and we want even more customers to benefit from the very best connection in every corner of their home, so we've now also made it available to all BT fibre broadband customers."
BT Complete Wi-Fi guarantee
With Complete Wi-Fi, a BT customer will receive a next generation Smart Hub 2 and one Wi-Fi Disc to extend their wi-fi signal around their home. If this doesn't give customers a strong signal in every room, they will receive up to two more discs free of charge. If they still don't have signal in every room, BT will give the customer £20 back.
Next generation Smart Hub
BT's next generation Smart Hub 2 is the most advanced router available from a broadband provider, with a combination of unique features to deliver fast speeds throughout the home. The Smart Hub 2 provides 7 antennas uniquely positioned to maximise power, the latest Wi-Fi technology, smart channel selection, smart scan and clever app-based services to help them set up and manage their home Wi-Fi.
---
---
---
Affordable, complete Wi-Fi coverage
Complete Wi-Fi is available for new customers on Superfast Fibre Essential, Superfast Fibre and Superfast Fibre 2 plans for an additional £10 per month. For existing or new BT Plus customers it's an additional £5 per month.
BT Plus
BT Plus is the UK's first converged fibre and 4G plan that gives customers BT's fastest speeds in and out of the home with a unique Keep Connected Promise, all on one simple bill.
BT Plus gives customers BT's fastest unlimited fibre connection available in their area, including Ultrafast fibre with an average speed of 300Mbps and a 100Mbps speed guarantee even at peak times. In addition, BT Plus customers get a free upgrade to BT's fastest 4G and double the mobile data allowance - helping them to make the most of a fast connection in and out of the home. Plus customers also enjoy benefits like 100% UK & Ireland customer service.
This content extract was originally sourced from an external website (
BT Newsroom
) and is the copyright of the external website owner. TelecomTV is not responsible for the content of external websites.
Legal Notices
Email Newsletters
Stay up to date with the latest industry developments: sign up to receive TelecomTV's top news and videos plus exclusive subscriber-only content direct to your inbox – including our daily news briefing and weekly wrap.