Facebook and Google users might soon generate more ad revenue per head than television watchers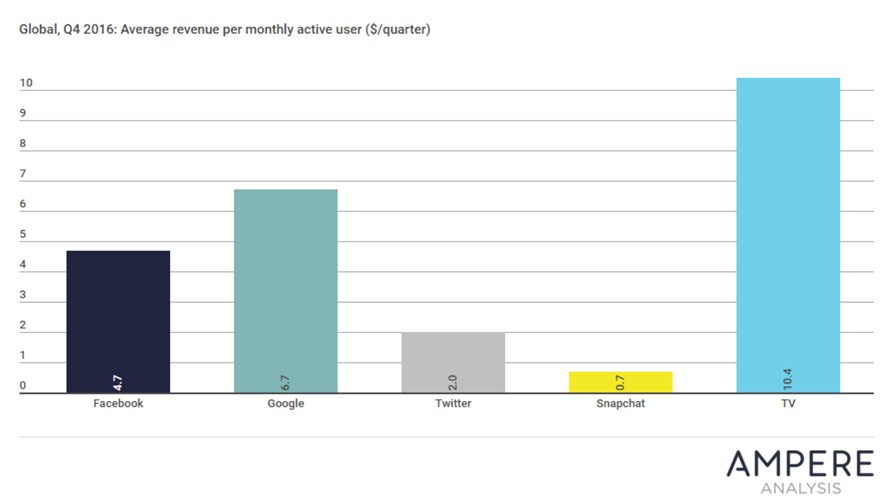 Facebook is growing its TV advertising share
Ad placement and huge scale ads up
And why protecting Facebook's revenue is easily worth the inconvenience of hiring 3000 extra content reviewers
Interesting advertising numbers just in. Research released by Ampere Analysis purports to measure how much an individual viewers/user is worth in advertising dollars to each of today's dominant platforms: Google, Facebook and television (as a single 'platform'). At around $10 a month, television is still way out ahead but, as you'd expect, everything is on the move. Google is still the biggest challenger by some way, with Facebook closing in with faster growth. Twitter and even Snapchat are starting small, but both have plans to tap the advertising market and are growing quickly from a low base.
The analysts point out that while the value of a TV viewer has remained relatively flat, with growth of less than 7% in both Europe and North America however, Facebook's ARPU (average revenue per user) has grown sixfold in the US and fourfold in Europe in less than five years. In real terms Facebook is still well behind television which values its users at around $10 per year while Facebook only harvests $4.70 from its users. Google does way better with $6.70 per user.
Expressed relative to TV advertising, however, the value of a US Facebook viewer has increased from 7% of the value of an average TV viewer in 2012 to 40% in 2016, but this growth measure has been even greater in Europe, with Facebook's ARPU growing from a 14% proportion in 2012 to 53% in 2016. This might be due to a smaller TV ARPU in Europe than in the US.
Ampere points out that one of the factors fuelling this rapid growth for Facebook is video advertising and the higher CPTs (cost per thousand impressions) that it generates. Plus, the social networking site is able to prove campaign performance and thus allow advertisers to keep track of the effectiveness of their online ad campaigns versus traditional TV advertising. According to Ampere Research Manager Tony Maroulis "As Facebook continues to invest in video and its ARPU increases, it is conceivable that in the not-too-distant future an average Facebook user will be worth more than an average TV viewer in terms of advertising.
Other social media platforms aren't making much of a dent yet . Twitter has been struggling to grow its revenue per MAU, which is fairly stable at about $2. Snapchat is doing somewhat better and has increased its revenue from practically nothing to $0.70 MAU in less than two years.
The war hots up
Now it looks as though the social media companies will double down to encourage more TV advertising on their platforms. Twitter recently announced new programming deals with Bloomberg, BuzzFeedNews and The PGA Tour. While Facebook has just confirmed that it's is looking to develop long-form video content on its recently-introduced video tab.
Censors working overtime
Just as Facebook was looking invincible (and perhaps 'because' it was looking invincible) it has struck more political turbulence over the incidence of violent and vile videos - including murders and suicides - being posted. This is the big downside of user generated content (UGC) and, as these seemed to have recently skyrocketed there has been an outcry, with Facebook being accused of profiting from murder. In response Zuckerberg has just announced that Facebook is to hire another 3,000 reviewers (on top of the 4,500 video reviewers, facebook claims it already employs) to view and cull videos which don't meet Facebook's standards.
Email Newsletters
Sign up to receive TelecomTV's top news and videos, plus exclusive subscriber-only content direct to your inbox.