At IBC 2016, the future of broadcasting belongs to neither TV nor film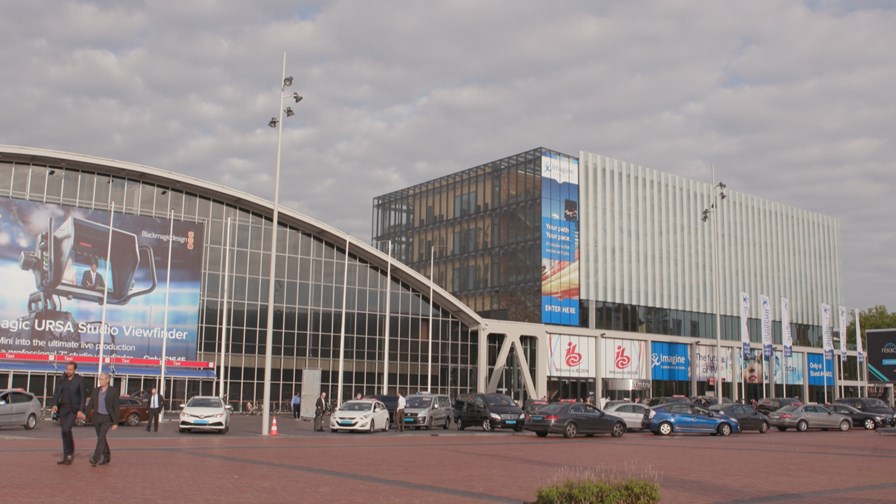 From "content everywhere" to "VR on every booth"
Broadcast TV no longer the first choice medium for new programme creators
Will the film and cinema business embrace Ang Lee's "hyper real" HFR?
IP-driven networking, mobile and cloud dominate IBC
Having just returned from three days filming at the IBC broadcast exhibition and conference in Amsterdam, it's worth sharing some of our observations about the evolution of the broadcast industry and how it impacts telecoms. My first IBC was over 20 years ago, when Europe hosted not one but two major broadcast events (the second being in Montreux), and the industry has finally woken up to the forces of change.
As one keynote speaker put it on the first day of the event, the stability and profitability of the past fifty years is over. Ever since television went mainstream in the 1960s and into the 1970s, there was an open faucet of advertising money flowing from the big consumer brands – TV was the premium advertising medium to reach the masses. Not today, and there is every sign that many of these big brands will disappear, along with their dollars.
Linear television no longer dominates, and neither does time-shifted catch-up TV. The new kids on the block are the telecoms companies on the network side and the so-called OTT companies on the content and consumption side (whilst the telecoms business is now beginning to ditch the term "over the top", it still prevails within the broadcast industry). Yet after years of fighting change and trying to resist, the industry appears to have not only accepted the inevitable but is also embracing it. At least that's our impression from this year's IBC, as the event itself re-focuses to support and encourage this broader community.
IBC has long been supporting the concept of "content everywhere", with a dedicated section of the event for new players, but this trend has now permeated through the entire event. Producing and creating content for television no longer has the appeal and kudos for emerging talent that it once demanded. If the comments of students and young creators that TelecomTV interviewed this weekend are anything to go by, they are thinking YouTube first.
And it's no longer enough to be producing in UHD 4K high dynamic range (HDR) or even thinking about a future 8K world – the sexy technology now is virtual and augmented reality. You couldn't move at IBC without bumping into someone strapped into a pair of VR googles, flailing around like a blindfolded kid at a birthday party whilst all their friends pointed and laughed. Except no-one's laughing now. If you have any doubts about VR or AR – any doubts at all – then prepare to miss out on the biggest change in visual media since the cathode ray tube. It's happening, period.
Of course, VR and AR needs a delivery mechanism. Side-loading content to your smartphone is a stop-gap measure that serves to encourage market development, but it will need big bandwidth and low latency. That's where telecoms enters the picture, and is one of the reasons IBC had a dedicated IP interoperability zone. IP for production will lead to broadband-based delivery – there's a generation of kids growing up who will never know what a TV aerial is, and will find it bizarre that programmes were delivered in such a manner.
Developing the fixed and mobile networks to take over the broadcasting role, as well as to support the delivery of VR and AR, is music to the ears of the telecoms vendors. The transmission of video-based content in a mobile-orientated world is a major use case for 5G, and all helps with the justification that operators need to prepare to dig deep into their pockets for expensive new upgrades.
We've encountered the notion of broadcast-telecoms convergence many times before – starting with using mobile phones to receive TV broadcast signals, and moving to the use of smartphones to capture content – but we are finally seeing what true convergence means. It's no wonder that some of the biggest booths at IBC were those of Ericsson and Cisco.
That's a wrap
Remember it was television that disrupted the film and movie business, and despite early fears that the film industry would collapse, it has survived and flourished (at least the big studios have). Yet, film is not immune to the changes facing television. Arguably the biggest draw of the weekend at IBC was the keynote from one of the industry's leading figures. No, not Lord David Puttman, but Ang Lee. Amidst heavy security, Ang Lee presented footage from his yet-to-released new film, "Billy Lynn's Long Halftime Walk". If you thought "Life of Pi" was ground-breaking, then just wait for this film. Except it's not really film at all. It was shot in native 3D using high frame rate (HFR) at 120 frames per second.
Thanks to the superb effort of the team at IBC, the footage was shown in perfect conditions using laser projection in the event auditorium (IBC has a long tradition of screenings using state of the art equipment, far superior to any commercial multiplex). The result is something entirely new – very "video", if that's not a derogatory comment, as opposed to "film". It's being referred to as "hyper real", and in a way it builds on "The Hobbit" HDR version, though that was only 48 frames per second and left audiences somewhat unimpressed.
If we will soon have access to 2D, 3D, VR and AR content on any device, anywhere, then what role will the movies and cinemas have? Perhaps Ang Lee has predicted the future of shared big-screen entertainment. Perhaps today's kids will laugh at our 35mm film productions as we laugh at the under-cranked black and white movies of cinema's earliest days. It is becoming apparent that the future of broadcast no longer belongs to today's television and movie sectors, and that's good for all of us.
Email Newsletters
Stay up to date with the latest industry developments: sign up to receive TelecomTV's top news and videos plus exclusive subscriber-only content direct to your inbox – including our daily news briefing and weekly wrap.