Where's the business case for virtualisation? Many CSPs still don't know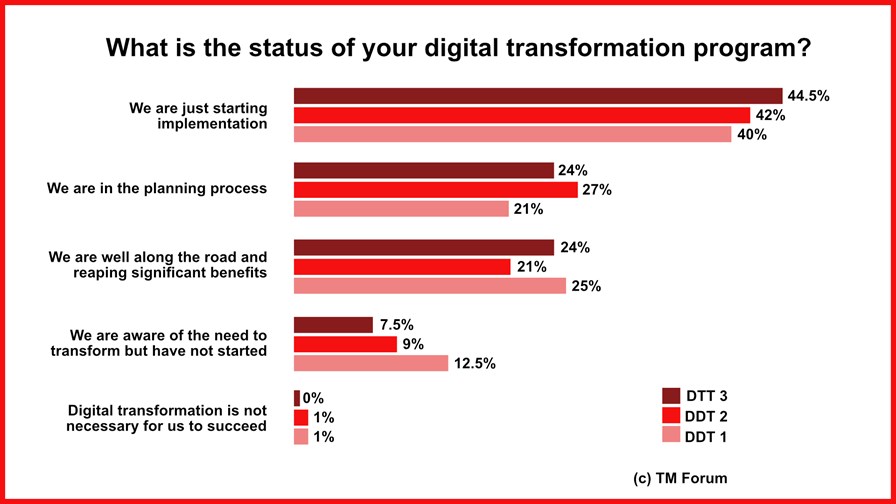 TM Forum reports that the pace of network transformation is slow
48 per cent of CSPs still have not found the business case for virtualisation
Implementation of a new, agile OSS/BSS is their primary concern
67 per cent of CSPs have not introduced DevOps in their network teams
The TM Forum has released the results from its third bi-annual Digital Transformation Tracker (DTT), with its global survey of more than 200 communications service providers (CSPs) and their technology suppliers conducted during the three months to August 2018. The survey tracks the progress of the telecoms industry's digital transformation – and the latest results show slower-than-expected progress towards network transformation, despite 44 per cent of CSPs agreeing that it plays an integral part in digital transformation success.
"The telecoms industry first started to embrace the concepts of network virtualisation and software-defined networking eight or nine years ago," said Mark Newman, Chief Analyst at TM Forum. "Today, it appears the majority of CSPs are moving from the awareness and planning phases of transformation to deployment of VNFs. This progress is a positive thing, albeit a lot slower than expected."
Indeed, according to the survey, 48 per cent of CSPs still have not found the business case for virtualisation. Given that we'll soon be approaching the ten-year anniversary of telco NFV, this is a damning statistic for the industry. This delay is impacting progress as CSPs struggle to agree on where network transformation fits into the overall digital transformation journey. The TM Forum puts this down to:
A loose definition and interpretation of what a digital transformation program involves;
Different objectives of network transformation programs and the constantly evolving timeframe for network virtualisation and cloud adoption;
The relationship between the IT and network divisions, as well as between the technology part of the business and the consumer and enterprise lines of business.
As Mark said, at least there is movement, even if the business case continues to be elusive. 32 per cent of CSPs surveyed revealed they are deploying NFV in the packet core, and 36 per cent are deploying NFV at the mobile edge or have deployed virtual customer premise equipment (vCPE). Also, fewer respondents admitted to having no timetable for virtualisation – 30 per cent in the first DTT survey, compared to 23 per cent today.
Looking at the challenges of network transformation, 60 per cent of respondents cited the need to implement a new generation of agile OSS/BSS as their primary concern. A further 56 per cent cited security vulnerabilities and 52 per cent cited worries with lengthy maturity times for standards. While 77 per cent of CSPs said that DevOps had been successfully deployed in many IT teams, only 23 per cent have introduced the approach into network teams – with 67 per cent of CSPs admitting to not having introduced DevOps in their network teams at all.
The increasing viability and visibility of open source software has also forced CSPs and their suppliers to re-examine how they do business. For larger CSPs, it represents an opportunity to lower costs and to take back control of technology and roadmaps. The survey pointed to a significant drive to recruit more software developers across the whole business with 34 per cent of CSPs currently employing between 100 and 250 software developers today expecting their company to boost this number to at least 500 within the next two years. For smaller CSPs, open source is seen as an opportunity to cultivate symbiotic relationships with multiple vendors, rather than be subject to mega-vendor lock-in.
"The deployment of virtual network functions (VNFs) has not had the transformative impact that many CSPs were hoping for," said Newman. "As a result, many are now moving beyond virtualisation to full network cloudification."
He adds: "The benefits of network transformation can only be achieved by using cloud-native software that can be modified through DevOps practices and easily integrated with solutions from suppliers using open source. But it also requires CSPs to address network and operations transformation at the same time. If operators deploy new network capabilities without factoring in operational issues – for example OSS/BSS transformation – they risk complications further down the line."
Email Newsletters
Sign up to receive TelecomTV's top news and videos, plus exclusive subscriber-only content direct to your inbox.