Nokia brings its Future X network vision to the Industrial sector
'Future X for industries' strategy and architecture developed by Bell Labs
Collates technologies including IIoT, edge cloud, 5G, AI and AR/VR
Aims to drive dramatic productivity improvements across industrial sectors
Part of expansion of Nokia's dedicated Enterprise Business Group
Nokia has today unveiled its 'Future X for industries' strategy and architecture, developed by Bell Labs, designed to drive productivity improvements across a range of industry sectors. As its name suggests, it comes off the back of Bell Labs' work on defining the Future X network vision it published in 2015 for CSP infrastructure evolution. The new strategy is aimed well and truly at the enterprise sector and looks to collate technologies such as Industrial IoT, edge cloud, augmented intelligence, advanced security analytics and end-to-end 5G capable networks into solutions that can help speed up the digital transformation of industries such as manufacturing, logistics, transportation and energy, as well as governments and cities.
Nokia notes that only about 30 per cent of enterprises (largely in IT-centric industries) have been able to realise this so-called 'digital opportunity' and that traditional asset-intensive industries (comprises more than two-thirds of GDP in the US alone) have yet to experience the full benefits of this digital transformation. It's Nokia's take on a connected Industry 4.0.
The Future X for industries architecture promises a framework for open, connected systems for each major industry that can accelerate the digitisation and automation of physical assets. This, says Nokia, requires that everything is connected simultaneously, with guaranteed quality of service. Industry applications need to connect with compute resources to meet stringent latency, capacity, reliability and security requirements. The new architecture therefore incorporates distinct technology layers (featuring a 'defense in depth' cyber-security approach) designed to meet key industrial networking requirements:
Business Applications layer, which encompasses the specific applications for each industry segment,
Digital Value Platforms layer, which supports industrial automation, cognitive analytics and digital operations, and enabling network and device platforms,
Multi-cloud layer, which delivers proximity and elasticity of compute using the most appropriate cloud models (from local clouds to edge and hybrid clouds),
High-performance Networking layer, which offers dedicated, ultra-reliable connectivity.
"Industry is driven by a constant quest for leading profitability, which in a dynamic marketplace requires maximum productivity," said Marcus Weldon, President, Nokia Bell Labs. "The Future X for industries architecture is designed to describe the essential foundation of this Industry 4.0 revolution, much as the Future X network vision is serving as a blueprint for service provider network evolution."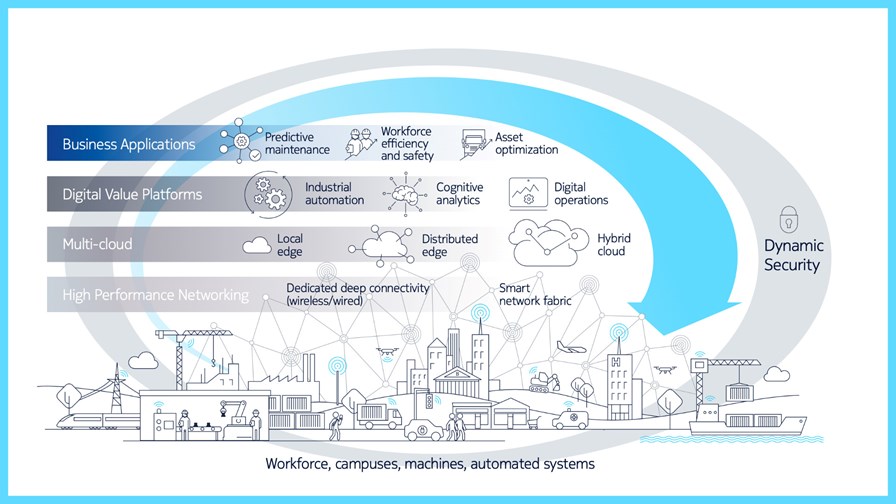 Nokia recently established a new Enterprise Business Group that consolidates a range of existing activities into one focused organisation, to be led by Kathrin Buvac, currently Nokia's Chief Strategy Officer. Meanwhile, Nokia is busy expanding its partner strategy to increase the size of its partner ecosystem – including the establishment of new relationships with Infosys.
"An overarching framework encompassing business-critical networking capabilities with deep reach and high performance not only complements, but also helps to drive IIoT, edge cloud/multi-cloud and AI," said Rich Karpinski, Research Director, 451 Research, "and could provide an essential next step in industry's digital transformation journey."
Email Newsletters
Sign up to receive TelecomTV's top news and videos, plus exclusive subscriber-only content direct to your inbox.