From VNFs to CNFs: Prepare for the era of Cloud-native Network Functions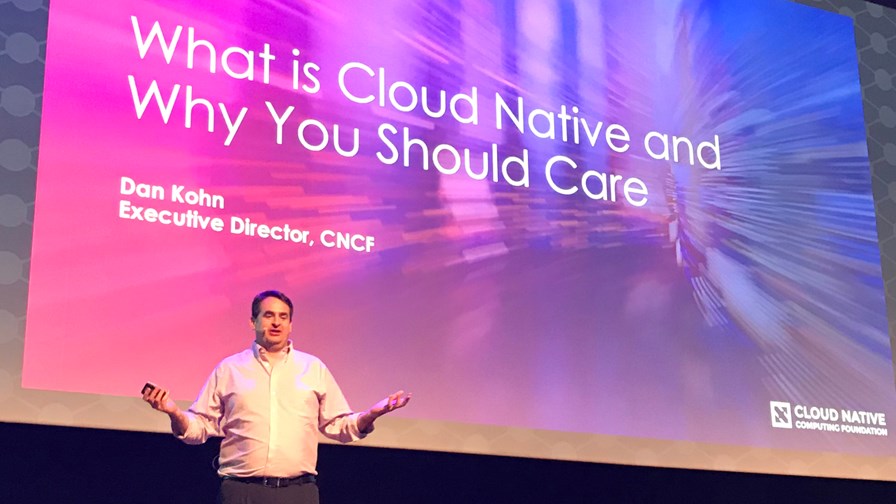 Collaboration between Cloud Native Computing Foundation and LF Networking
Evolution of Network Functions to Cloud-native NFs
Scale and portability of cloud with the agility, reliability and automation of telecom
Are we heading for a post-VM world?
One of the big surprises at this week's Open Networking Summit (ONS) Europe event in Amsterdam was the extent to which "cloud native" was being pushed and debated, and in particular the evolution to so-called cloud-native network functions, or CNFs. As Arpit Joshipura, General Manager, Networking, at The Linux Foundation, told TelecomTV, the term was first introduced by the LF community about six month ago around the time of the North American event. However, in TelecomTV's deeply unscientific survey of several service providers at the show (hey, small sample sizes are all the rage these days), about nine out of ten CSP executives had not heard the term before. Thankfully, there appears to be unanimous approval of CNFs and what they represent.
The Linux Foundation, which hosts numerous open source projects (around two dozen are related to networking, at the current count), including seven under its dedicated LF Networking umbrella, announced further collaboration between the telecoms and cloud sectors by partnering with the Cloud Native Computing Foundation (CNCF) to develop the migration of Virtual Network Function (VNFs) to CNFs.
"I'm thrilled to collaborate with our sister Linux Foundation organisation, LF Networking, to demonstrate the capabilities of CNFs," said Dan Kohn, Executive Director of Cloud Native Computing Foundation. "These implementations will bring greater elasticity to the networking space through critical pieces of the cloud native stack – like container orchestration, service mesh architectures and microservices – and allow for a new level of self-management and scalability."
It is becoming increasingly apparent that as networks evolve to support next-generation services and applications, they will need to take on more characteristics that are already inherent to cloud native architecture – namely scalability, automation and resiliency. What this means is a move away from virtual machines and towards containers. Of course, a post-VM world is not going to please everyone, but the logic looks compelling. VMs are sizeable components and not the best place to start when looking at new micro-segmented architectures. And by this we mean containers, which are beloved of developers and the web-scale innovators. The disaggregation of hardware and software and the virtualisation process is beginning to look like a walk in the park compared to the transformation that is still to come.
CNFs are described as network functions that run on Kubernetes (the open source container orchestration project, which is part of CNCF) on public, private or hybrid cloud environments. They are lightweight and fast to instantiate, making them easier to scale, chain, heal, move and back up than today's traditional VNFs, which tend to operate in either OpenStack or VMware environments. Interestingly, we heard a lot of muttering from telcos at the show about how they might have made a mistake by focusing on "virtualisation" rather than diving straight into cloud native.
"We have seen service providers embrace open source networking in large numbers," said the LFN's Arpit Joshipura. "Benefits of virtualization and VNFs, coupled with automation platforms like ONAP, are now de-facto deployment models. As edge, IoT, 5G and AI start using these highly-automated cloud platforms, we are excited to see the best of both worlds come together – the scale and portability of cloud coupled with the agility, reliability and automation of telecom.
The containerisation transformation
Whilst ONAP's inaugural release, Amsterdam, runs in a VM in either an OpenStack, VMware, Azure or Rackspace environment, ONAP's upcoming release, Casablanca, evolves the implementation to enable it to run on Kubernetes on any public, private or hybrid cloud. Its this last term that is key – hybrid cloud environments. As telcos increasingly look towards such environments, they need to combine the best of traditional telco and newer cloud networking practices. Like it or not, that's going to involve containers, which in turn will lead to a new code-base for network functions with improved orchestration.
"Containerisation has been one of the cornerstones of our network transformation," said Catherine Lefevre, AVP of Research Technology Management, AT&T. "Cloud-native development represents the next level of efficiency as part of the ONAP target architecture and we're excited to be a part of this initiative."
This is just the start. One of the most interesting talks at ONS was from China Mobile and considered the full containerisation of 5G – which is either exciting or frightening, depending on your background. Yes, it is too early yet for this concept to gain mainstream acceptance, but China Mobile believes it will only be a couple of years before Kubernetes and containers catch up with 5G and we start to see containers in 5G architectures.
There's plenty of early discussing on this in ETSI, OPNFV, 3GPP and China's CCSA. The notion of Containers as a Service is already being developed, and when CaaS becomes more mature China Mobile hopes it will accelerate the speed of 5G deployment. It hopes that the reliance on VMs within today's 5G standardisation work will give way to a containerised and cloud-native future architecture model.
The past may be written in stone, but the future is most definitely written in code.
Email Newsletters
Sign up to receive TelecomTV's top news and videos, plus exclusive subscriber-only content direct to your inbox.