Virtual insanity: Nokia releases a VR camera into a market projected to reach 43m devices by 2020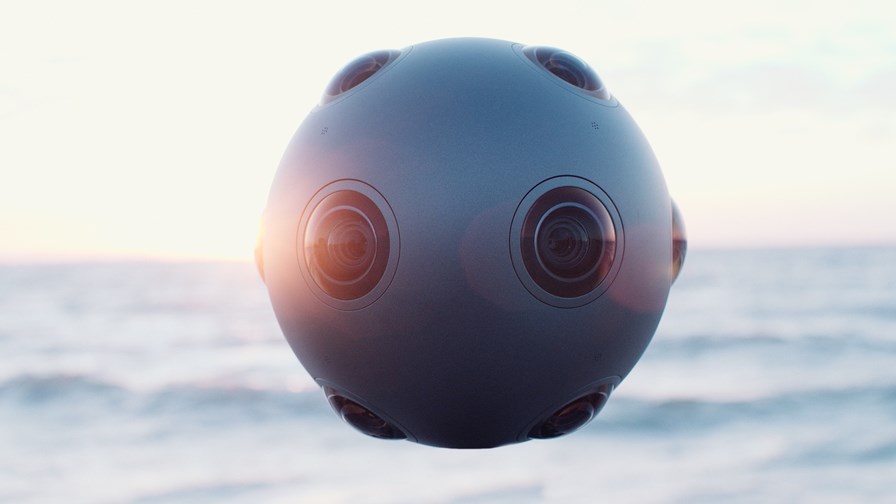 VR market CAGR of 106% for 43m devices by 2020
Tethered VR devices to experience highest growth
AR will be driven by more enterprise uses
Nokia joins to list of VR vendors with OZO
As James Bond discovered in the 1999 film, The World is Not Enough. Or rather, the real world is no longer sufficient for the global market dominance aims of technology vendors; now they want to augment reality and go virtual. True, they've been trying to do this for many years now (anyone still flying around in Second Life?), but recent massive investments in AR and VR are raising eyebrows – along with market forecasts.
Microsoft's Hololens, Google Cardboard, Sony's Project Morpheus, Samsung's Gear VR and Facebook's Oculus Rift are all hovering up investment dollars into what their developers believe will be the next big consumer tech market (and which will then filter through to the enterprise).
ABI Research believes that the market for virtual reality devices will grow rapidly over the next five years, with an average CAGR of 106 per cent and combined shipments of 43 million in 2020. Augmented reality smart glasses should experience similar growth, and ship 21 million units in 2020 with a CAGR of 78 per cent.
"Sales of VR head mounted displays, including mobile-based devices like the Samsung Gear VR and Google Cardboard, as well as tethered devices like the Oculus Rift and Sony's Morpheus, will be driven by the release of high-profile devices and a growing awareness and interest in the technology from consumers," said Eric Abbruzzese, research analyst with ABI Research. "Use cases that were once specialized to a certain device type will begin to overlap as the market matures, and platform agnostic content like video will serve as a strong driver of growth for both platforms; verticals including education and industrial will see some use with these platforms as well, but will be more successful on an Augmented Reality device like smart glasses."
Abbruzzese believes that VR will, as a whole, be entertainment focused, with video and gaming at the forefront; whereas AR will be driven by more enterprise uses, with focuses in efficiency and safety in industrial, automotive, and logistics environments.
Tethered VR devices, such as Oculus Rift or HTC Vive, are forecast for the highest growth among VR device types (with 128 per cent CAGR between 2014 to 2020). However, mobile VR devices will ultimately ship more units in total, accounting for 25 million in 2020.
Nokia announces OZO
Joining the increasingly-crowded VR movement is Nokia, which has just announced what it says is the first commercially available VR camera designed and built for professional content creators. OZO is the first in a planned portfolio of digital media solutions from Nokia Technologies, the Finnish company's advanced technology and licensing business, and was created at Nokia's R&D facilities in Tampere.
"OZO aims to advance the next wave of innovation in VR by putting powerful tools in the hands of professionals who will create amazing experiences for people around the world," said Ramzi Haidamus, president of Nokia Technologies. "We expect that virtual reality experiences will soon radically enhance the way people communicate and connect to stories, entertainment, world events and each other."
OZO captures stereoscopic 3D video through eight synchronized global shutter sensors and spatial audio through eight integrated microphones. Software built for OZO enables real-time 3D viewing, with a playback solution that removes the need to pre-assemble a panoramic image. Filmed content can be published for commercially available VR viewing hardware such as head mounted displays, with immersive, full 360-degree imaging and spatially accurate original sound. OZO should also integrate into existing professional workflows and works with third-party tools.
Nokia will conduct final testing and refinements to OZO in partnership with industry professionals, in advance of the product's commercial release. Final pricing and full technical specifications will be announced at a future date, with shipments anticipated in Q4 this year.
California-based VR production company Jaunt has announced a commitment to support OZO, both by offering the camera for use in Jaunt Studios and by supporting content produced with OZO through its post-production services. Nokia's aims are ambitious: it wants OZO to set a new standard as the preferred method for professional capture, editing and playback of cinematic VR content. Virtual insanity indeed.
Email Newsletters
Sign up to receive TelecomTV's top news and videos, plus exclusive subscriber-only content direct to your inbox.